Offer details
It's tournament time at Golden Nugget with their $50,000 March Matchups!
Hit the hardwood with an elite selection of 8 Great Slots as they square off in 3 rounds of play between Monday, March 21st, 2022, and Tuesday, April 5th, 2022.

Round 1 is worth $10,000 and gets underway with these thrilling matchups.
Dancing Drums Explosion vs Marvelous Mouse Coin Combo
Chicken Fox 5x Skillstar vs Lightning Leopard
88 Fortunes vs Jin Ji Bao Xi Endless Treasures
Quick Hit Ultra Pays Sun Dragon vs Quick Hit Super Wheel Wild Red
Players who opt in through My Bonuses will earn one (1) entry for every $25 wagered on all featured slots, and 20 Winners will be randomly chosen to win a $500 Bonus!
Round 1 begins at 12:00 AM ET on Monday, March 21st and ends at 11:59 PM ET on Sunday, March 27th. By 5:00 p.m. EDT on March 29, 2022, winners will be informed and extra prizes will be credited.
As the tournament progresses through the rounds, the stakes and rewards increase in value. Play our March Matchups today and start building your own dynasty!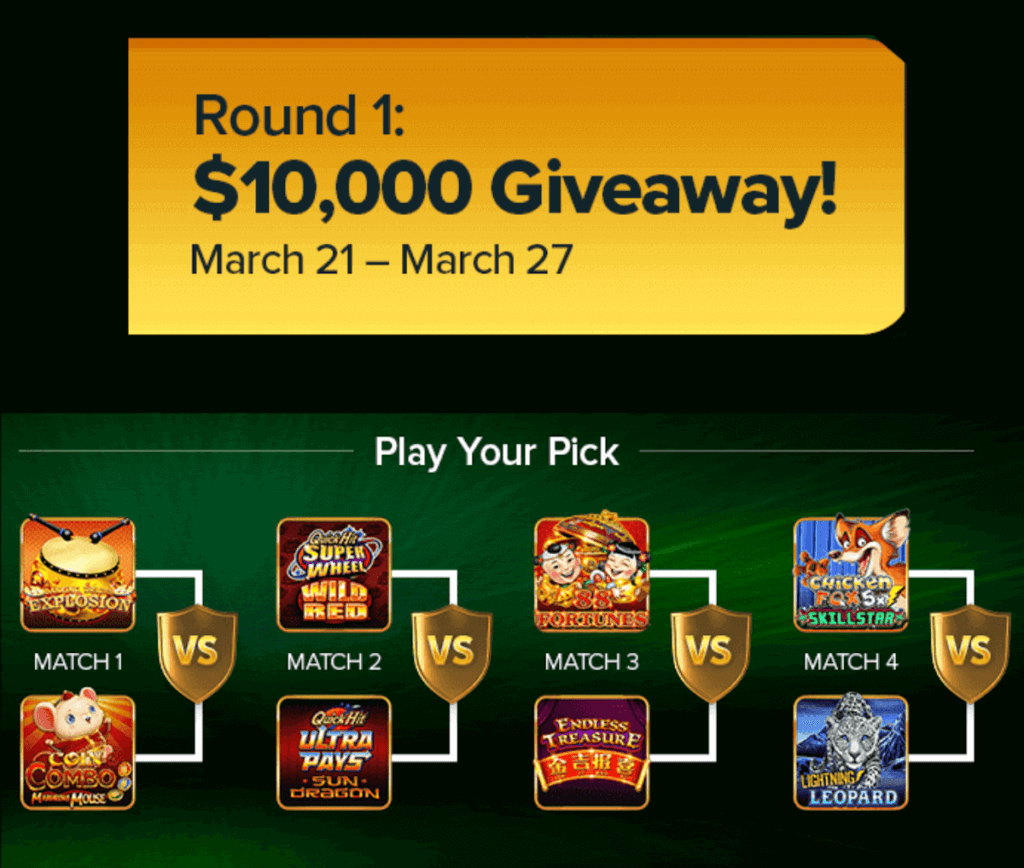 Here is a breakdown of how this works:
Step 1: Go to My Bonuses and sign up for the program.
Step 2: Earn one entry per $25 wagered on the featured slot machines throughout the promotional period
Step 3: A random drawing will be held on March 29th, 2022 at 5:00 PM ET to determine the winners.
---
Terms & Conditions
Monday, March 21, 2022 from 12:00 AM ET through Tuesday, April 5, 2022 at 11:59 PM ET is the time period for the campaign.
All Golden Nugget Online Casino patrons must be at least 21 years old, have a valid and active GoldenNuggetCasino.com account, and reside in New Jersey (a participating state) in order to be eligible.
Three (3) rounds of promotions are in progress.
Round 1: 12:00 a.m. Eastern Time on March 21st to 11:59 p.m. Eastern Time on March 27th.
The following video slots are included in this promotion: Dancing Drums Explosion, Marvelous Mouse Coin Combo, Chicken Fox 5x Skillstar, Lightning Leopard, 88 Fortunes, Jin Ji Bao Xi Endless Treasures, Quick Hit Ultra Pays Sun Dragon, and Quick Hit Super Wheel Wild Red.
In order to participate in the contest, players must claim an offer from My Bonuses during the promotional period of each round.
Each time a player places a bet on one of the featured games, they will receive one entry into the Giveaway.
Every $25 spent on the eight featured slots will gain one entrance into the first round.
During the promotional time, there is no limit to the number of entries that gamers can receive.
Playing any of the featured slots will qualify as an entry.
Each round's winner will be chosen at random and awarded a Bonus prize:
$10k – 20 players in Round 1 There will be $500 Bonuses for the winners.
Only one reward can be won by each player in a round.
Following each round, there will be a drawing:
Those who qualify for the first round of the giveaway will be randomly selected on March 29th, 2022 at 5:00 PM Eastern Time (ET), and bonus prizes will be awarded at that time.
Only in New Jersey may you earn one free entry per round by sending an email to [email protected] with your full name, DOB, and customer ID.