While many players have turned to online casinos to access the latest collection of games, it's simply impossible to ignore some of the iconic land-based establishments in New Jersey. The state features some of the biggest casinos, offering thousands of games, some of the finest hotels, and – in some ways – an experience you won't find online.
Whether you're looking for the best restaurants, spa treatments, or glamorous hotel stays, the biggest casinos in New Jersey have everything you need! In this article, we'll talk about the following:
Top 5 Biggest Land-based Casinos in New Jersey
Many of the biggest land-based casinos in New Jersey have expanded to offer top-rated online casinos, making it easy to benefit from both online and land-based gaming. Of course, it also means you can claim loyalty benefits from both platforms. Let's look at the biggest casinos in New Jersey. 
| Rank | Casino Name | Location | Size | Google Rating |
| --- | --- | --- | --- | --- |
| 1. | Harrah's Resort Atlantic City | 777 Harrah's Blvd, Atlantic City | 5,700+ Games | 4.0/5 (18k+ Reviews) |
| 2. | Borgata Casino | 1 Borgata Way, Atlantic City | 4,200+ Games | 4.4/5 (24k+ Reviews) |
| 3. | Tropicana Casino | 2831 Broadwalk, Atlantic City | 2,400+ Games | 4.2/5 (30k+ Reviews) |
| 4. | Hard Rock Casino | 1000 Broadwalk, Atlantic City | 2,400+ Games | 4.3/5 (9k+ Reviews) |
| 5. | Caesars Casino | 2100 Pacific Ave, Atlantic City | 2,100+ Games | 4.2/5 (18k+ Reviews) |
1. Harrah's Resort Atlantic City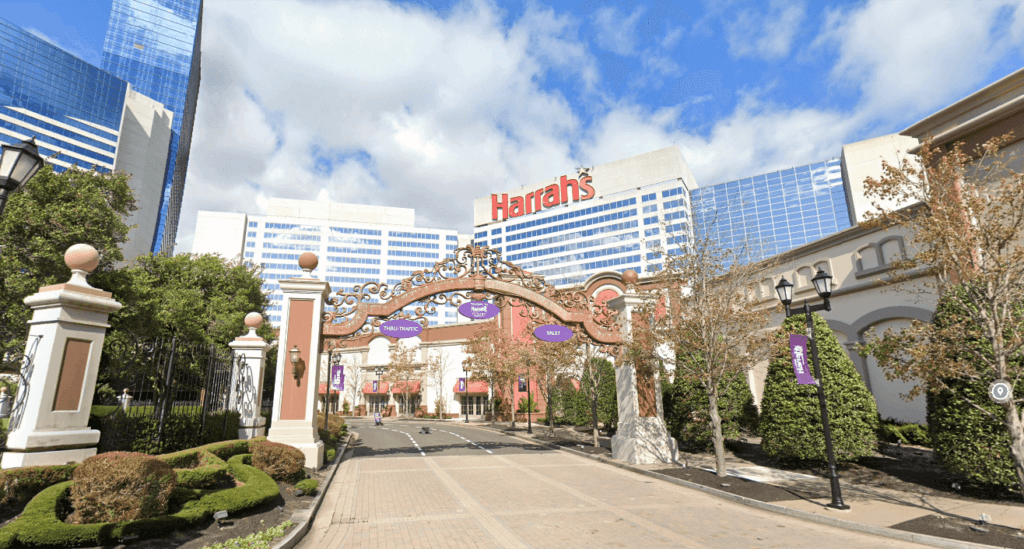 Harrah's Resort is the biggest land-based casino in New Jersey, offering over 5,700 casino games with a hotel featuring over 2,500 rooms. Complete with over 5,000 slots, loads of table games, and over 40 poker tables – hosting the WSOP tournaments – Harrah's Resort Casino stands second to none!
To compare the games available online, visit our Harrah's Online Casino review. 
Size: 160,000 sq ft
Year: 1980 
Slot Machines: 5,500+  
Table Games: 90+
2. Borgata Casino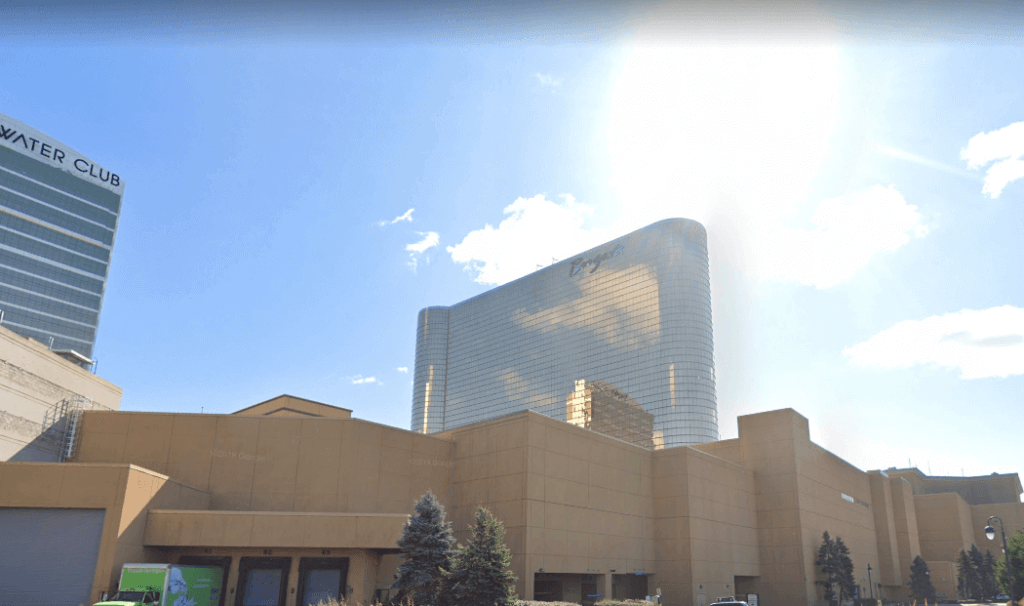 Borgata Casino Hotel & Spa might not be the biggest casinos in New Jersey, but it does offer the largest hotel in the state with just under 2,800 rooms. In terms of gaming, it certainly doesn't disappoint with a stellar collection of over 4,000 slots and 200 table games. Complete with a brilliant spa, excellent restaurants, and more, it currently holds the highest Google rating of 4.4/5.
Discover their impressive online gaming features in our Borgata Online Casino review. 
Size: 160,000 sq ft
Year: 2003
Slot Machines: 4,000+
Table Games: 200+
3. Tropicana Casino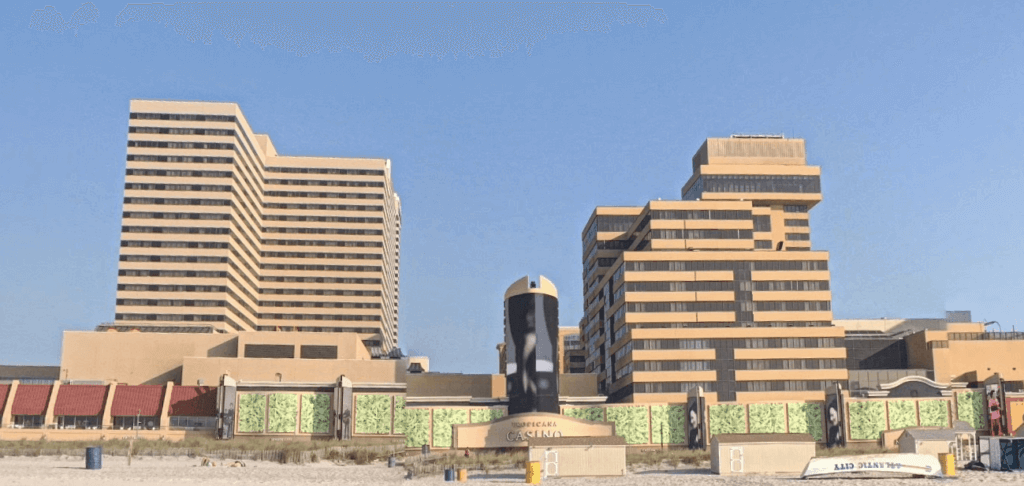 Located along Broadwalk in Atlantic City, Tropicana offers a massive 200,000 sq ft entertainment complex. A hotel with over 2,300 rooms, over 5,000 parking spaces, over 30 restaurants, and more than 2,400 casino games, makes this one of the most impressive casinos in the Garden State.
Just to top it all off, you'll also find the Tropicana online casino offers a brilliant gaming experience from anywhere in New Jersey. 
Size: 125,000 sq ft
Year: 1981
Slot Machines: 2,300+
Table Games: 100+
4. Hard Rock Atlantic City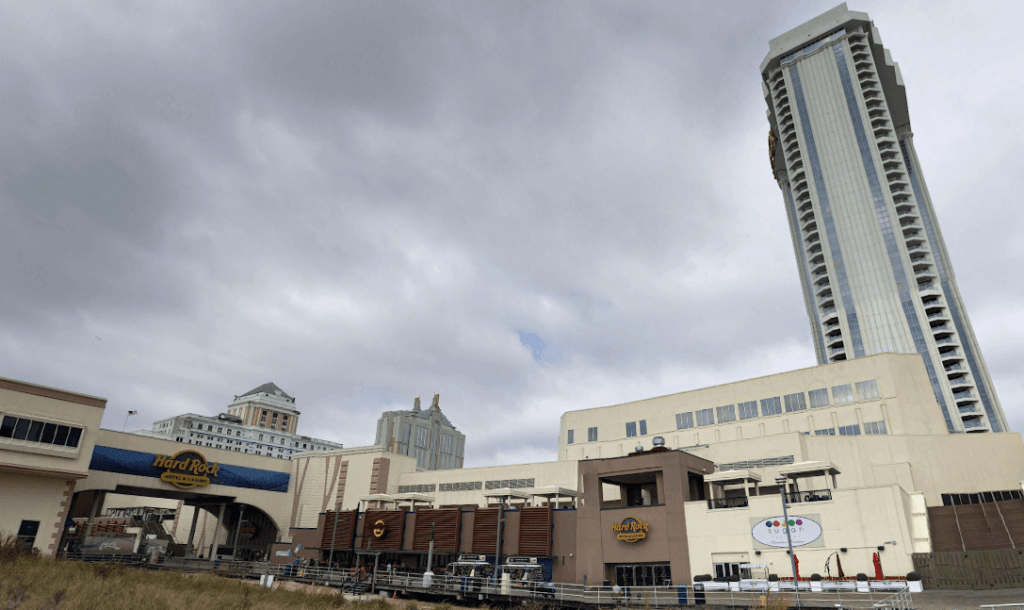 Hard Rock Casino is yet another well-established brand in New Jersey, opening its doors back in 1990. In 2018, the casino was revamped, offering a completely new layout with exciting casino games to match. As one of the biggest casinos in New Jersey, you can expect to enjoy over 2,300 slots, over 130 table games, and lots more, including restaurants, hotel, and spa. 
Read our Hard Rock online casino review to discover more about playing on PC and mobile from anywhere in New Jersey. 
Size: 120,000 sq ft
Year: 1990
Slot Machines: 2,300+
Table Games: 130+
5. Caesars Atlantic City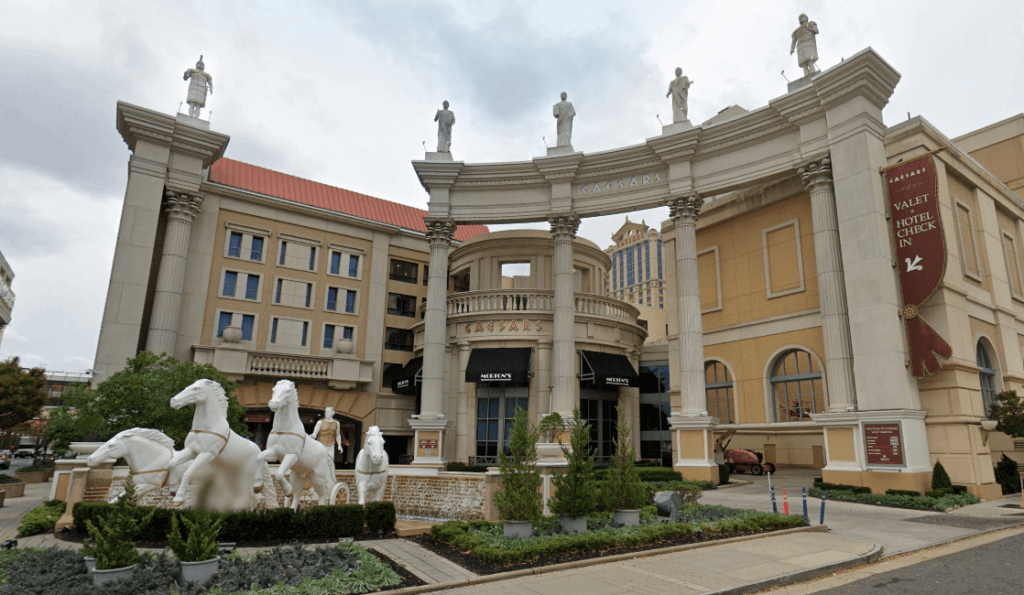 Caesars Casino might be at the bottom of the top 5 list, but it's purely because they have the least number of games. Don't make the mistake of underestimating the incredible venue and attention to detail this famous casino has to offer, especially with the impressive hotel and spa. Holding excellent Google ratings, the casino has a lot to offer slot fans, table game players, poker enthusiasts, and more.
As seen in the Caesars Online Casino review, you can also enjoy some of the highest-rated casino games from anywhere in New Jersey. 
Size: 145,000 sq ft
Year: 1979
Slot Machines: 2,000+
Table Games: 120+
Did you Know?
Only land-based casinos located in Atlantic City are Legal in the state of New Jersey. These casinos have a combined total revenue of over $2.5 billion per annum. This makes it the second biggest revenue collector – after Las Vegas – in the USA.
What is a Land-based Casino?
Located in physical buildings with a wide range of casino slots, table games, and poker rooms, a land-based casino represents a location where gamblers can access regulated games. Many of these establishments are combined with large hotels, spas, restaurants, and other forms of entertainment. These buildings are also commonly referred to as traditional or brick and mortar casinos.
What is Considered to be a Big Land-based Casino?
Commonly referred to as resorts, big land-based casinos typically provide over a thousand casino games, a large hotel, and more other forms of entertainment (restaurants, spa, theatre). The casino would present various betting limits, VIP rooms, high roller rooms, and a larger collection of table game variations.
Difference between Land-based Casinos and Online Casinos
Since many of the biggest land-based casinos have now also established online casinos, it's worth having a look at how they compare. As mentioned, it is possible to play at both the land-based and online casino in New Jersey, making it an ideal combination for all your gaming needs.
| Land-Based Casinos | Online Casinos |
| --- | --- |
| Visit Restaurants and Play | Access a Much Larger Range of Games |
| Option to Book into the Hotel and Spa | Activate Large Deposit Bonuses  |
| Score Free Drinks while Playing | Play Live Dealer Games |
| | Play on Mobile Apps or Computer  |
| | Use Various Instant Payment Methods  |
| | Play Games from More Providers |
| | Play From Anywhere 24 Hours a Day |
Bonuses

While land-based casinos have started offering some casino bonuses, they cannot compare to the offers at online casinos. It's common to activate at least a 100% match bonus with your first deposit, which means the amount you deposit is doubled instantly. Some would also include free spins and other benefits to make the offer even more attractive.
Of course, terms and conditions apply, but thanks to the New Jersey Division of Gaming Enforcement, these are regulated and fair. 
Online Slots and Slot Machines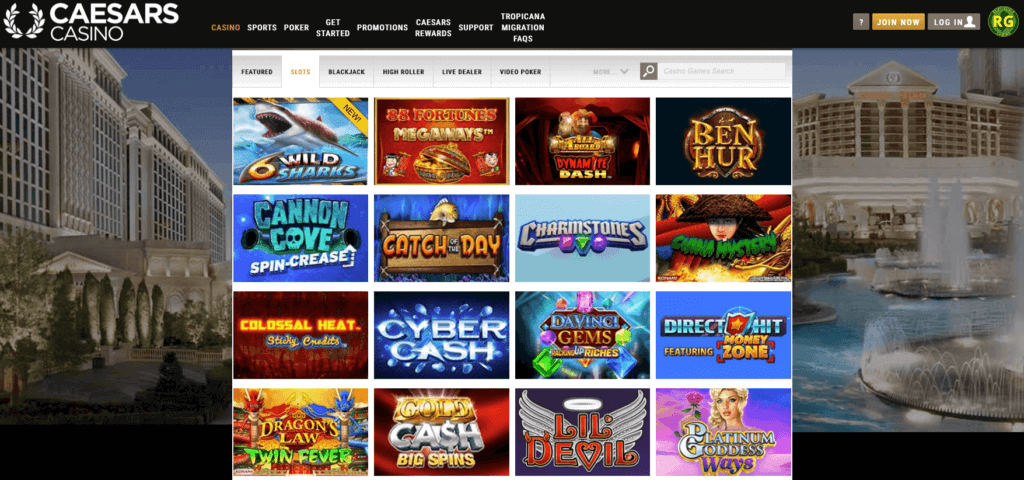 Having over 2,000 machines at the biggest land-based casinos is certainly impressive. However, it's important to remember that multiple machines have the same game, allowing multiple players to enjoy the game at the same time. On the other hand, when an online casino has over 2,000 games, it means there are 2,000 unique games.
You'll find online slots provide a wide range of betting options, usually starting from as little as $0.01 per line, or $0.20 per spin (based on 20 payline slots). 
Table Games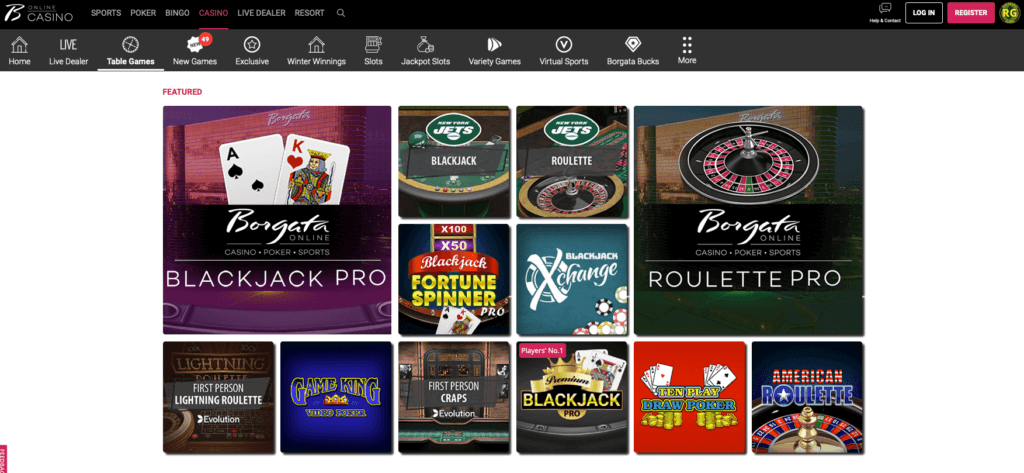 As with slots, the same applies to the selection of tables games at the biggest casinos in New Jersey. The floor space might be massive, but they can only include so many unique tables with a range of limits to suit all players. No limit applies to online casinos, allowing them to provide a much wider selection of game styles, themes, features, and limits suitable for everyone.
You'll also find a great range of live dealer games online, presenting a real dealer on your screen with various game types, themes, and features to enjoy. 
Requirements for Land-based Casinos to Operate Legally
To operate a land-based casino in New Jersey, licensing is the most important factor. This ensures that the casino operator, associated companies, employees, and the owners meet the requirements of the NJ DGE. Therefore, before the casino can open its doors, it has to obtain the following licenses:
Employee License 
Casino License 
Casino Industry License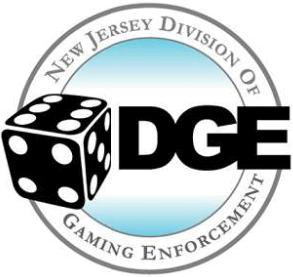 Requirements for online casinos to Operate Legally 
Much like land-based, online casinos require a license to legally provide gaming services. This ensures the casino owner, associated software companies, and employees meet the minimum requirements of the NJ DGE. Therefore, similar steps apply, and you'll require the following licenses:
Employee License
Casino License
Casino Industry License
How We Picked the Best Big Land-based Casinos
While choosing the most famous casinos would be the easiest, finding the biggest land-based casinos requires more research. Therefore, we focused on the following aspects to find brands that stand out among the rest:
Consider the Size of the Casino Floor 
While it might seem obvious, the casino floor size plays a major role in choosing the biggest casinos. It ensures there's enjoy space between machines and tables to move around comfortably, even during peak hours. There's no point in having thousands of games, but it's too crowded to move around and play.
How Many Games are Available
Confirming there's enough space, we consider the number of game machines and tables available. This once again tells us how many players can attend the casino without having to wait around to play on machines. A large selection of slots is important, but also a great selection of table games, betting limits, and features.
Reputation and Google Ratings 
In the digital world, it's easy to see what you can expect from the most famous casinos in New Jersey. Google and other rating services are based on real players who certainly don't hesitate to provide an honest rating based on their experience. This is a great indication on the service quality, space, and available games. 
History of Casino in New Jersey
The New Jersey gambling history dates back to the 1800's when lotteries were common. In fact, it funded multiple projects, including military, construction of Rutgers University (then the Queen's College), and Princeton University (then College of New Jersey). Lotteries were ban in 1844.
Fast-forward to 1978, Resorts Casino was the first to open its doors under the new legalization of casinos in Atlantic City. Some 30 years later, in 2013 online casinos were legalized in the state of New Jersey. 
Situation of Land-based Casinos in New Jersey Now 
During the COVID-19 pandemic, online casino revenue drastically increased as land-based casinos were restricted. However – now with restrictions lifted – land-based casinos in New Jersey see a steady climb in year-to-year revenue.
It doesn't company to the remarkable increase of online casinos, which constantly shows growth of over 20% in 2022. While online casinos are increasing, many players are choosing mobile casinos, offering the same range of games without the limitations of playing on a computer. 
Conclusion
Being the second state to legalize casinos has given New Jersey an edge in the market. Today, it hosts multiple world-famous land-based casinos, which generates incredible revenue for the state. The same applies to online casinos as the state was yet again among the first the legalize these gaming opportunities in 2013.
Stay updated on the latest New Jersey land-based and online casino details by bookmarking our casino news page. Here we look at the latest developments, revenue, and much more in the New Jersey casino industry. 
Frequently Asked Questions
The 1978 law stated that land-based casinos are legal but have to be located in Atlantic City. This was part of the redevelopment project for the city, which now hosts some of the most famous casinos in the world.
The state of New Jersey barred smoking at indoor places in 2006, which excluded casinos. However, casinos can only allocate up to 25% of the floor as smoking areas, which at some casinos are decreasing each year.
As long as you're actively playing at slots, table games, or poker, drinks at complimentary at casinos in Atlantic City. It's recommended to give waiters a generous tip.
The biggest win to date is a staggering $3,538,562.75 win, which activated at Borgata Casino while playing the MGM Grand Millions slot. The win took place on the 16 November 2021.