Cash Noire Review
Cash Noire is an exciting new release from NetEnt
Unleash your inner detective into the dark world of a 1930s crime scene
Mystery symbols unlock more chances to win as you progress and solve a mysterious murder
A voiceover by Detective Flint guides you through the twists and turns of the dark streets to help solve the case
In this Cash Noire review, you get to find out how to navigate the dark world of Detective Flint to unlock clues at crime scenes and solve a mystery case.
Featuring free spins, multipliers, clue lists, and a unique, rewarding mystery symbol, NetEnt's Cash Noire is full of twists and turns to keep you entertained.
There's a sultry femme fatale, fast car chases, and a crime zone. The video slot's five reels by four rows setup unleash your inner detective. Test your slot skills in the dark streets.
If you're wondering how to win at Cash Noire, simply place your bets and try it out. You can start with a couple of spins to see if you like it.
Read on to discover where to play Cash Noire video slot, how to unlock bonuses, and get hints to find out all the secrets hidden in the dark and gloomy 1930s streets.
---
Where to Play Cash Noire?
You can play Cash Noire at these casinos 100% legally!
---
Cash Noire Symbols and Payouts
Cash Noire has some exciting winning combinations. When you get a good win, you'll see the paying combinations continue to form.
Symbols
The paytable has a few lower-paying elements, like a magnifying glass and a small pack of matches.
Slightly higher ones are possible with a whiskey tumbler and an ace of spades. Then a handgun and knife, and you'll get up to 0.30x as a top reward for these.
The hero and villain, the detective and the femme fatale can bring you payouts of up to four times your bet.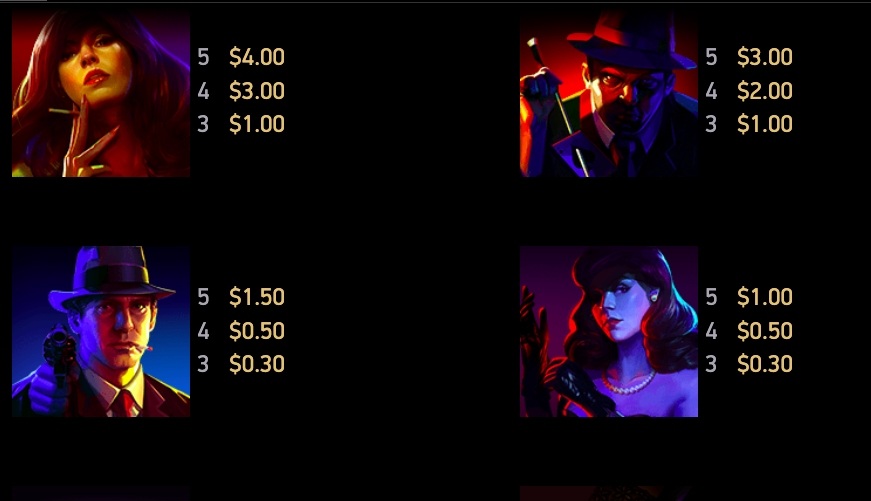 Paytable
Cash Noire has 1,024 paylines. You watch new symbols drop down to make new potentially winning combinations. It's like Tetris, but it pays!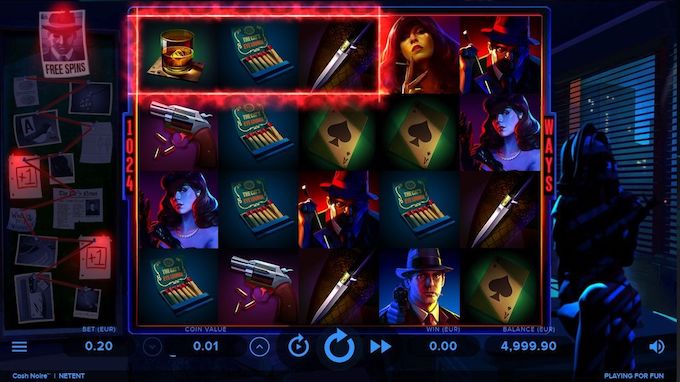 Cash Noire Min / Max Bets
The minimum bet is $0.20, with a maximum of $200 allowed. That means all players can enjoy this slot title, whether they be high-rollers or casual spinners.
Cash Noire RTP, Volatility & Hit Frequency
Cash Noire's RTP rate is 96.06%. It has a low to medium volatility. You can expect payouts, if luck is on your side, particularly in the free spin rounds.
Cash Noire Maximum Win
If you solve this mysterious case, you may win up to 1,033x of what you've staked as your reward. There is a maximum possible payout of 5,000x your bet.
Cash Noire Features
Cash Noire features a unique vault-like mystery symbol, transforming a non-winning sign into a random one. The game has 1,024 paylines and an avalanche mode, which can be compared to re-spins.
The red illuminated crime zone on screen is where the action occurs, and the clue list helps you solve the case. With every spin, this area changes shape.
Once you trigger free spins, a multiplier covering five spaces is activated. It can reward you up to 10x.
Cash Noire Free Spins
When you've unlocked all the clues, you've successfully triggered the free spin round. Let's look into what that means when you play Cash Noire.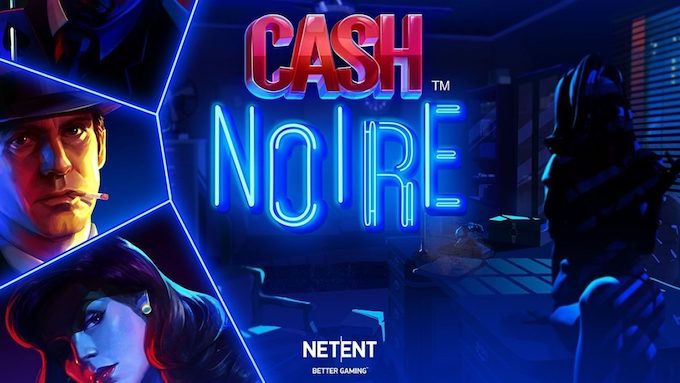 The Chase
Once in free spin mode, the chase is on. You're now in hot pursuit of the villains, dashing through the city streets. While you're following the suspects, you'll be able to get more free spins or multipliers.
Land on a winning symbol in the highlighted crime zone, and you're a little closer to catching up with your mystery target.
The Map
A map becomes visible in free spin mode, and you're the car winding your way through the dark city streets. Should you end up on the 'extra free spin' mark on the map, you'll get an additional two free spins.
If you can unlock a multiplier of 10, you're scoring big, and the case will be closed.
Other Game Features
This is not all you'll find when spinning this thrilling slot from NetEnt. This title has a couple of other features to keep you playing. Let's check those out next.
Multipliers
During free spins round, a multiplier is activated. It then increases every seven of the locations by 1x on the map.
The Avalanche Feature
This popular mechanic creates some more new chances for you to win. Here symbols in winning combinations are replaced by 'falling' ones. Then the mystery symbols transform into new random characters to reward you with more significant payout possibilities.
---
Graphics & Sound
The slot is set in the 1930s, and a crime world comes to life on your screen with plenty of dark corners and neon signs. Detective Flint narrates the game, and he guides you through your attempt to gather clues and solve the mystery.
The graphics represent a high level of attention to detail, with a well-executed crime and detective theme.
It's a real 'film noir' style setting that takes you back to famous fictional detectives like Dick Tracy and Sam Spade.
---
Other Slots to Play If You Like Cash Noire
If you like Cash Noire, you may want to try Peaky Blinders. Or you might try Gods of Gold Infinite Reels, which has a similar RTP.
---
Conclusion
Cash Noire is an ideal online slot game for those after low to medium volatility entertainment. With plenty of action on screen and as many clues and chances to enjoy a reward, you'll never be bored.
Play it for the thrill of the chase and get your prize for solving this mysterious crime. Detective Flint is ready and waiting for you.