Follow the Honey Review
Follow the Honey – $250,000 Max Win!
Follow the Honey is not only a fun, entertaining slot: it also lets you win big. How many times have you had a good luck streak in some game only to find out the winnings were on the low side?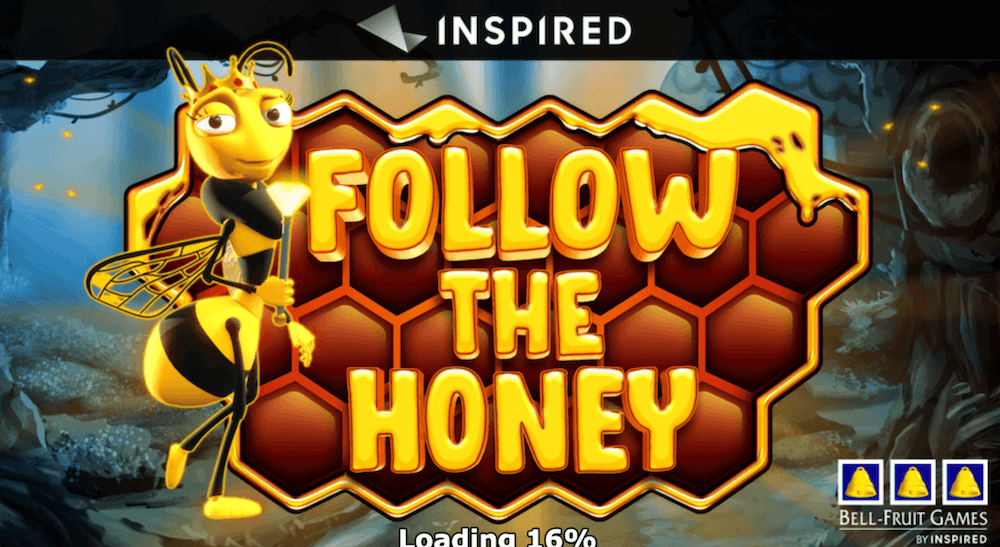 This is not the case with Follow the Honey, as it has a fantastic 1,250x max win. The max bet for this game is $200 in some casinos, so if you get the max payout, you'll be landing $250,000.
But how likely is this to happen? What kind of slot is Follow the Honey anyway? I'm going to tell you all about it in the following sections. Then you'll be able to decide for yourself whether you want to give it a try.
What I looked at in Follow the Honey
Game features
Reel and line number
Paylines
Max bet size
Max winnings
Follow the Honey Overview
| GENERAL DETAILS | | | |
| --- | --- | --- | --- |
| Slot type | Video Slot | Number of rows | 3 |
| Provider | Inspired Gaming | Reels | 5 |
Follow the Honey is a lovely 3 x 5 slot with 20 paylines wrapped in a floral theme with a few interesting features. Plus, with a maximum win of 1,250x, the high maximum bet is enticing for high-rollers.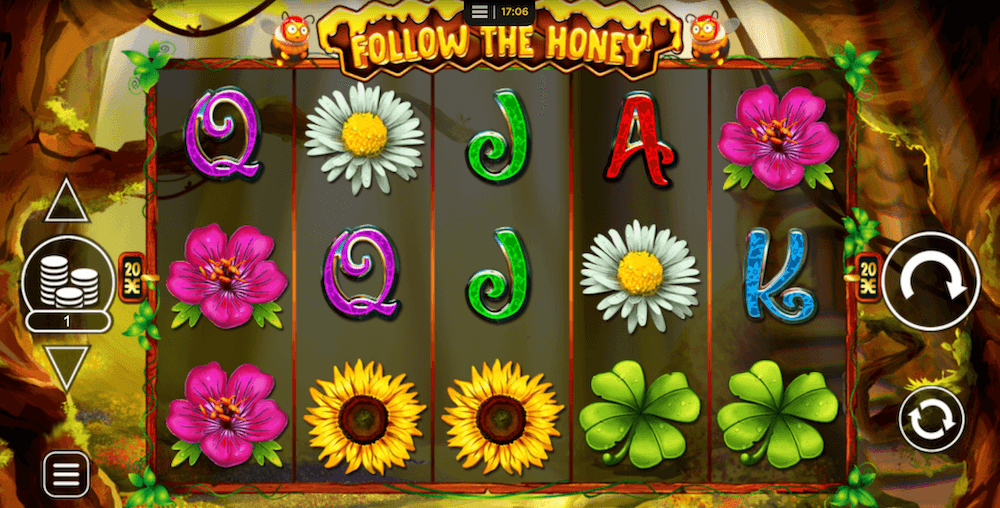 ---
Follow the Honey Features
Overall, Follow the Honey is a very straightforward game. Here's what I discovered:
| FEATURES | NO. | LIST |
| --- | --- | --- |
| BASE GAME FEATURES | 3 | Bonus Boost, Win Reveal, Free Spins |
| BONUS BUY FEATURES | 0 | No Bonus Buy Features |
| BONUS GAMES FEATURES | 0 | No Bonus Games Features |
Simple but effective features
Players who choose the Follow the Honey online slot can expect to find some interesting features awaiting them. These include wild symbols, scatter symbols, and a bonus round that can be triggered by landing three or more of the game's special symbols.
Ingrained into the game mechanics are the worker bees. These are modifiers, and the first one is the Bonus Boost, which makes the bee fly through the reels, adding bonus symbols. The other feature is the Win Reveal. If you lose the spin, a bee flies and transforms symbols into matching ones and additional wilds.
Like most games, you need to get three or more matching symbols on a payline to win. This gets a bit easier if you get the Bee Wilds, which always cover a roll, replacing any symbols there.
The symbols
You'll find a lot of flowers in this bee-themed game. The symbols are the classic card symbols J, Q, K, and A, joined by geraniums, daisies, tulips, sunflowers, four-leaf clovers, and mushrooms.
Aside from this, the bees are the Wilds, and there is a Honey Bonus symbol. This symbol activates a free spin feature.
Paytable
To win, you need three or more matching symbols. Here's a list of the symbols with the max winnings for each (that is if you get five of them).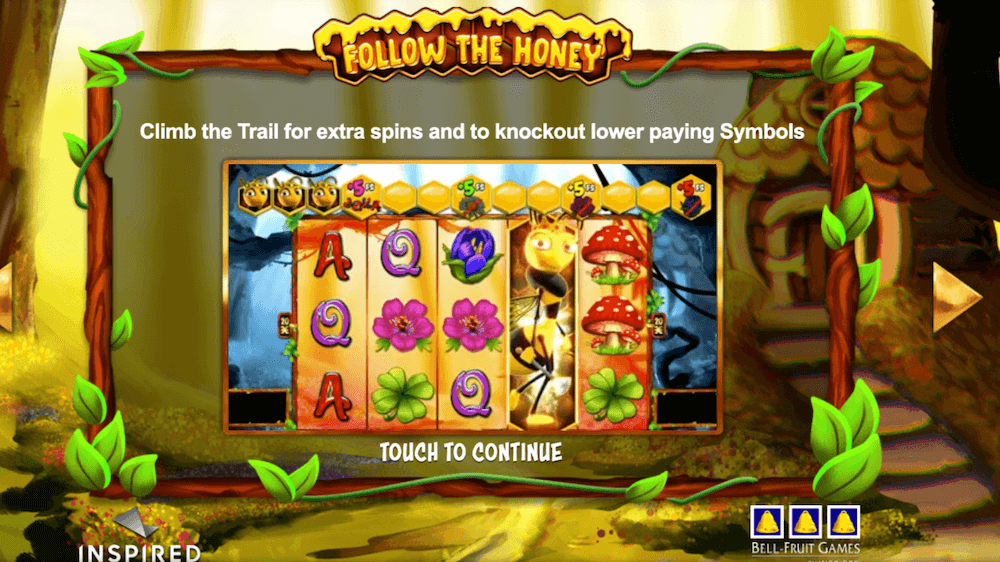 Card symbols: 5x your bet
Geraniums and daisies: 10x your bet
Tulips: 15x your bet
Sunflowers: 20x your bet
Four-leaf clovers: 40x your bet
Mushrooms: 50x your bet
Special features
I mentioned before about the bees interacting with the reels, they add bonus symbols, and in other cases transform symbols into wilds. However, the most exciting feature in Follow the Honey is The Trail.
Every time you land the Queen Bee, The Trail is added to (up to 13 times). The more Queen Bee symbols you land, the more lesser-value symbols are removed from the game. This means you start to stand a chance of landing even bigger payouts and extra free spins. 
Bonus Buy Feature
There is no bonus buy feature on Follow The Honey.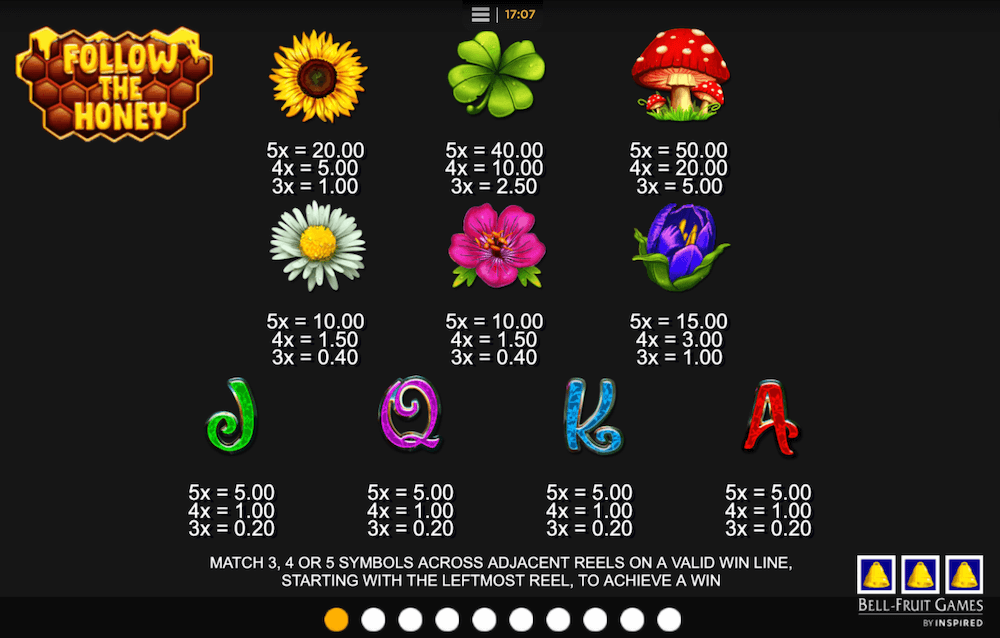 Hold and Win mechanics
There are no Hold and Win mechanics on Follow The Honey.
Bonus game features
If you get three to five Honey symbols, you get a free spins feature with 10, 15, or 20 free spins. This can also activate The Trail
I found it to be an interesting feature, more entertaining than the basic free spin bonuses other games offer.
---
What Other Special Features Are In Follow The Honey?
| SPECIAL FEATURES | |
| --- | --- |
| Autoplay option | 👍 |
| Change the speed | 👍 |
| Mute the sound | 👍 |
| Adjustable bet size | 👍 |
| Game History | 👍 |
Follow The Honey offers a lot of features standard in most slots. However, some of these are very thorough. The autoplay option, for instance, lets you customize your bets and even limit your losses.
I could only point out that some options are only available through a separate menu, such as the mute sound option. It would be best if it were switchable on the main screen.
Under that menu, you also have a turbo option that lets you spin the reels much faster but without losing sight of what's going on on-screen.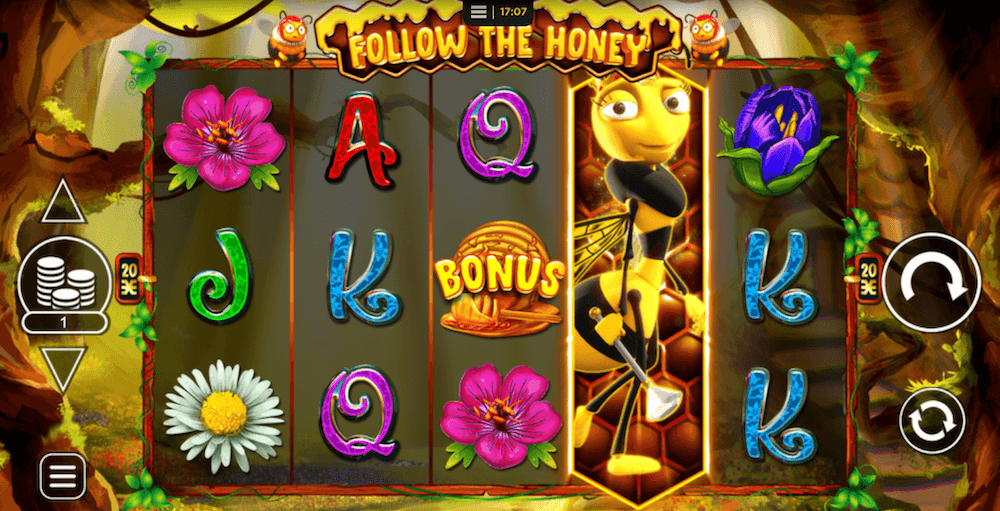 A great feature is the Game History. When you select this item, you can check your winnings history and the date and time. This is very handy for people who want to analyze their playthroughs.
---
Follow The Honey's Theme
In case you haven't noticed, this game is all about bees, honey, and flowers. The game's name is seemingly a pun on the "follow the money" phrase. You must follow the honey here since that's the bonus symbol.
The Queen Bee is the carrier of good news since it congratulates you, for instance, when you get free spins. It also pops up when you get a winning bet. You want to encounter this Queen Bee as many times as possible!
Aside from this, the game's very straightforward and doesn't have much background. I found its setting and symbols soothing, contrasting other, more hectic slots.
Graphics
The graphics are a bit basic, but okay. They are well-defined, and symbols are very distinctive and colorful. The background beautifully depicts a forest in autumn, which occasionally changes to a night forest, and all animations are also simple but effective.
Sound effects and music
I liked the music since it fits well with a fantasy forest. It enhances the ambiance.
Sound effects are also good and not very invasive. I was pleased to hear a gentle sound whenever you get any winning combinations, and the Queen Bee shows up.
The bee-buzzing sound would be the only annoying sound for some people, especially those with Melissophobia (fear of bees). But would they be playing this slot anyway?
---
Follow The Honey Developer
Inspired Gaming is the company behind Follow The Honey. This mid-sized UK company is behind many online slot games and physical ones as they cater to many brick-and-mortar locations.
They are continuously expanding and currently offers games for more than 170 websites and more than 50,000 gaming machines throughout the world.
---
Conclusion – Should You Follow the Honey??
Follow The Honey is a great title to try. Sure, there are other slots with more features (Book of Dead, for instance) or graphics, but Follow The Honey's strength resides in two separate issues: its simplicity and the max win.
This game is straightforward to play, understand and use. The core mechanics are similar to other slots, and the game's unique features are intuitive. Nobody will be guessing what just happened on-screen, as is the case in some slot titles.
The maximum win might look like it's on the low side, arguably. Other games offer way more than a max multiplier of 1,250. However, not all slots let you bet $200 per spin. The combination of both makes Follows The Honey an excellent option for high-rollers.