Monopoly MegaWays Review
117,649 ways to win!
Exciting paylines, reactions, and free spins
14,700x max win
Imagine if you could merge the world of Megaways with the family classic, Monopoly. Well, Big Time Gaming made it happen!
You can catch all the fun and thrill with the high volatility slot. You can find everything else you need to know in our Monopoly Megaways review below.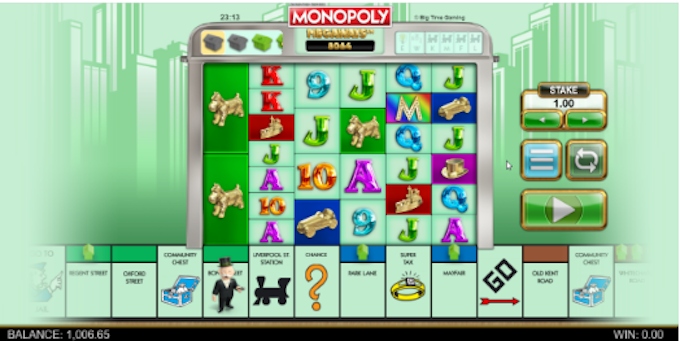 Monopoly Megaways Information
Provider
Big Time Gaming
Volatility
High
RTP
96.5%.
Features

Megaways
Free spins
Wild symbols
Multipliers
Avalanching reels

Reels
6
Min Bet

$0.20

Max Bet
$20
Max Win
14,700x
Where can you play Monopoly Megaways?
You can play Monopoly Megaways at these online casinos.
Hard Rock
Golden Nugget
Ceasars
Harrah's
Click a link below to get great offers on free bonus cash for slots.
You can expect hours of fun, much like its board game counterpart. The excitement of thousands of ways to play brings a new dimension to the game, with a Monopoly Megaways.
In fact, Hard Rock has a great collection of Monopoly slots. See our review of Hard Rock online casino here.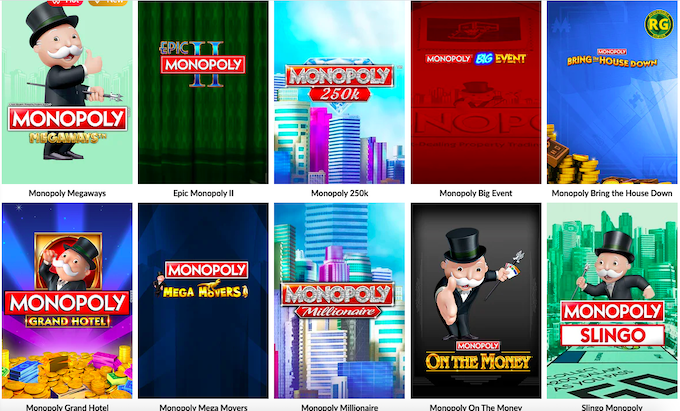 Monopoly Megaways Symbols & Payouts
While playing the slot for the Monopoly Megaways review, the six-reels kept us entertained for hours. There are so many ways to win – up to 117,649 in total.
When you're watching for winning combinations, this Megaways slot only pays from left to right. When you land on specific game locations, you have the chance to ensure that the next spin is at maximum Megaways paylines.
Symbols
In this Monopoly-themed game, you won't be surprised to find the four playing pieces of the board game: the dog, car, ship, and hat. The hat holds the highest value, and the dog the lowest of the four.
The remaining six symbols run from nine through to ace. Nine and ten hold equal value and are the lowest of all the characters.
An "M" over a multi-colored background represents the wild card and can substitute any other symbol. It only appears from reels two to six.
Paytable
In our Monopoly Megaways review, we found so many winning combinations, with the most valuable being the hat – a 50x multiplier.

Monopoly Megaways Min / Max Bets
This game is suitable for everyone, regardless of your bankroll. If you want to ensure your balance lasts a long time, the minimum stake is $0.20.
You can increase the maximum to $20.00.
Monopoly Megaways RTP & Volatility
The Monopoly Megaways RTP is slightly above the industry standard (96%), sitting at 96.50%. While this is a value determined by a reliable third party, it doesn't guarantee that's what'll be returned.
Besides the Monopoly Megaways RTP, what's essential to know is that it's a high volatility game. The frequency of winning rather high.
Monopoly Megaways Maximum Win
The maximum you can win is 14,700x the stake.
You can unlock multipliers by landing the correct symbols, but the real stars of the show unlock super multipliers in the bonus free spins game.
You'll access the bonus game after Mr. Monopoly lands on a property enough times that you receive a hotel.
You can accumulate free spins and multipliers in this game whenever he lands on a utility, station, or property with houses.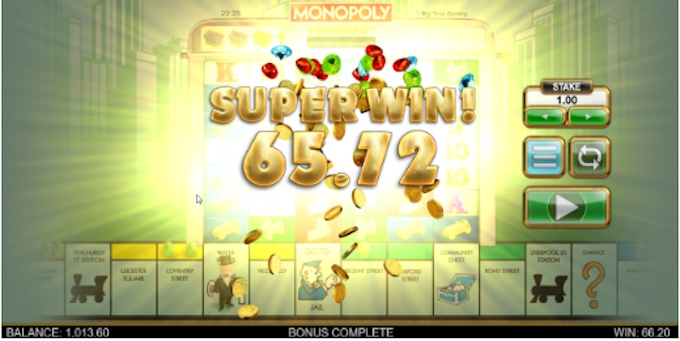 Monopoly Megaways Features
We had a lot of fun conducting the Monopoly Megaways review, but the most exciting part is the number of winning combinations and Mr. Monopoly moving across the board.
He collects the utilities, houses, and can "vroom" across the board when the Chance or Community Chest cards allow it.
Wilds & Other Base Game Features
The wild symbol is exciting and can appear anywhere between reels two and six. It also replaces any card, making it super handy.
Whenever you land a winning combo, Mr. Monopoly will move along the board.
Wilds
The wild is represented by the "M" over a multi-colored rainbow background. It can take the spot of any of the symbols. It can be small or take up several rows between the second and sixth reel.
Reel Adventure
It wouldn't be a game of Monopoly if you couldn't benefit from utilities, train stations, and properties. In this Monopoly variation, you'll see Mr. Monopoly moving across the board whenever you hit a winning combination.
He only needs to land once on a utility or station, and it becomes yours. If you land a combination three times after the tiles avalanche down, you'll receive a green house on the property he's standing on.
Monopoly Megaways Free Spins
When you land on a property with at least three consecutive avalanche wins, you'll collect the usual green houses. Much like the board game, after five, you get a red hotel.
When you get the hotel, you instantly receive eight free spins and unlock the bonus game. Any train stations you own will become free spins too.
Bonus Game
In our Monopoly Megaways review, we had the most fun in the bonus game. After you unlock it by collecting a hotel, or a Chance card, you're in for a real treat.
You'll receive a multiplay straight away for each utility you own and additional free spins for any train stations. As the slot starts spinning and Mr. Monopoly moves along, you'll earn a multiplier for each house you own when he lands on a property or utility and extra spins when he's on a station.
You can only imagine how far the multipliers and spins can go with the thousands of paylines.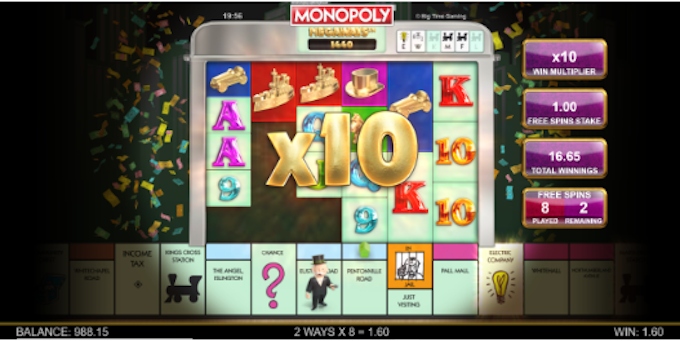 Graphics & Sound
The graphics are excellent in this slot. The creators did a superb job at merging the slot game with elements from the board game.
The music in the games is upbeat and jazzy, instantly boosting your mood. The sound effects are also entertaining as Mr. Monopoly "vrooms" and "beep beeps" across the board.
Other Slots to Play If You Like Monopoly Megaways Slot
If you're unsure where to play Monopoly Megaways, keep an eye out for similar titles that give you a similar feel. Some of the best ones include Monopoly with Pass, Monopoly Multiplier, and Here and Now.
Monopoly Megaways Review – Conclusion
Big Time Gaming has done an impressive job of bringing the iconic board game to life in a slot machine game. We thoroughly enjoyed doing this Monopoly Megaways review and were entertained for hours on end.
The combination of a slot and the Reel Adventure as you benefit from Mr. Monopoly moving through the board makes it stand out from the rest.