Rakin' Bacon Review
Rakin' Bacon is a slot game from AGS, or American Gaming Systems. This game features:
Eye-catching theme centered around its main character, which is a top-hat wearing golden pig.
Match-three bonus game with a chance to win a sizable jackpot.
High volatility, giving you the potential to hit a generous payout.
But does this slot really bring home the bacon? Or will you only be winning at this game once pigs can fly? Check out our Rakin' Bacon review and find out more.
Provider
AGS
Volatility
High
RTP
95.89%
Features

Free Spins
Re-Spins
Wild Symbols
Scatter Symbols

Paylines
243
Reels
5
Minimum Bet
(all lines covered) $0.88
Maximum Bet
$88
Top Win
4,000x
Rakin' Bacon Symbols and Payouts
This game features 243 paylines across five reels. The gameplay follows the classic slot layout, with winning combinations going from left to right. Slot veterans will feel right at home with the familiar format.
Symbols
All the symbols fit with the theme of the golden pig. From lowest to the highest value, you'll see familiar card symbols, then the pig's top hat and bow tie.
Coins, cash, bars of gold, and diamond rings follow. The most valuable symbol of all is the coveted golden pig.
There are also pots of gold for scatter symbols and a single gold coin (with the pig's face on it) for wilds. You'll learn more about this n our review of this slot's features, shown below.
Paytable
Check out a more detailed breakdown of each symbol and its value below. The golden pig is the one with a real high value.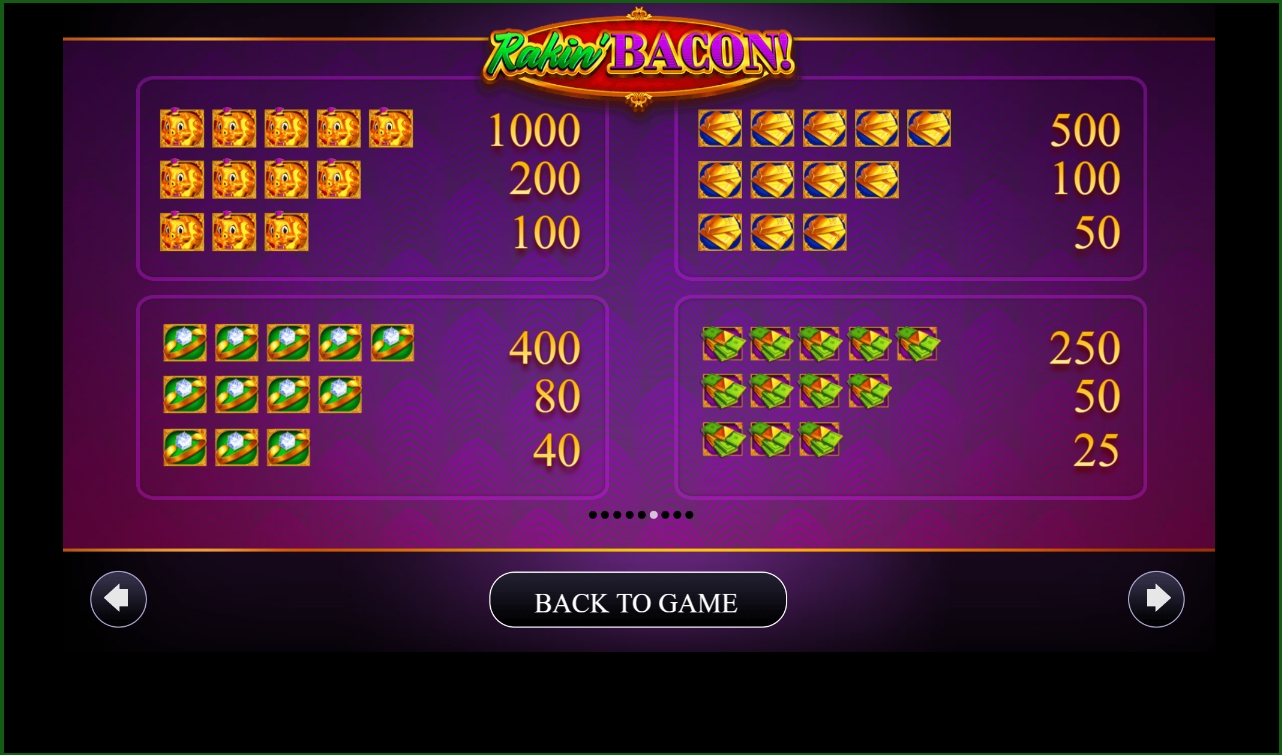 Rakin' Bacon Min / Max Bets
Rakin' Bacon requires a minimum bet of 88 cents to cover all paylines. You can wager up to $88 per spin. The minimum bet is right around what you will find with typical slots.
Meanwhile, the maximum is quite high, giving you a chance for some high-roller slot play. That means Rakin' Bacon is suitable for a whole range of players, from casual gamers to more serious slot players.
Rakin' Bacon RTP, Volatility & Hit Frequency
RTP stands for return to player rate. This rate gives you the average money this game would return for every $100 spent. Rakin' Bacon RTP rate sits at 95.89%.
That's about the average for slot games overall, which is an even 96%. What this means is that for every $100 fed into the machine, on average, Rakin' Bacon will pay out $95.89.
Of course, this average is taken over millions of spins. So, with a bit of luck, your payout will hopefully be much higher than that. Here's one detail that sets this slot apart from the rest.
Rakin' Bacon is a high volatility slot. That means that although the hit frequency is lower than some other games, when you do win, you are much more likely to hit a big value payout.
Rakin' Bacon Jackpot
Rakin' Bacon offers four different tiers of jackpot. You can earn a chance to win a jackpot every time a wild symbol appears on any reel. If you're lucky, you'll go to the jackpot pick game.
The jackpot pick game presents you with 12 gold coins. Turn them over until you have three matches. Match the Grand Jackpot prize to win 4000x times your bet. You'll be as happy as a pig rolling in mud.
Rakin' Bacon Features
Along with this classic slot gameplay, Rakin' Bacon offers a few extra features. The free spin bonus rounds are especially exciting.
Wilds
Rakin' Bacon features wild symbols. Experienced slot players already know about these, but for any rookies out there, wild symbols can take the place of any other symbol (except for scatter symbols) in a winning combination.
Not only do these symbols increase your chance of a winning combination, but they also have a chance to trigger Rakin' Bacon's bonus game.
Rakin' Bacon Free Spins
Rakin' Bacon's free spin feature can trigger when you get a winning combination featuring the pot of gold bonus symbol. You'll then be given three options for the number of bonus spins you get and the reel layout the bonus spin rounds will play out on.
We enjoyed the customizable aspect of being able to choose the reel layout for your free spins. This definitely gives Rakin' Bacon a customizable aspect that heightens the gameplay.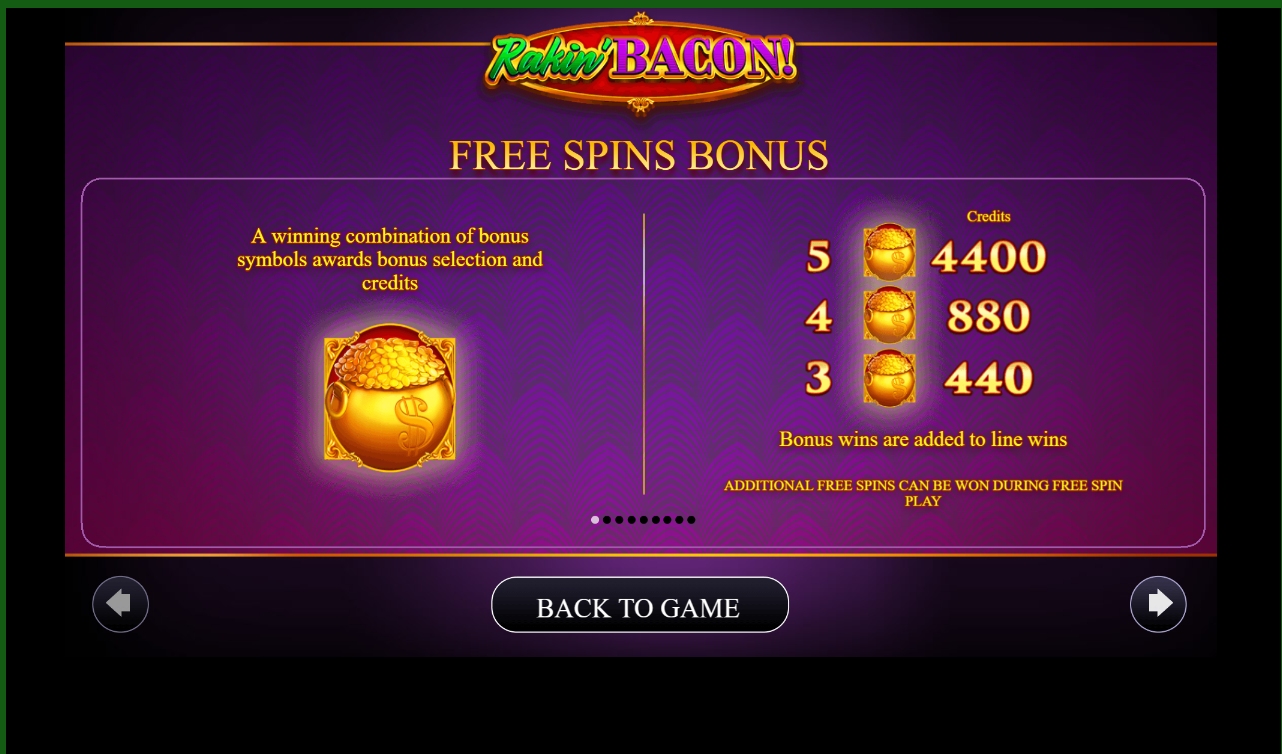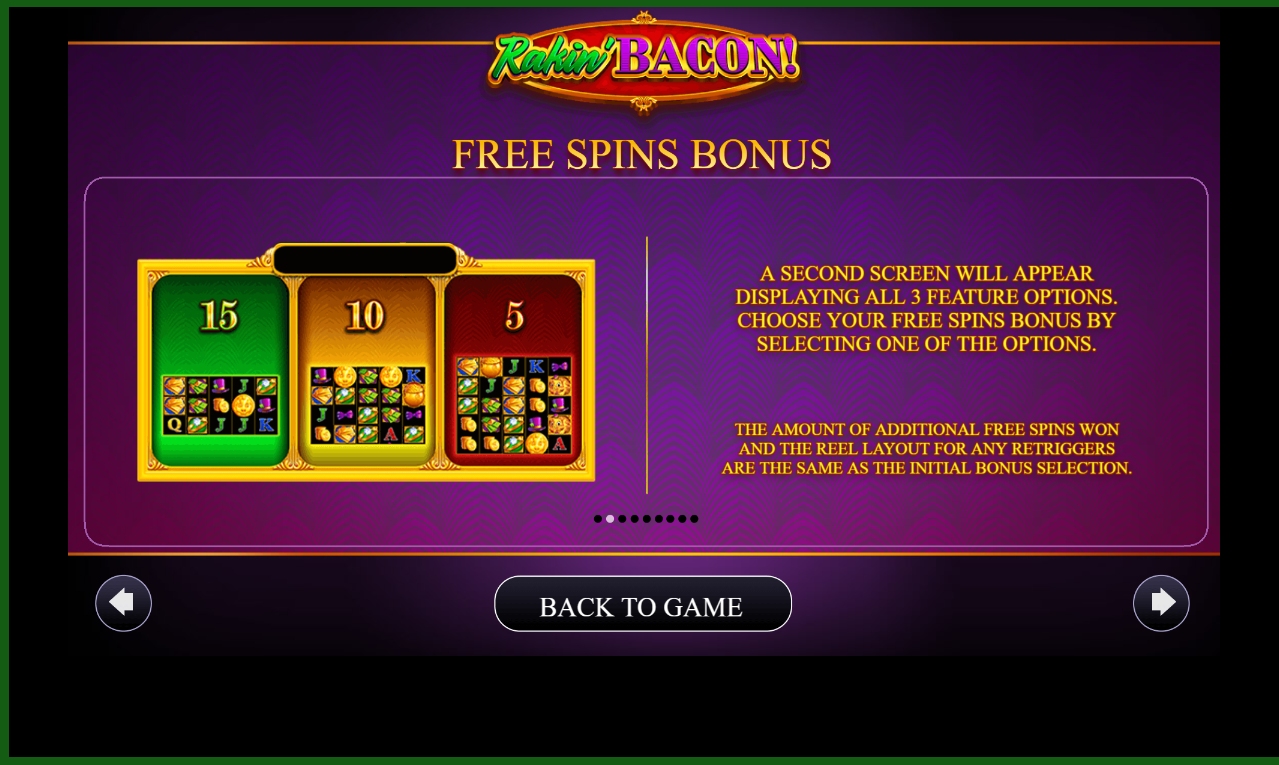 Bonus game
As mentioned above, Rakin' Bacon features a jackpot pick bonus game. This has a chance to be triggered any time a wild symbol appears.
Turn over the gold coins that appear on the screen to match three of them and you'll win the corresponding prize.
Graphics & Sound
Rakin' Bacon certainly has a charming visual and audio design. We love the top-hat-wearing pig that serves as the game mascot, who collects your coins as you earn your winnings.
The design of the reels themselves are simple, but that helps to make the game easy to follow. There's also a jaunty little tune that plays in the background as you spin the reels.
It's a laid-back piano melody that kept us entertained. You also get the jingle of gold coins whenever you add to your winnings, encouraging you as you build up more and more money.
Other Slots to Play if You Like Rakin' Bacon
If you like the friendly pig in Rakin' Bacon, you're sure to find other games with similarly entertaining animal mascots. Click here to check out our directory of slot games and find your favorite.
It will also guide you to where to play Rakin' Bacon. Slot veterans may also find Rakin' Bacon to have a familiar setup. That's because it's based on the classic Asian slot game Fu Nan Fu Nu. Be sure to check that one out if you enjoyed Rakin' Bacon.
Rakin' Bacon Review – Conclusion
Overall, our review team definitely found Rakin' Bacon worth our time. The lower-than-average RTP might disappoint some players, but we found the high volatility made the game quite lucrative.
You'll just have to be patient through some winless spins until you hit a big payout. So give Rakin' Bacon a try.
Its jackpot game might just give you a big reward to pig out on.