Reactoonz Review
Reactoonz is a 7×7 slot released by Play'n GO on October 24, 2017. It has a fun theme with cute monsters and science-based features, including five meters that unlock multiple perks. The Reactoonz slot RTP is 96.51%, with a maximum win of 4,750x the player's stake. Read my Reactoonz New Jersey review to learn more.

Reactoonz: What Makes Cluster Pays Slots Interesting?
The cluster pays mechanic isn't as popular as traditional slot mechanics. However, cluster pays slots are incredibly fun, and some players only play this type of slot, not to mention that Reactoonz is one of the most recognizable slots featuring this mechanic.
Unlike traditional slots, cluster pays slots don't have paylines. Wins are triggered by landing a specific number of matching symbols close to each other, typically five.
This guide explains everything about Reactoonz, including its payouts, features and bonuses. Stick with me to discover the exciting world of cluster pays with this Reactoonz slot review.
What I tested about Reactoonz
Ensuring players access updated information about online slots is one of my priorities. To help you, I've developed a rigorous testing method that analyzes several aspects. Here's how I tested the Reactoonz slot:
Game Information: I looked into Reactoonz's general details.
Bonuses: I tested all the slot's bonus games.
Features: I evaluated the game's features and controls.
Theme: I analyzed Reactoonz's theme in terms of graphical quality and soundtrack.
Provider: I checked the provider behind Reactoonz.
What Exactly is Reactoonz?
Reactoonz is a cluster pays slot. It has a 7×7 layout where winning combinations are obtained by landing clusters of at least five symbols. The game was created by Play'n GO, an award-winning iGaming provider.
GENERAL DETAILS
Slot type
Video Slot
Number of rows
7
Provider
Play'n GO
Reels
7
What Games and Bonuses Does Reactoonz Have?
| | | |
| --- | --- | --- |
| FEATURES | NO. | LIST |
| BASE GAME FEATURES | 5 | Wilds, Cascading Reels, Instability, Fluctuation and Giantoonz |
| BONUS BUY FEATURES | 0 | Reactoonz doesn't have a Bonus Buy feature. |
| BONUS GAMES FEATURES | 5 | Quantum Features and Gargatoon. |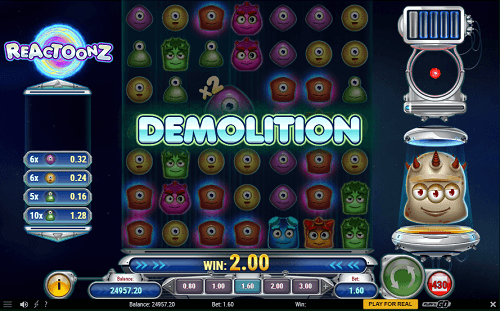 The Reactoonz slot is packed with potentially rewarding bonus features. The slot has four base game features and five bonus game resources designed to increase the excitement.
Fantastic base game features
Unlike other online slots, Reactoonz's base game has several features to keep you entertained. You can find various colorful monster symbols, wilds and even special events that add a twist to the game. Let's see what my Reactoonz review found:
Symbols
Reactoonz's symbols are cute monsters shaped like blobs. The low-paying symbols include yellow, green, brown and purple blobs. The high-paying symbols feature blue, orange, green, and pink monsters. The wild symbol is a flux capacitor.
Paytable
Discover this slot's payouts with my Reactoonz slot machine review:
| | | |
| --- | --- | --- |
| Symbol | Type | Reward |
| One-Eyed Yellow Blob | Low-paying | 0.10x to 3x (5 to 15+ symbols) |
| One-Eyed Green Blob | Low-paying | 0.10x to 3x |
| One-Eyed Brown Blob | Low-paying | 0.15x to 10x |
| One-Eyed Purple Blob | Low-paying | 0.15x to 10x |
| Blue Monster | High-paying | 0.5x to 75x |
| Orange Monster | High-paying | 0.6x to 150x |
| Green Monster | High-paying | 0.8x to 300x |
| Pink Monster | High-paying | 1x to 750x |
Special events
Reactoonz has four main special events during the base game: Cascading Reels, Instability, Giantoonz and Fluctuation.
Cascading Reels: Winning symbols are removed, allowing new symbols to take their place and potentially create additional wins.
Instability: Four to eight wilds are added randomly to the playing grid on non-winning spins.
Giantoonz: Adjacent symbols on a 2×2 configuration transform into a giant symbol, doubling any wins.
Fluctuation: Every spin, random low-paying symbols are marked with a fluctuating aura that adds wilds to the reels if they're part of a winning combination.
Does it have a Bonus Buy feature?
You can't buy bonus features on Reactoonz.
Does it come with a Hold and Win mechanic?
Reactoonz doesn't have a hold and win game.
Exciting bonus game features
Reactoonz bonuses are Quantum Features, which are divided into five different perks. You can unlock these features by landing multiple winning combinations in a row. Let's see how Reactoonz bonuses work:
Quantum Features
Every time you fill the meter with consecutive wins in the same spin, you'll trigger a new feature:
Alteration: Transforms one type of one-eyed symbol into another.
Implosion: Transforms three to six symbols into wilds and destroys adjacent symbols.
Demolition: All one-eyed symbols are removed from the playing grid.
Incision: Places a wild into the middle of the playing grid and creates two diagonal lines with the same symbol.
Gargantoon: Adds a 3×3 wild monster to the reels that divides and moves around the playing grid with every consecutive cascade.
What Innovative Features Does Reactoonz Have?
This section will walk you through the little quirks of Reactoonz. Discover more in the table below:
SPECIAL FEATURES
Autoplay option
👍
Change the speed
👍
Mute the sound
👍
Adjustable bet size
👍
Win limit
👍
Loss limit
👍
Reactoonz allows players to select up to 100 spins with autoplay, change the game speed and mute the sound. You can adjust the bet between $0.20 and $100 and create win/loss limits.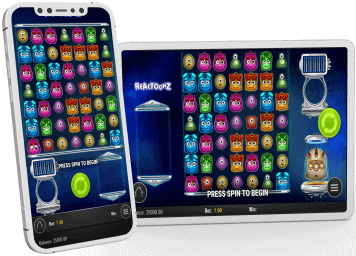 What is Reactoonz's Theme?
Reactoonz's monsters are cute alien-like creatures that can use their powers to teleport, multiply and fuse. Harnessing their energy triggers the game's bonus features and helps awaken Gargantoon, a giant and powerful monster.
High-quality graphics
Reactoonz benefits from high-quality animated graphics with fluid animations. Every bonus feature has unique animations that add detail to the game.
Fun sound effects
Similarly to the graphics, the sound effects in Reactoonz are custom-made. Every feature has different sounds, creating an immersive experience.
Who Created Reactoonz?
Reactoonz was created by Play'n GO, a reputable provider founded in 1997. The provider is known for its high-quality graphics and innovative features, with over 260 games in its portfolio.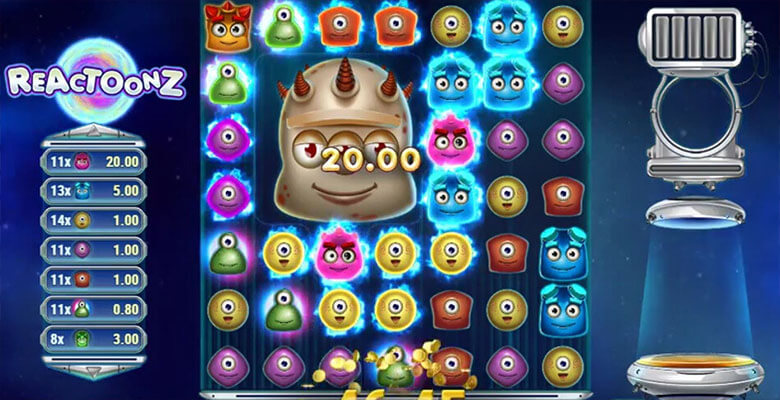 Conclusion: Is Reactoonz the Best Cluster Pays Slots?
All Reactoonz reviews value the plethora of features present in the game, and this one isn't an exception. Reactoonz bonuses add a new layer of depth to the game, increasing the immersion and potentially improving the rewards.
The Gargantoon extra is a welcome addition that rewards those who dare awaken this monster. Play long enough, and you'll quickly learn why it's considered one of the best cluster pays games.
How much can you win playing Reactoonz?
You can reach wins of up to 4,750x your stake by playing Reactoonz.
Does Reactoonz have a free spins bonus?
No. However, the slot has several quirky bonuses to compensate for the lack of a free spins bonus.
Is Reactoonz available in New Jersey?
Yes. Play'n GO is regulated by the New Jersey Division of Gaming Enforcement (DGE), meaning that this provider's games are legal in the state.
Can I play Reactoonz with a casino bonus?
Yes. Many Reactoonz sites offer new and regular players free spins and other bonuses to play this slot.