Santa vs. Rudolph Slot Review Review
It's days before Christmas, Santa has endless tasks to do before delivering gifts, and now of all times, Rudolph decides to claim Santa's hat as his own! Join in on the rewarding fun as these two life-long friends battle it out to decide who gets to wear the hat this year. They are leaving it up to you to decide, but be warned, they've got some interesting features to persuade your decision!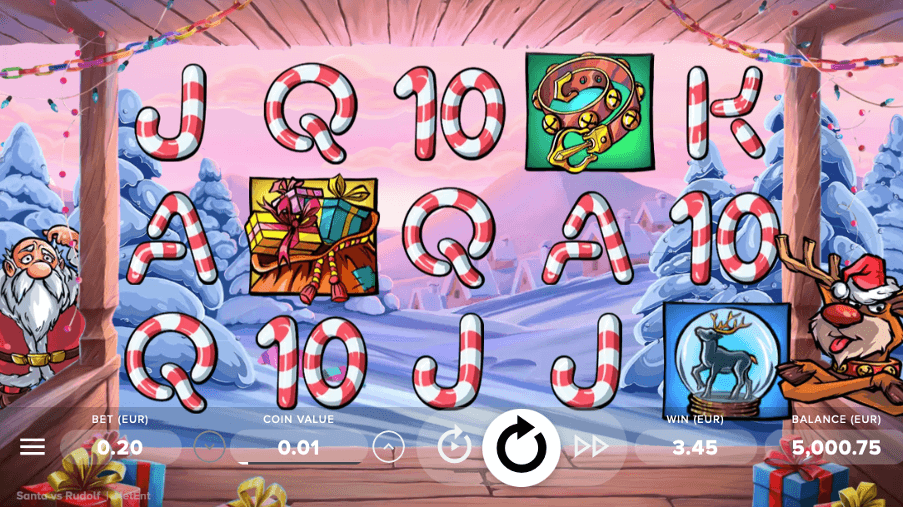 Santa vs. Rudolph Review – Does it Live up to the NetEnt Standard?
NetEnt is one of the leading iGaming developers, always adding an interesting range of features and rewards to their games. As some of you might know, every new release has to include something exciting that's not available on any other games, but is it the same case with the Santa vs. Rudolph slot?
If you're a big NetEnt fan, the game might remind you a bit of the well-known The Invisible Man slot, which was removed from their collection a few years ago. It also featured double wilds that shift from one side of the reels to the other and activate free spins when they meet on the same reel. In fact, it even had the two meters that appear during the feature, adding more benefits for bigger winnings. 
In all fairness, they game is not part of the NetEnt collection anymore, but it also doesn't bring something new as with all their slots. Nevertheless, the new Christmas slot certainly offers a brilliant range of rewards, an interesting theme, and loads of ways to boost big wins! Let's dive into the details of this Santa vs. Rudolph slot review! 
What I Checked in Santa vs. Rudolph
The Santa vs. Rudolph slot was created by the talented NetEnt team, which is a favorite for many players in New Jersey. Therefore, we ensure every aspect of the game is covered in our slot reviews, including: 
Base Game Features and How they Work 
Bonus Buy and Hold & Win Options 
Bonus Game Features and How they Work 
Special Game Settings and Options Available 
More About Game story, Graphics, and Sound 
What is Santa vs. Rudolph
| | | | |
| --- | --- | --- | --- |
| Slot Type | Video Slot | Number of Rows | 3 |
| Provider | NetEnt | Reels | 5 |
NetEnt selected the standard 20 paylines mechanics, which create combinations in both directions. All symbols, including the highest paying, need to appear at least three times consecutively on any lines to activate combinations. 
While the layout is quite standard and easy to get used to, the addition of paying both ways certainly increases your chances to win. The highest payout of 500x activates with the Santa's red sleigh, followed by the bag filled with gifts rewarding 400x the bet per line. 
Bonus Features in Santa vs. Rudolph
| | | |
| --- | --- | --- |
| Base Game Features  | 2 | Shifting Wild Symbols, Re-Spins |
| Bonus Buy Features | 0 | NA |
| Bonus Game Features | 3 | Free Spins, Santa's Gifts, Rudolph Spins |
Base Game Features with a Wild Twist! 
The base game is where you'll be most of the time, but NetEnt includes a range of interesting bonuses and rewards to keep you entertained. One thing is for sure, once you spot either Santa or Rudolph, you'll be on the edge of your seat! Let's get into the base game feature details!
The Santa and Rudolph Wild Chase!
Both Santa and Rudolph are wild symbols, allowing them to represent any others to complete winning combinations. There are no scatters, which means these two can represent anything when combinations are possible. 
Santa can appear on the first reel while Rudolph can land on the fifth reel. When either one of them appear, they will shift to the other side of the screen, one reel at a time. For as long as they are on the reels, they'll be able to activate combinations. It's also possible to have multiple wilds on the reels at the same time, creating huge winnings!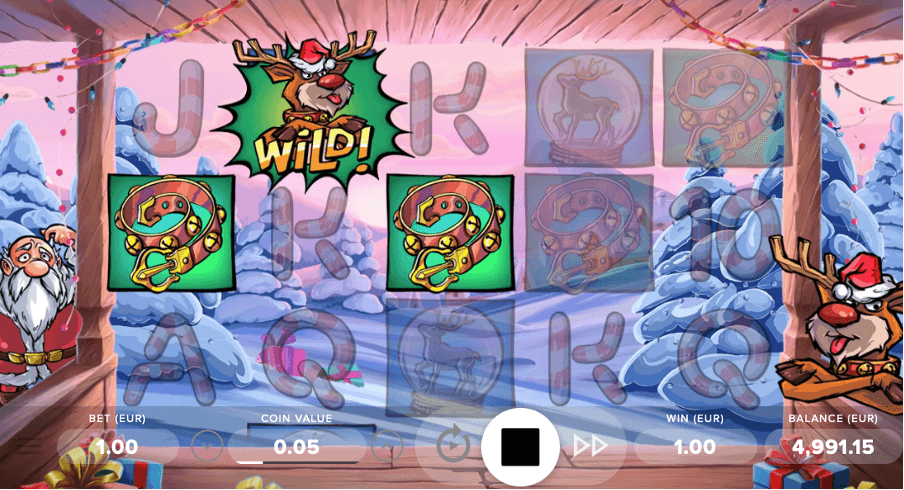 Now Add Re-Spins with those Wilds for Jolly Good Wins! 
When the wild symbols appear, the game automatically activates a re-spin feature and spins automatically as they shift to the other side. This means you'll score five re-spins every time a wild symbol shows up, which could lead to massive combinations, especially with multiple wilds! 
Santa will shift from right to the left, and Rudolph will shift from the leftmost reel to the right. Once they reach the end, they'll shift off the reels and the game will continue as standard. 
No Need for Bonus Buy Options 
While NetEnt has included the bonus buy option with some of their games, the Santa vs. Rudolph slot isn't one of them. It's not needed in the game as the feature activates easily and the re-spins keep you entertained. 
The Re-Spins are Better than Hold and Win 
While hold and win features are great for stacking combinations, NetEnt selected their impressive shifting wilds feature for the game. It simply works better here, especially since it's combined with free re-spins.
Santa vs. Rudolph Bonus Features 
While the re-spins and wilds are bound to keep you entertained, once the two catch up with each other on the same row, bonuses activate, and winnings reach a whole new level! Let's take a close look at the bonuses, how they activate, and what it means! 
Santa Catches Rudolph for Free Spins!
When Santa and Rudolph appear on the same row, they'll shift towards each other and meet, triggering 10 free spins. It's possible for all three rows to have them both at the same time, meaning up to 30 free spins can activate at a time! 

During the free spins, wild symbols can appear on any reels and will still shift in the same direction. This create lots of combinations, especially when both of them appear, and if they meet again during the feature, another four free spins are added to the remaining balance! 
Free Spin Meters 

Upon entering the free spins feature, a meter appears above the reels, the left representing Santa's gift and the right offering Rudolph's spins. Each meter has eight spaces, which fill up when the corresponding wild makes it to the other side of the reels. Fill up these spaces to activate an additional feature at the end of free spins, including: 
Rudolph's Spins 
Filling up Rudolph's side of the meter during free spins by getting eight of his symbols to make it across will trigger more spins. However, these aren't the same as the standard free spins as it includes five randomly placed wilds over three spins. Of course, this could lead to massive combinations, but these won't shift as seen during the standard free spin's bonus. 
Santa's Gifts
Filling up Santa's side of the bar during free spins will trigger the gift bonus feature. On the screen five coins appear, offering multipliers, coin wins, and of course, one that ends the bonus. Collect as many coins and multipliers as possible to add an impressive total to your free spin rewards! 
The Range of Special Features in Santa vs. Rudolph
| | |
| --- | --- |
| Autoplay? | 👍 |
| Game Speed Settings? | 👍 |
| Game Sound Options? | 👍 |
| Easy to Change Betting Options? | 👍 |
NetEnt keeps to its standard betting interface, making it easy to get familiar with the interface. All the game options are available below the reels while the mobile version couples it together in a menu for easier touchscreen access.
The burger menu on the far let provide access to the pay table, game information, and all the other settings you might need. To its right, betting options are adjustable from $0.01 up to $20.00 per line, offering a total betting range from $0.20 up to $400.00 per spin. 
Alongside the spin button on either side, quick-access buttons include autoplay and game speeds with multiple options. On the right, the game keeps you updated on the latest winning values and your account balance.
What's the Story behind Santa vs. Rudolph's Theme?
Santa vs. Rudolph provides an interesting slot theme, featuring these two life-long friends that have turned against each other. It obviously has to do with the fact that Rudolph has taken Satna's hat, creating a series of special features as he tries to get it back. Of course, this is the action that breaks through during bonus features, offering a remarkable experience with excellent rewards.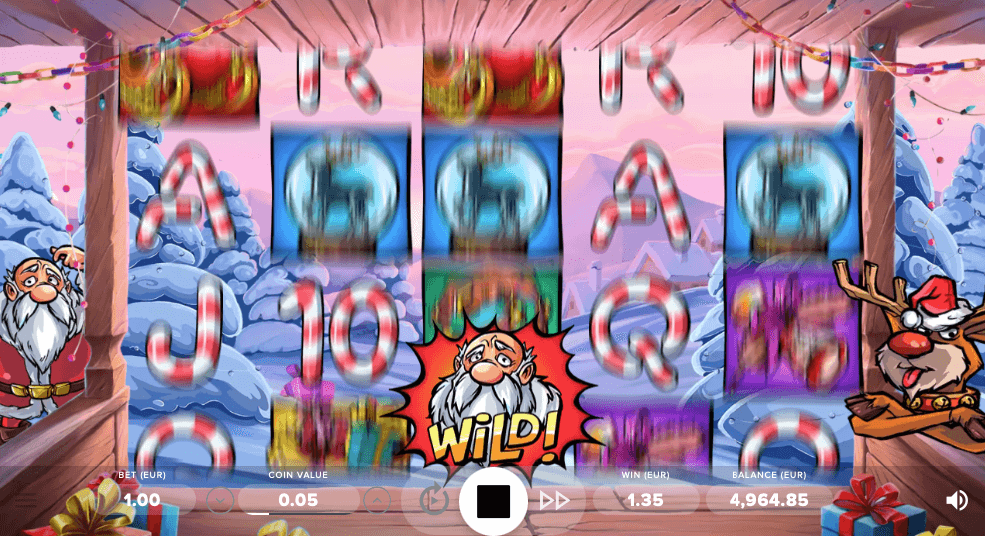 Smooth Animated Gameplay 
The game graphics reminds us of what you'd see in a comic book, which suit the theme well. They've also includes some animations, but nothing quite as advanced as we've seen in other slots from NetEnt. However, it's certainly a great effort that adds to the game and the features it has to offer. 
Festive Sounds Complete the Game 
Some slots simply take the sound effects too far, in which case it's better to just mute and play in silence, right? Well, the Santa vs. Rudolph slot delivers an "easy on the ears" melody with a shake of the bells as spins activate. Of course, combinations and features stand out with a roar of excitement, which still didn't make us reach for the mute button.
Who Made Santa vs. Rudolph?
The Santa vs. Rudolph slot was created by the well-known NetEnt team that was established in 1996. The company has won multiple awards for their high-quality games and innovative thinking.
Other Christmas Slots by NetEnt to Play
If during this Santa vs. Rudolph slot review you though it doesn't suit your Christmas spirit, be sure to have a look at other popular games that were also created by NetEnt. We have loads to choose from, including: 
Conclusion – How Santa vs. Rudolph Compares to Others
There have been amazing Christmas slots over the years with amazing features and themes to match. The Santa vs. Rudolph slot is somewhat unique, especially when taking the theme and storyline into consideration. The features are brilliant, especially since none of the standard scatter and bonus symbols form part of the action to trigger bonuses. Overall, the game delivers a great experience that worth at least a few test spins as it would most likely become the Christmas slot you return to most!