Serengeti Kings Review
How I tested Serengeti Kings
With each game we review, we do so fairly and impartially. We want to bring players the most accurate information on all slot games.
We need to play the game long enough to learn about the mechanics and trigger all possible bonus features.
Careful attention is paid to the visuals, sound, gameplay, and other unique aspects of the game. In the end, we sum everything up into our final score.
---
Play Serengeti Kings with the Best Bonus
NetEnt's Serengeti Kings takes us on a trip to the African wilderness. We'll meet lions, hyenas, zebras, panthers, and more. This developer rarely disappoints, so let's see what Serengeti Kings has to offer.
FACTS: We can always find games by NetEnt at all popular casinos. Below, we've listed out a few casinos where you can find Serengeti Kings and the bonuses they offer to new players.
Here are three online casinos that offer competitive welcome bonuses:
Hard Rock Casino: Receive 50 free spins added to your new account for select slot games
PartyCasino: Receive 25 free spins on Starburst, plus receive a first bonus match up to $1,000.
Borgata Casino: Receive a no-deposit bonus of $25 when creating an account.
OPINION: There Are Some Great Offers for New Players
All of the above casinos have some generous bonuses for new players that sign up. Value-wise though, it seems Casino Gods edges out the competition with an additional 300 free spins.
---
Serengeti Kings Symbols & Payouts
The Symbols
The main symbols in the game are the lion, panther, zebra, hyena, giraffe, and meerkats. These are the highest paying symbols, with the lion and panther offering the most value. The lower paying symbols are the letters A, K, Q, J, and the number 10. Each of these is also nicely designed in a way that fits the game's theme.
Paytable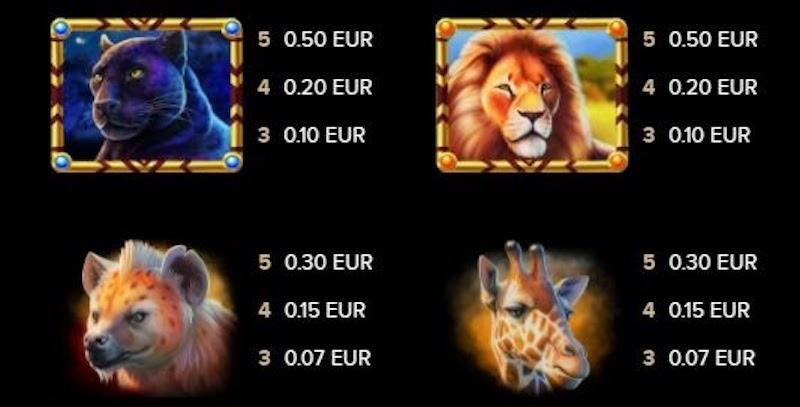 Min/Max Bet, Autoplay Option?
Serengeti Kings has a wide betting range from €0.1 to €100, making it suitable for all kinds of players. The game does have an autoplay option where you choose the number of rounds you want the game to spin on its own.
RTP
The RTP value is around 96.2% which is just slightly above the average of 96%.
Volatility
Serengeti Kings is a medium to high volatility game. With higher volatility, there's also the potential for some big blowouts.
Hit Frequency
A higher level of volatility can make the hit frequency a bit more inconsistent and harder to predict.
Jackpot and/or Maximum Win
Players can win 4000x their initial wager, which means you could get a max of €40,000.
OPINION: Serengeti Kings Has a Wide Betting Range and Higher Volatility
Serengeti Kings is perfect for all kinds of people ranging from casual/novice players to more experienced ones. You can make minimal bets if you want to be more cautious or bigger bets up to €100 if you're going to try your hand at a lucky win. A higher level of vitality means those larger bets could potentially pay off.
---
Game Features
It's time to go over Serengeti Kings' main features and bonuses that make it an exciting game.
Wilds, Re-spins and Other Features
The main mechanic of the game is the Lion and Panther feature. These each last 12 spins, and then switch to the other one. The game starts with the Lion Spins feature. During this time, all lion symbols appearing on screen are added to the lion counter, and panther symbols are added to the panther counter.
At the end of the 12 spins, all the lion symbols previously added to the counter appear back on screen, and there is the potential to get some multiplier here.
At the end of the Lion Spins, the game turns tonight, and the Panther Spins feature starts. Ultimately these go back and forth as you play the game. Basically, if you stick it out for 12 rounds, you can be rewarded with some explosive wins.
Wilds
The wild symbol is a setting sun with "wild" spelled out across it. Wilds substitute for other symbols in a payline to create a winning combination.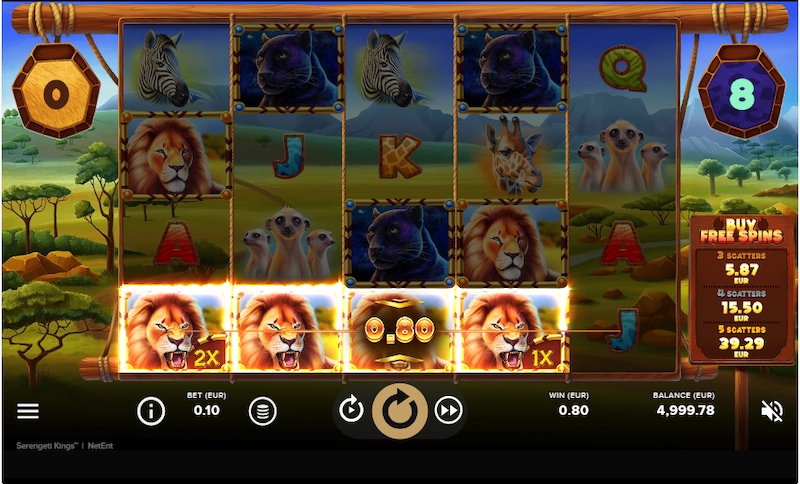 Re-Spins
Re-spins are triggered through the scatter symbol, which is a half sun/moon with scatter written on it. All you need is three scatters anywhere on the screen to activate 12 free spins. With only three scatters, the lion and panther counter will be reset.
If you land, four scatters you will continue playing with the same counters you currently have. Should you manage to get five scatters, add five lions and others to the respective counters.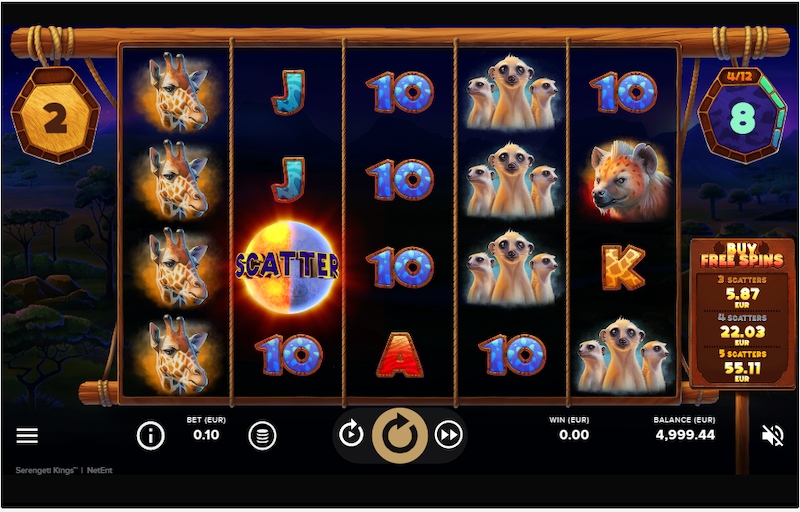 Multiplier
On the 12th spin, there is a potential to get multipliers. For every lion or panther placed on top of the same symbol or a wild, the multiplier increases by 1x.
Bonus Buy?
Players will find the option to purchase three, four, or five scatters to trigger the 12 free spins bonus round. This option is, however, not available in the UK due to regulations.
OPINION: Panther and Lion Features Add an Interesting Element to the Game
Most people are going to be happy to see that every 12 spins, you'll be able to automatically trigger the bonus round of the game, rather than purely relying on luck for it to happen.
The switch from day to night every 12 spins also adds an immersive and realistic element to the game, making you feel like time is going by. The game also has the usual bonus elements like scatters, wilds, and re-spins.
---
Serengeti Kings Graphics & Sound
| | |
| --- | --- |
| Graphics | 2D |
| Optimized for Mobile | 👍 |
| Music | Background music, sound effects |
| Special features | Day/night shifting |
OPINION: Serengeti Kings Is a Visually Impressive and Immersive Experience
NetEnt has done another great job of creating a detailed and good-looking game. It takes place in the African wilderness, with trees, rolling hills, and mountains in the distance.
There's a catchy tune playing in the background, similar to something you'd find in the Lion King. The shifting from day to night as the game goes on was another brilliant addition. There's absolutely nothing to criticize here where the sound and graphics are concerned.
---
Solutions If You Have Some Issues With a Game
Before playing any game, it's best to make sure your browser is up to date and you have the latest version. Try out games for free first to see if they work and to familiarize yourself with the mechanics and rules.
If a game freezes or has trouble loading, you can try refreshing the webpage. If things are playing slowly, make sure your internet connection is also working correctly.
It's a general policy that casinos will issue a full refund in the case of a game malfunction, so there's no reason to worry about it too much.
---
Verdict
NetEnt has done it again with another exciting title. Serengeti Kings looks gorgeous and plays well. The game's signature bonus round triggers every 12 spins so everyone can experience the thrill. The RTP is solid at 96.2%. Overall there's not a whole lot one could criticize with this game. It gets a great score of 90.