Slingo Lucky Streak Review
Slingo Lucky Streak features a Wild that allows you to remove any number in the column above it.
Enjoy a Super Wild that lets you scratch away any number in the grid.
Beware of the red and gold Celtic cross that blocks and tries to stop you from completing Slingos.
Preserve and regain red hearts at the top of the screen to stay alive and keep spinning.
Slingo Originals introduced a brand new game in 2020, and it's making waves with slot lovers already. You'll notice that Slingo Lucky Streak has the same feel as the original Slingo, but with a few twists. You still spin the reels and obtain Slingos while working your way up the pay ladder, but, this time each game starts with only two lives.
Slingo Originals' Slingo Lucky Streak takes you into the faraway Irish themed Emerald Isle. Join us on an adventure to find the Leprechauns' golden treasure! See our Slingo Lucky Streak review to learn more about this entertaining game. With super wilds, free spins, and an enemy to avoid, you're sure to have a whale of a time.
Read on, and we'll show you where to play Slingo Lucky Streak! We'll also tell you about the layout, multipliers, unique features, RTP, bet range, and all you need to know. Let's explore what this unique slot tile has to offer in this Slingo Lucky Streak Review.
Provider
Slingo Originals
Volatility
Medium-High
RTP
95%
Features

Lives
Blocker
Wilds
Super Wilds

Paylines
12
Reels
5
Minimum Bet
(all lines covered) $0.20
Maximum Bet
$200
Top Win
200x
Where to Play Slingo Lucky Streak
You can play Slingo Originals games at these online casinos 100% legally in New Jersey:
Slingo Lucky Streak Symbols and Payouts
Like the other Slingo games, you match the numbers on the reels with those on the grid to obtain Slingos for the opportunity to win fantastic prizes. This time, however, you'll also need to collect lives by making number matches.
The reels will keep spinning as you match numbers, but you better watch out for empty spins. You could lose your life, and if you run out, it's game over. Reach the golden treasure with a Full House, winning yourself 200x of your original wager.
Symbols
There are four symbols in the game, including the blocker and wild. Like in bingo, the numbers on the grid are crossed off by four-leaf clovers when they match the reel.
The red and gold Celtic cross blocks a number in the reel, reducing the numbers available to you. Look out for the leprechaun because he'll let you remove a number in the line above him.
Paytable
Each Slingo takes you one step closer to winning the grand prize. We'll give you details on all the different symbols and paylines in the game.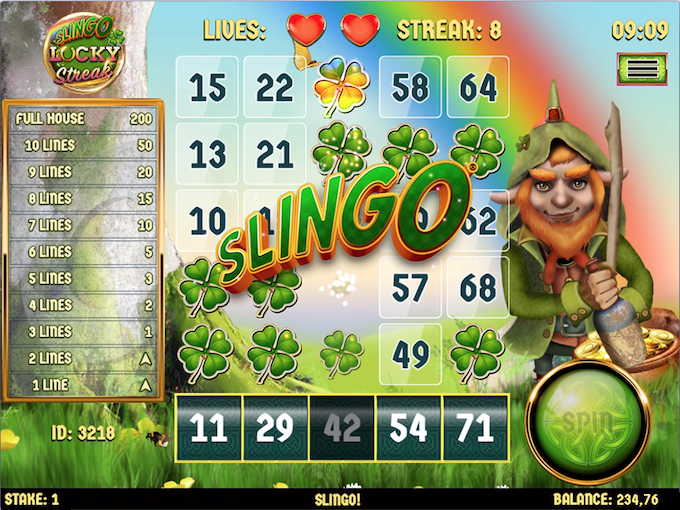 Slingo Lucky Streak Min / Max Bets
To place a bet and start the round, you put down a minimum stake of 0.20. The maximum bet is 200, making it ideal for casual players, as well as high rollers.
Slingo Lucky Streak RTP, Volatility & Hit Frequency
The RTP for Slingo Lucky Streak is 95%, which is higher than many other games. The difficulty comes with the game's medium to high volatility, as you could win a lot or lose your whole streak. Lose both your lives, and you have to start again from the beginning.
On a 200-spin test for our Slingo Lucky Streak review, we triggered the leprechaun wild five times. When you run out of lives, you can keep spinning for a certain amount, at a chance for a lucky streak win.
After a 6 line streak, with a 200 wager, our lives ran out, and we spun for 200, winning 1000!
Slingo Lucky Streak Jackpot and Maximum Win
Sometimes the slot can feel slow because there are many lines to fill. The max win caps at x200, which is reassuring as the max bet jackpot is 40,000. If you hit multiple Slingos' but run out of lives, one or two extra spins could let you win big.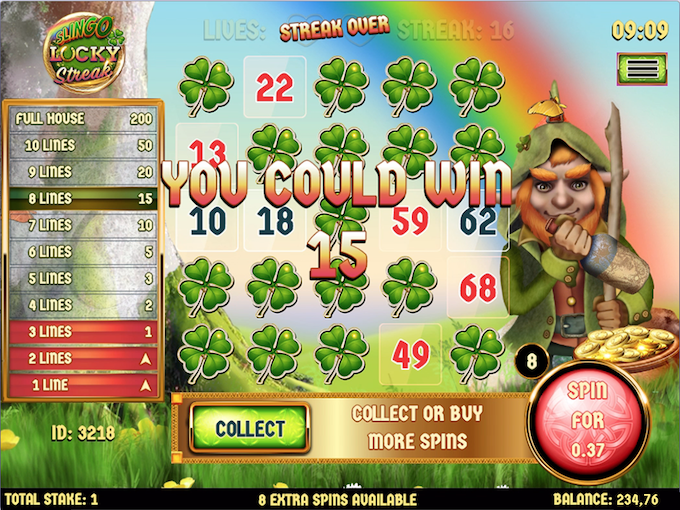 Slingo Lucky Streak Features
For our Slingo Lucky Streak review, we're taking you far, far away to the fantastical realm of the leprechaun to look at some of the fun features on the Emerald Isle. Be enchanted by the lively atmosphere and whimsical music as you spin the reel for the right numbers.
Wilds and Other Game Features
Slingo Lucky streak has unique features not available on many other slots. Between the Wilds, the blockers, and staying alive, you're sure to enjoy the fast-paced fun.
Wilds and Super Wilds
The leprechaun with a red hat triggers a wild and allows you to cross off any number in the line above it. The super wild activates when the leprechaun in the green hat appears, and allows you to remove any number on the sheet.
Blockers
Unique to this slot is the blocker, which is a red and gold Celtic "X." These block off numbers in the reel, making it harder to match numbers and earn streaks.
Lives and Streaks
You start with two lives, represented by red hearts at the top of the screen. When you match numbers, you obtain a clover and heart if you're missing one. Lose both hearts, and your streak is over.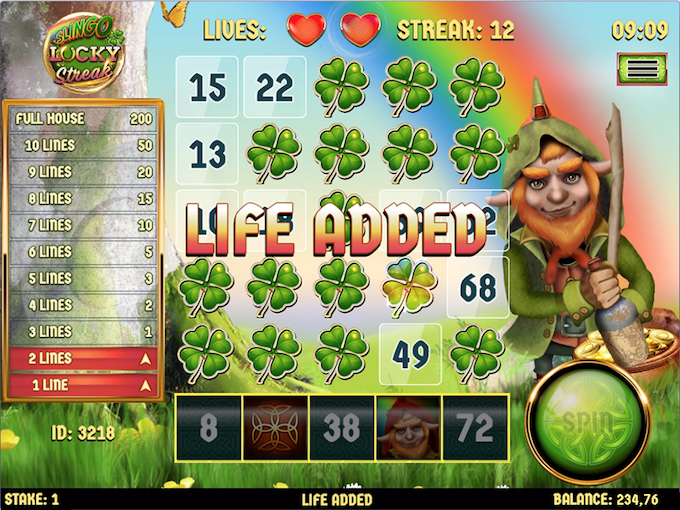 Slingo Lucky Streak Free Spins
Once you place your wager, you start the round with two lives. You can keep spinning the reel for free until you cross out all the numbers, or run out of lives. If you complete the sheet, you win the full house jackpot worth x200 your bet.
Slingo Lucky Streak Special Features
Your journey starts by venturing into the forest, where the leprechaun sits with you while you fill out your bingo-like sheet. Simplistic in nature, Slingo Lucky Streaks' special features are that you have lives that allow you to keep a streak going for a big win.
Wilds and super wilds enable you to choose which number you want to cross off and regain a heart. You can keep spinning a few times at a small percentage of your original wager if you run out of lives.
Graphics & Sound
While the slot may be visually enjoyable to look at, the audio is a bit disappointing. Fortunately, the option exists to mute the music as it can become a bit repetitive after some time.
So just let the cute leprechaun and vibrant butterflies fluttering across the screen pull you into this fairyland.
Other Slots Similar to Slingo Lucky Streak
Slingo Lucky Streak is unique in design, layout, and playstyle. With such a fresh take on online bingo, combined with the fun of playing slots, you'll be hard-pressed to find something like it that delivers the same enjoyment.
Slingo Lucky Streak Review – Conclusion
Slingo Lucky Streak is enjoyable, fun, and has the potential to keep you entertained for hours. Over-all, this slot is possibly one of the more entertaining ones out there. If you'd like to sit back, relax, and feel the rush of a lucky streak, this is a fantastic game for you.
However, if you're looking for reels with loud jackpot noises and the clatter of virtual coins, you might want to stay clear of this one.