Space Invaders Review
Space Invaders takes place in a classic arcade-style universe on an exotic planet full of dangerous volcanoes and freezing mountains where cosmic invaders are flying saucers.
A maximum win multiplier of x1250 has been implemented by Inspired Gaming to ensure that players have an equal opportunity to win large. The slots RTP is 95%, while the volatility is high. The betting ranges from as low as 0.20 up to a maximum of 200.
---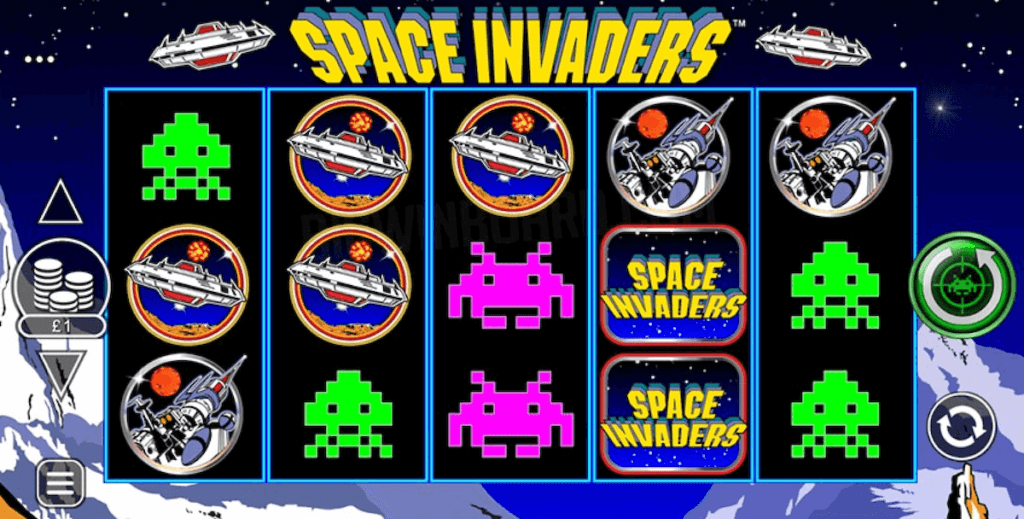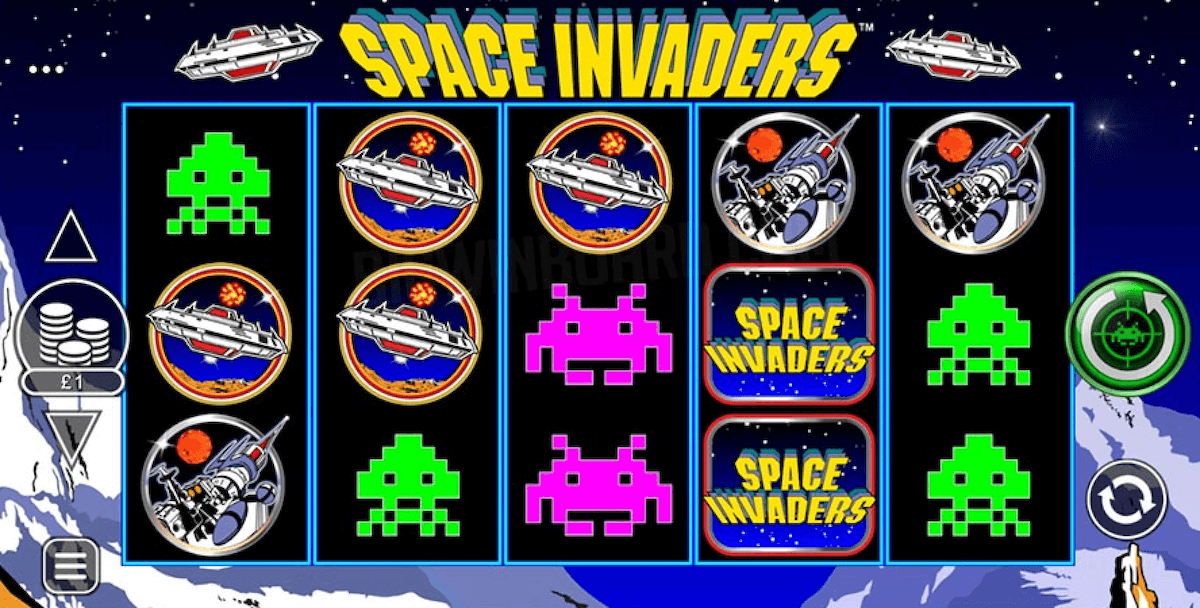 Space Invaders
You might be wondering, "What are the possibilities of winning with Space Invaders?" Well, To win Space Invaders, there are a total of ten distinct ways to do so. It's a basic game in which you must shoot space invaders out of the sky.
You'll win if you can pull that off, as you might expect. That can't really be any easier, can it? So, of course, you'll be searching for certain combos. In the end, this is just a slot, not a video game. Remember that winning combos can occur in any direction on this slot machine. In addition, it's something a little out of the ordinary.
What I checked in Space Invaders
---
What is Space Invaders?
| GENERAL DETAILS | | | |
| --- | --- | --- | --- |
| Slot type | Video Slot | Number of rows | 3 |
| Provider | Inspired | Reels | 5 |
There are 20 fixed paylines on a 5-reel, 3-row gaming grid in Space Invaders, where the action takes place. To expect a high level of volatility, with a theoretical return value of 95% It's possible to wager anywhere from 20 to 200 every spin on any device with Invasion.
A few Casinos we recommend to play this universal slot is
---
Which Game and Bonus Features Space Invaders has?
FEATURES
NO.
LIST
BASE GAME FEATURES
3
Coin Scatter Symbol
Sticky Win Feature
UFO Reel Modifier Feature
BONUS BUY FEATURES
0
/
BONUS GAMES FEATURES
0
/
The bonus rounds in Space Invaders are provided by a wheel that can be bet in the style of Blueprint Gaming and are mostly based on the arcade game.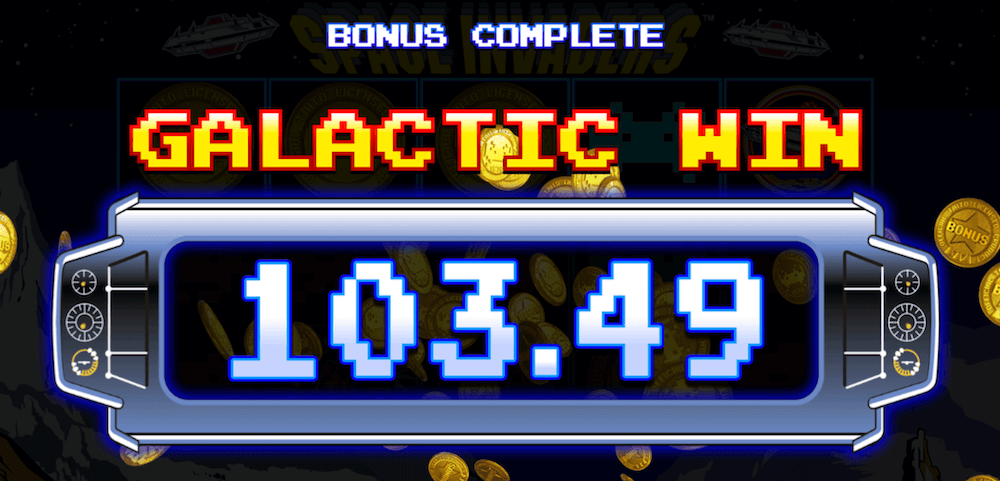 The symbols
Attack on LOCK N' SPIN
All symbols of the same kind may lock in place at the end of a reel spin in a base game. As long as no new symbols appear, the reels continue to spin behind the locked symbols, preventing any more from appearing.
UFO
An alien spaceship may fly over a losing base game reel spin if it appears at the end of one. When a beam of light is directed towards a symbol, it will expand to its full size.
There's a chance that the Cannon will appear and slide under the reels after a lost base game reel spin. The reels can be used to fire Invaders, and the resulting cascade will land in a winning position.
Paytable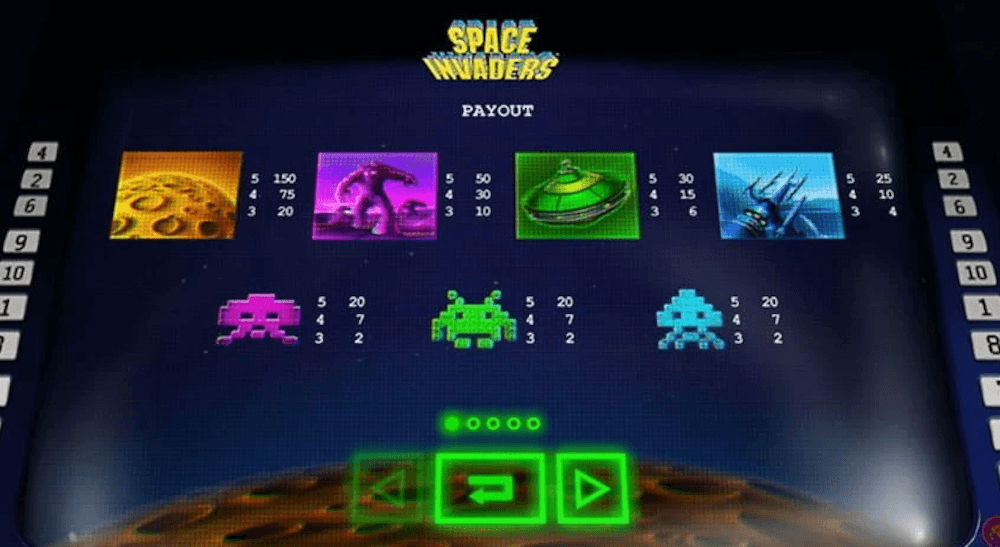 Interesting Bonus game features
Three or more bonus coin scatters anywhere on the screen during the base game awards a bonus. The exact odds of landing on any given wheel segment are not always reflected in the size of the wheel's segments.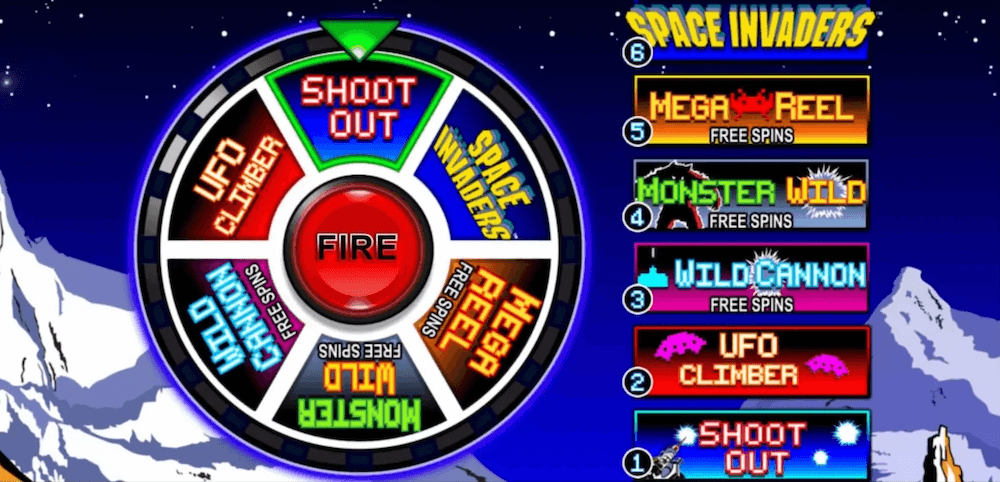 Shoot Out:
Press the fire button to take aim at aliens and spacecraft in this shoot 'em up. An reward will be given to the first type to be totally wiped out.
UFO Climber:
Climb a trail of escalating multipliers by selecting a UFO. To unlock the Space Invaders bonus, you must finish the game.
Will Cannon Free Spins:
Free Spins with the Will Cannon: If the Cannon appears, sticky wilds will be added and will persist during the Free Spins. All wilds expand to fill the entire reel in Monster Wild Free Spins. The Mega Reel Free Spins feature a massive reel that moves around the screen. Shoot the space invaders and aliens to rack up points. Invaders are paid an additional prize if they are killed.
PICK UP A COIN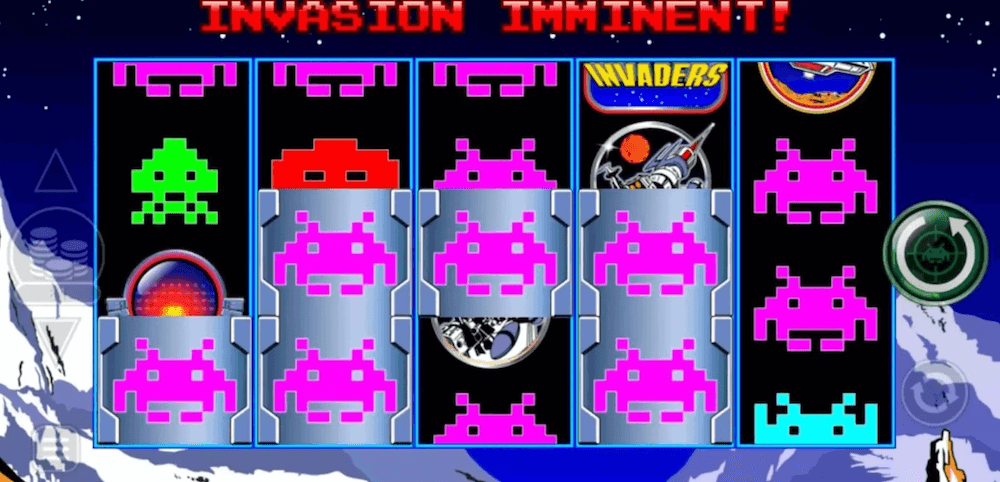 A coin may be thrown at the end of a bonus and reveal one of the following: The bonus round has ended and any accrued winnings have been awarded. As long as you're in the current stage of your bonus, you'll keep getting extra spins. A Space Invaders bonus has been given. All past winnings remain unaffected.
GAME OF CHANCE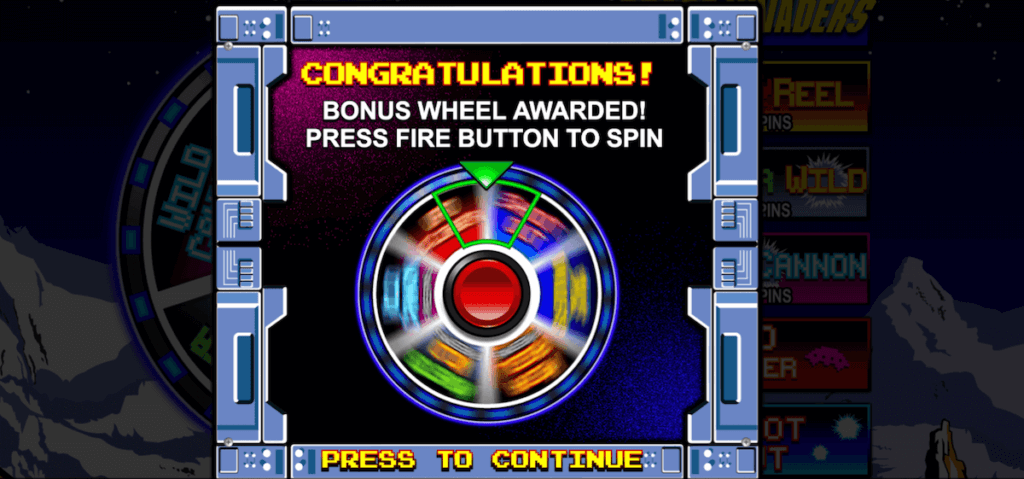 The trail may give a chance to win a larger bonus or a sum of money that remains a mystery. The current base stake determines feature prizes. The chances of landing on a certain segment are reflected in the wheel's segment size. The Bonus Gamble is supposed to return a profit of 100%.
---
What innovative Special Features can be seen in Space Invaders?
| SPECIAL FEATURES | |
| --- | --- |
| Autoplay option | 👍 |
| Change the speed | 👍 |
| Mute the sound | 👍 |
| Adjustable bet size | 👍 |
As previously stated, the Space Invaders slot is one of our favourites because it does its best to keep as similar to the original as possible. The retro 8-bit graphics offer their own amount of realism to the overall experience, which is why it was built.
The reels themselves have a simple design, whereas the background depicts a distinct planet. e.g., Above the reels, a starry sky and a few UFOs can be seen, while the rest of the screen displays the planet's stony landscape.
The Space Invaders slot machine doesn't have a sophisticated soundtrack, but it does offer special sound effects for spinning the reels and for landing a winning combination.
---
What's the Story behind Space Invader's Theme?
In recent years, arcade-style slot machines have grown in popularity, and the Space Invaders game is one of the greatest. This game's pixel art and colour palette are a tribute to the original.
Even though it looks like a classic slot, it also has nice graphics and animations.
The audio, on the other hand, nicely complements the game's arcade-like ambiance, making you feel completely at home. An excellent port of an arcade classic into a video slot.
---
Who made Space Invaders?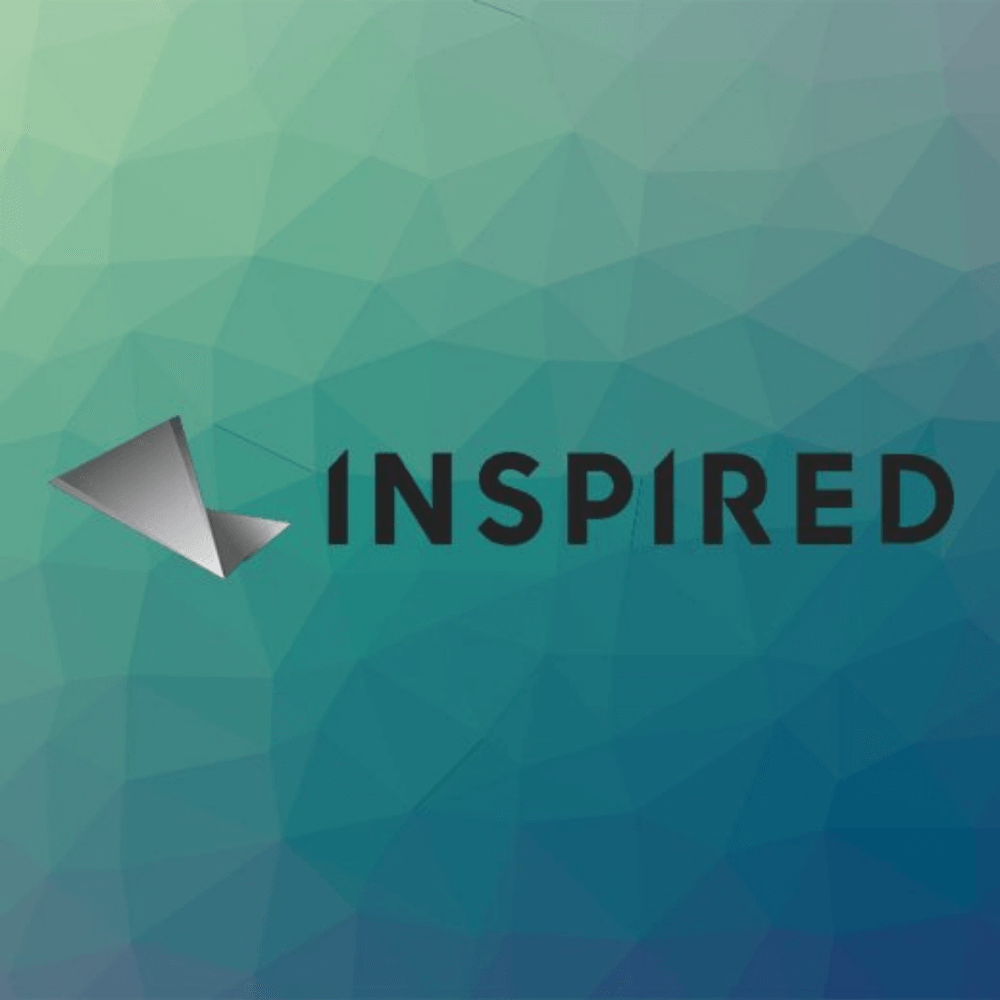 An emphasis on high-quality graphics and imaginative game play has made Inspired Entertainment's HTML5 slots popular with both novice and veteran players equally because they offer a wide choice of currency and stake levels. Slots for smartphones and tablets have always been a big part of Inspired's output, as the company was one of the first to develop mobile gaming.
Our top picks from Inspired include:
---
Conclusion – Is Space Invaders better than the others?
The Space Invaders online slot is one that we heartily recommend. You may expect to find a lot of the familiar features of the original game, as well as a number of new ones.
Even while the look and feel harken back to a bygone era, the gameplay has been replaced with more fluid animation and texture in its stead.
Playing the Space Invaders slot online is a lot of fun. With a maximum prize of 1250 times your bet, it's a potentially lucrative combination. Be sure to read our reviews for more information on games, offers and new slots!