Tricolore 7s Review
Enjoy the thrill of classic, three-reel slots
Red, green, and white theme for Italian enthusiasts
Win up to $250,000
Tricolore 7s is a relatively new slot released by IGT. It's one of the many slot games coming out as people rediscover three-reel slots.
Come with us as we review vital aspects, like the RTP, volatility, and where to play Tricolore 7s.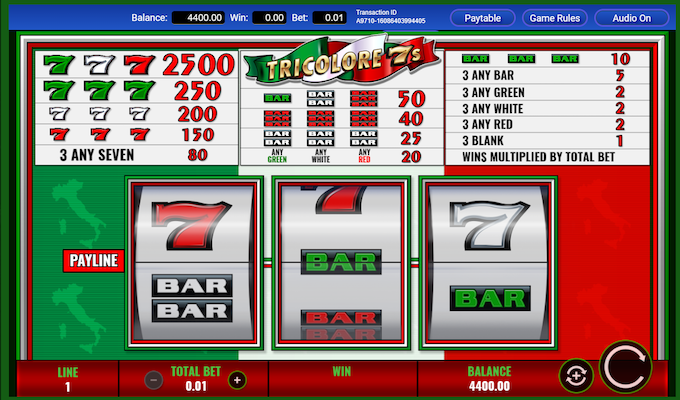 Tricolore 7s Slot Information
Where can you play Tricolore 7s?
You can play Tricolore 7s at these online casinos
---
Tricolore 7s Symbols and Payouts
This three-reel slot has a single payline that runs right along the middle row.
Since there's only one payline and three reels, it can read the symbols in either direction. However, it technically reads characters from left to right.
Symbols
This game consists of four main symbols and multiple color variations of each. The main characters are a seven, a single bar, a double bar, and a triple bar. Every symbol has a red form, a green form, and a white form.
Paytable
In Tricolore 7s, various symbol combinations have different values. The combinations may vary significantly from the individual symbol values. For example, three red sevens are worth 150 coins.
Three white ones are worth 200, and three green ones are worth 250. However, when you have a white, a red, and a green symbol, it rewards you with 2,500 coins.
The tricolor sevens are also the highest-paying combination. The lowest-paying combination is when you get three blank spaces.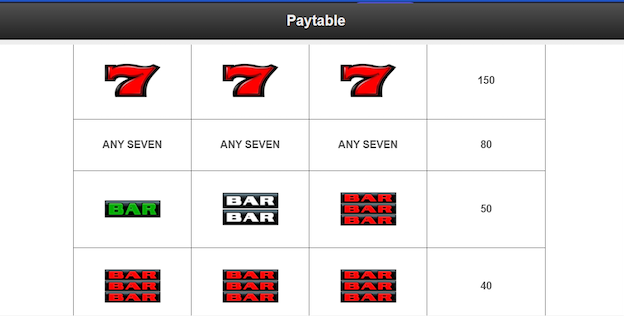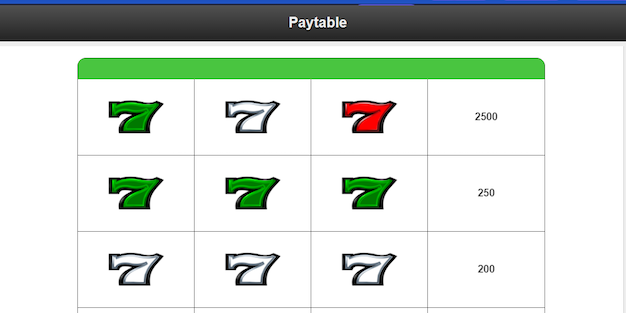 Tricolore 7s Min / Max Bets
Since it's based on the original three-reel slots, IGT decided to incorporate a tiny minimum wager. You can bet as little as $0.01 on a single spin.
Of course, we can attribute this partially to the fact that there's only a single payline. If you like larger wagers, this game still has you covered. You can wager up to $100 on a single spin.
Tricolore 7s RTP, Volatility & Hit Frequency
The Tricolore 7s RTP compares favorably with other three-reel slot games. The return on this slot wavers between 92.54% and 96.24%.
Tricolore 7s Maximum Win
IGT have maintained their usual generosity with this game. You can win as much as 2,500x your wager on a single spin. Considering the maximum bet of $100, you can win up to $250,000.
---
Tricolore 7s Features
If you're looking for a slot with lots of bells and whistles, this one won't tickle your fancy. It truly is the most basic type of slot and doesn't have any extras.
Wilds, Respins and Other Base Game Features
This slot offers little beyond the essential features. If you have a love for fancy wilds or spectacular scatters, you'll be disappointed.
Wilds
In keeping with most three-reel slots, Tricolore 7s doesn't feature wilds. It also doesn't have any scatter or bonus symbols.
Multipliers
It may not come as a surprise when you consider the lack of other bonus features, but this slot doesn't feature multipliers. When you win, the game multiplies the coins you won with your wager, and you get the result.
Tricolore 7s Free Spins
We don't mean to sound like a broken record, but you won't find any free spins here either. The minimum bet is only $0,01, though, so it almost qualifies.
---
Graphics & Sound
For a baseline three-reel slot, the graphics on this game are pretty good. The Italian theme permeates every aspect of the game. The red, white, and green of the Italian flag feature prominently, and there are several images of Italy on the sides of the screen.
As is typical with three-reel slots, the entire paytable is right above the reels. This design feature makes it easier to keep track of how much you're winning. Compared to the imagery, the soundtrack is dismal.
There's no background music, and the rest of the sound effects are little more than dings and jingles. We'd have loved to see the Italian flavor working its way into the music and sound effects as well.
---
Other Slots to Play If You Like Tricolore 7s Slot
If you find that you enjoy this slot immensely, you might want to try some other similar games. Fortunately for you, three-reel games are making a comeback, and there's plenty of variety from which to choose.
Double Diamond is one such release by IGT. It's even more fundamental than Tricolore where the screen is concerned and features a single payline.
Along the same lines, Triple Diamond is a slot similar to Double Diamond. If you like the idea of the three reels, but want to try something with a bit more excitement, consider Funky Monkey by Playtech. It features a genuinely funky screen image and some exciting symbols.
If it's the Italian theme that you want, you could try out Da Vinci Diamonds. Bellisimo is an excellent Italian-themed slot with three reels. It revolves around an Italian restaurant.
---
Tricolore 7s Review – Conclusion
Our Tricolore 7s review didn't leave us unimpressed by this slot. For what it is, the game is designed well and has a lot of positive features.
The theme is incorporated into almost every aspect of the game. The sound effects could have used a bit more Italian flavor, though. As for the return to player rate, it compares well with other games in the same category.
Between 92.54% and 96.24% is a relatively common scale for slots with three reels. Altogether, we'd recommend this game to any lover of basic slot games.
If you prefer more modern slots or many features, turn your attention elsewhere.