Valley of Fortunes Review
The Valley of Fortunes is an Egyptian-themed slot game from High 5 Games.
This slot features: Unique gameplay that is quite different from standard spinning reels
Bonus game feature with the potential to score some impressive winnings
High volatility, giving you an opportunity to secure a big payout
Will this game make you feel like a wealthy pharaoh with its payouts? Or will your wins be suffering from an ancient mummy's curse? Check out our Valley of Fortunes review and find out more.
---
Where can You play Valley of Fortunes?
---
Valley of Fortunes Symbols and Payouts
Valley of Fortunes has a slightly different gameplay style than the reels and paylines that you may be used to, but it isn't overly complicated. Colored gems will display across the board with an amount.
The amount is your payout and even a single gem can trigger a payout.
Symbols
You won't see a wide array of symbols in Valley of Fortunes due to its different gameplay style. Colored gems in red, blue, and green might appear with every spin.
Yellow gems are slightly more valuable. If you land on these rare symbols they will multiply the other gems on the same reel by the value shown on the gem.
This multiplier can increase your winnings by 2x all the way up to 10x.

Paytable
Because Valley of Fortunes works a little differently than regular slots, there is not a paytable as you would typically see.
Instead, the payouts are determined by the number appearing next to the colored gems.
So if you see a number, it's a win!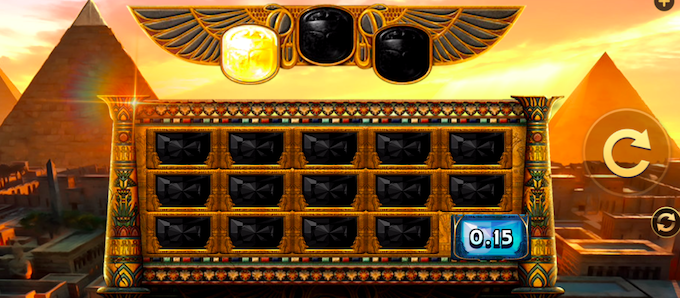 Valley of Fortunes Min / Max Bets
Valley of Fortunes requires a minimum bet of $25 for every spin and can go up to $3750. That means that casual gamers might want to look elsewhere for their slot gaming.
But high rollers will love the high-stakes experience Valley of Fortunes offers.
Valley of Fortunes RTP, Volatility & Hit Frequency
A game's RTP tells you what the average payout is per $100 paid into the machine. Valley of Fortunes RTP stands at 96%, exactly the average for slot games. That means you've got a fair shot at winning with every spin.
One of our favorite features of this slot is the high volatility. A highly volatile slot won't hit as frequently as a low volatility game, but carries a much higher chance of awarding a big payout. That's a tradeoff, but high risk/high reward gameplay like that can really pay off big time.
Valley of Fortunes Maximum Win
With such an unconventional style, you might not be surprised that Valley of Fortunes doesn't have a standard jackpot to win. However, a lucky spin can still help you rack in 200x your bet.
That's a prize worth keeping locked up in a desert pyramid. To earn this payout, you'll need to trigger the Racking up Riches feature. Our detailed breakdown of Valley of Fortunes' features details exactly how to do that.
---
Valley of Fortunes Features
So far, Valley of Fortunes has quite straightforward gameplay. Simply spin the reels and win the values that appear with any colored gems you land on.
However, there is one bonus game feature that makes this game far more lucrative when you trigger it.
Bonus game
The bonus game in Valley of Fortunes is called the Racking Up Riches Bonus. Any time you land three colored gems on a single spin, the icons above the reels will light up gold.
The standard black symbols disappear at this point, replaced by new symbols cascading down from the top of the screen. At the end of the bonus round, you'll win the total value of the stack of gems you line up.
This bonus game is where Valley of Fortunes truly starts to pay off.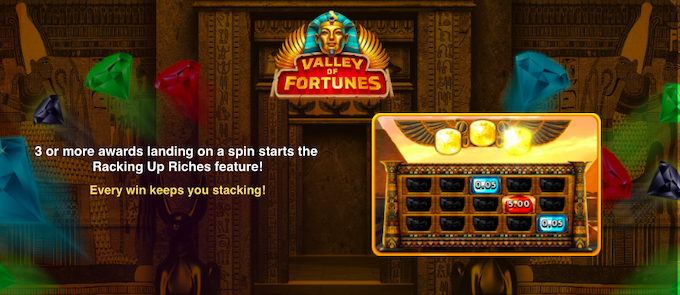 Graphics & Sound
Valley of Fortunes' layout will transport you to the Pyramids of Giza. The pyramids loom in the background over an Ancient Egyptian city.
Meanwhile, hieroglyphics decorate the reels to give you the feel of Ancient Egypt. Sunset in the background casts the scene in a mysterious light. The soundtrack in Valley of Fortunes fits the theme well. A catchy drum beat keeps the rhythm to a tune that invokes the feeling of adventure.
The sounds that play each time you hit a winning gem kept us engaged throughout our time playing.
---
Other Slots to Play if You Like Valley of Fortunes
If you enjoyed the way Valley of Fortunes transported you to a faraway land thencheck out High 5 Games' other historical slots.
Cat Prince has another Ancient Egyptian theme, while Golden Gladiator brings you to the Colosseum of Ancient Rome.
Or pay a visit to the Roaring '20s in The Charleston.
---
Valley of Fortunes Review – Conclusion
Overall, we found Valley of Fortunes to be a solid offering from High 5 Games.
A change of pace from the standard reels and paylines took some getting used to, but gave this game a unique feel. High 5 Games also really capture the atmosphere as the game feels like a trip through time.
The gameplay is quite simple and straightforward without many frills.
But the lucrative Racking Up Riches Bonus and the high volatility of this slot kept us interested.
Give it a try and see if you can unearth any ancient treasure while delving into these pyramids.