Registering for an online casino lets you gamble online in New Jersey. You can enjoy all the casino fun on your smartphone, tablet, or computer with online casinos. To play, even with free spins or no deposit bonus cash, you must register. If you meet the requirements, registering is easy. Online casino registration usually takes minutes. You can play slots, table games, and live betting.
---
How to Register for Online Casino in New Jersey
Registering for an online casino is simple as long as you are
1) 21 or over
2) can prove your identity
3) are not barred from a casino for any reason. While there may be slight differences, you can expect the same steps from one casino to another.
Click the "Register," "Sign up," or "Join" button to get started.
Fill in the basic information required: username and password.
Provide personal information, including: email address, name, date of birth, and gender. You'll be asked for additional information to confirm your identity.
Give security questions and answers (this is so you can access your account even if you forget your password)
You may need to respond to the confirmation email, call, or text message to confirm your identity.
You'll need to download the proper app if you're playing through your mobile device (smartphone or tablet). If you're using iOS (i.e., an Apple product), you can download the app from Apple's App Store. If you're using an Android device, go to the online casino's homepage and download the app.
Playing from a laptop or desktop, you'll probably need to download geolocation software. This is so the casino can confirm that you're playing within New Jersey state lines. You can read more about that below.
These steps will set you up to start playing hundreds of slots, casino table games, and poker!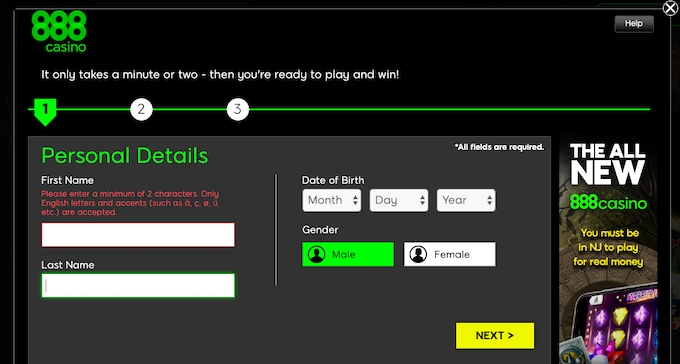 Personal Information Required for Registration
When you register, casinos must verify your identity and location. This complies with federal and state rules and is excellent for casinos and players. Casinos must use technology to verify your identity and location while you're not physically present.
Identification to Register: Who are you?
Determining who you are is essential for registration. Before they invite you into their home and let you sit at their table, casinos understandably want to know who you are. That means they need certain important information.
Online casinos will require to know your:
Name (first and last)
Date of Birth
Physical address
Email address (Most, but not all require this for a confirmation message and, if you opt-in, promotional material)
Usually, the last 4 digits of your Social Security number (for identification purposes)
This information is safely encrypted and stored. You can read about that further below.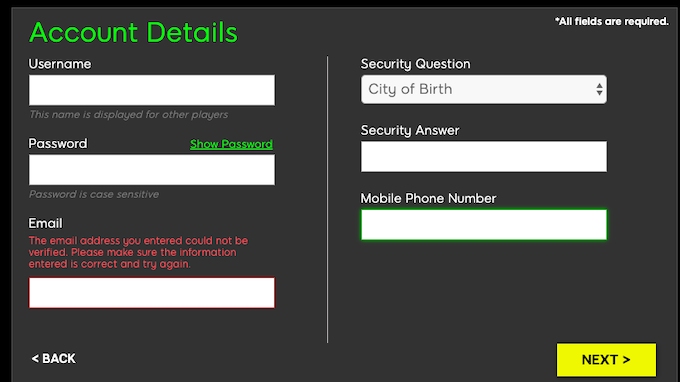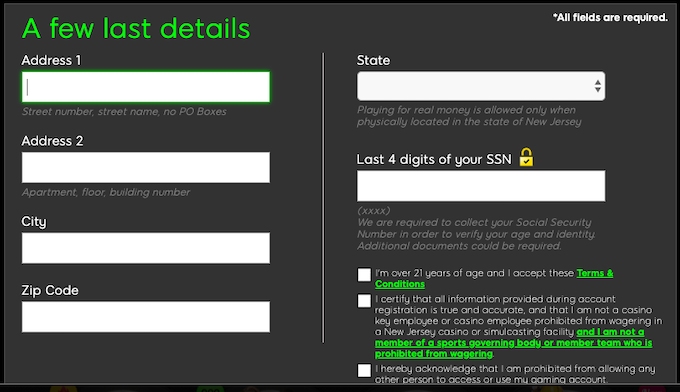 Will online casinos ask for my Social Security Number?
Online casinos need some means to confirm your identity. Often they'll ask for the last four digits of your Social Security Number when you sign up. The information is encrypted and stored safely and won't be shared with other entities.
If you do not want to share the last four digits of your SSN, you might call the casino to register, register in person at their physical cage, or find another online casino. Each casino has different requirements for reporting. If you're uncomfortable with one, see what else is out there.
Location: Where are you?
You can register for a New Jersey-based online casino regardless of where you are. But, as you probably know, you have to be within the state of New Jersey to bet in legal casinos online.
This is an important legal aspect of online gambling: no inter-state betting is currently allowed in the U.S. (This is the same reason people drive to a neighboring state to buy a ticket for the state lottery.)
Geolocation technology: GPS
Geolocation is the key to confirming your location when placing bets with a casino. Geolocation applies to GPS devices in smartphones and tablets or IP addresses used over WiFi or land-based servers.
Casinos use geolocation technology to indicate where you are and if you're able to bet at their casino. You have to be detectable by the geolocation device the entire time you're playing.
If you're using a laptop or desktop, your internet access has an IP (Internet Protocol) address that lets the casino know your approximate physical address. It's not necessarily precise enough to send you flowers but close enough to tell whether you're in New Jersey or not.
You'll notice that you can register to join an online casino, browse the pages, and deposit or withdraw money while you're outside of the state. If your device indicates that you aren't within state lines, you can place wagers.
A word on Virtual Private Networks (VPNs)
VPNs are VPNs. They let you set up a remote IP address. Can I use a VPN in New Jersey to play in another state? Yes…if you want a lifelong casino ban. Casinos can determine when you're using a VPN, but not your physical address. Casinos are penalised significantly if they allow bets from out of state, thus they don't like fake location information. Online casinos may ban VPN users.
Frequently Asked Questions
Anti-money laundering regulations apply to casinos just like they do to banks. Whenever a new account or deposit is opened, the person's name, address, and Social Security number must be recorded.
The proprietor of an online casino must be licensed in order to lawfully offer sports betting, lottery, poker, and bingo services online. The operator's inability to register a bank account or even install any games on their site makes it difficult for an online platform to succeed.
No, you do not have to give any financial information when you register with an online casino. In fact you are not ever obligated to give your credit card information (or even own a credit card) to gamble online. For many people depositing money with a credit or debit card is the preferred means of financial interaction. But even then, most casinos don't require your credit information when you register.