Waiting for the Atlantic City poker scene to pick up steam?
The wait's almost over. as reported by PlayNJ, Poker pros have confirmed big live events will be returning to the Borgata Hotel Casino & Spa.

The Borgata, along with two other casinos in Atlantic City will showcase live poker games taking place in New Jersey. Games will run 24/7 at the following casinos:
Borgata (52 tables)
Harrahs Resort (28 tables)
Tropicana Atlantic City (10 tables)
An anonymous Borgata employee tipped that the casino plans to host a live series January 2023. The event schedule, including tournament buy-ins, have not yet been released but Garden State poker players are ready: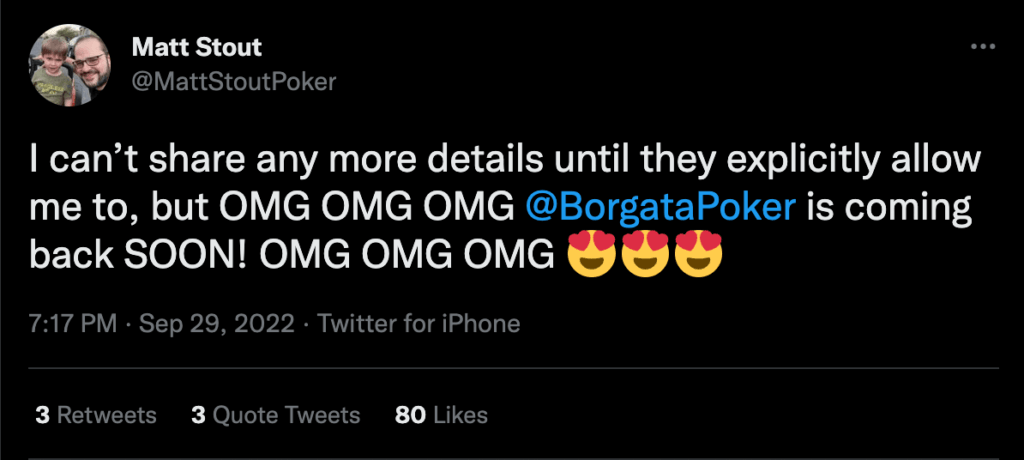 Borgata & BetMGM are expected to come together with an online poker series too, coinciding with January's events. More details to come.
The Borgata's Super Survivor Series will run from Oct 17 – Oct. 21 and include six different tournaments. The buy-ins range from $1,000- $4,000.
The Borgata's Special Event Tournament Weekend begins with the Borgata Big Chip Bounty, Oct. 23 – a Super Play, Super Deep, Purple Chip Bounty ($500+$60+$500).
The Borgata Walk-Away Winning, Oct. 24, is a $2,500 Semi-Turbo Survivor ($250+$30).
Daily poker tournaments are taking place every weekday in October:
Borgata Atlantic City High Hands
$200 every 30 minutes Sunday through Thursday 11:00 – 12:00
$250 every 15 minutes Fridays & Saturdays
For the Oktober-Best High Hand Weekend, Oct. 14 – Oct.15, Borgata will be giving away $55,000:
$500 every 15 minutes with $1,000 Power Hours at noon, 15:00, 18:00, and 21:00.
$1,500 bonus to the first Royal Flush dealt each day
The Borgata Bad Beat Jackpot stood at $100,000 as of Monday afternoon. To qualify for a bad beat, players must have quad 10s or better. Also, the player must use two cards in their hand. The loser of the hand receives 40% of the jackpot. The winning hand gets 20% and 40% goes to the remaining players dealt into the hand.
Harrah's Rakeback
Rakeback allows players to earn monthly cash for the number of hours logged at the tables.
50-79 hours: $50
80-99 hours: $100
100-149 hours: $150
150-199 hours: $250
200 plus hours: $300
Tropicana Atlantic City Poker Club
Tropicana's Rakeback details are as follows:
50-89 hours: $75
90-129 hours: $15
130+ hours: $300
Standout bonuses include:
$300 High Hand every hour with one rollover (12:00 – 02:00) with Aces full of Kings minimum
Royal Flush anytime using two cards in hand earns a $100 comp
Bad Beat Jackpot
Their Bad Beat Jackpot was $10,000 as of Oct. 2. To qualify, you must have four of a kind, eights or better. You must also use two cards in your hand.
More news to come…