America's favorite summer holiday, the 4th of July, is also a big day for online casino players in New Jersey. Like other holidays, online casinos love to offer promotions to celebrate the 4th of July, and our team at NJCasino.com has detailed a list of upgrades and slots for you to check out.
This page will be updated continuously with the latest Independence Day promotions.
Keep in mind that promotions can be added at any time, so make sure you keep checking back with this page for the latest offers!
---
Best 4th of July Promotions in New Jersey
While online casinos have yet to release their promotional offers for the 4th of July, we'd expect them to be released in the coming weeks.
This page will be updated as promotions, bonuses, and offers are released, so check back often to see what's new!
For a list of the best online casino promotions in New Jersey, click here.
---
Best Patriotic-themed online slots in New Jersey
If you're in the mood for a patriotic slot machine to pass the time or celebrate the 4th of July holiday, check out these picks:
Red, White & Blue (IGT)
Sevens and Stripes (Realtime Gaming)
Double Patriot (Everi)
Wild Wild West: Great Train Heist (NetEnt)
Wild Catcher (Microgaming)
Play 4th of July-themed slots online
Here are some 4th of July-themed online slots that stand out to our team:
Red, White, & Blue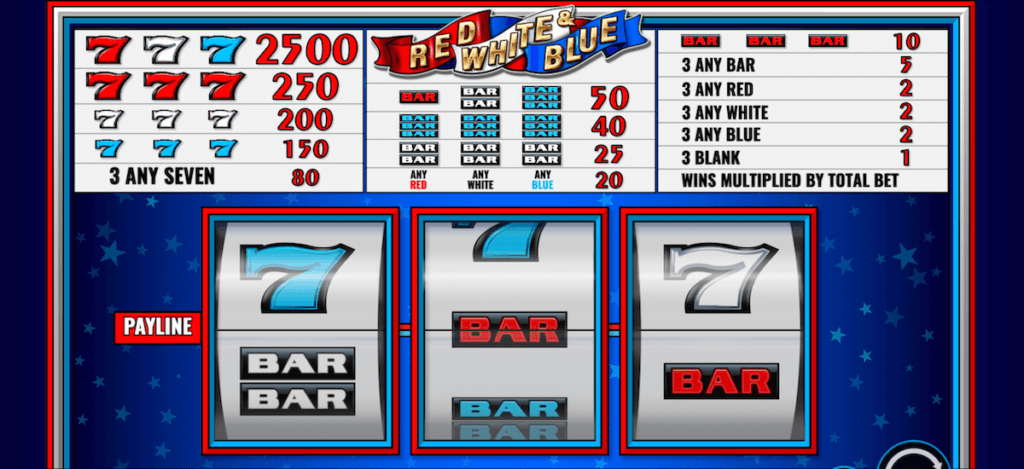 Show your American colors by playing one of the most popular slot machines of all time.
With its universal, primary appeal, Red White & Blue is easy to play and satisfying for even the most casual players.
As far as gameplay goes, it's a three-reel game with a single pay line and a 96.24% RTP. Released in 2019, IGT takes you back in time to the '90s with a classic design.
Red, White & Blue is available at most New Jersey online casinos.
Sevens and Stripes
Another patriotic-themed slot machine, courtesy of Realtime Gaming, is Sevens and Stripes. This slot machine offers a 95% RTP and follows a classic template.
This game has well-designed symbols and graphics with straightforward gameplay. There are rewards from an extended payable and a progressive jackpot.
While Sevens and Stripes don't have the best RTP, it's a slot machine for those players who like traditional-style slot machines. The base payouts are solid and keep players spinning for jackpots, especially those in a 4th of July mood.
Check your online casino to see if Sevens and Stripes are available.
Double Patriot
Double Patriot, a slot machine from Everi, is similar to the previously mentioned slot machines.
Three reels decked out in the colors of the American flag; Double Patriot is another classic online slot machine choice that traditional players should love.
A significant factor in choosing Double Patriot is that the slot has multipliers, which aren't available in other 4th of July-themed games. These multipliers allow players to win double the rewards with one spin.
Double Patriot can be found at most New Jersey online casinos.