Apple Pay Casino – The One-Tap Payment System Linked Directly to your Bank
Web wallets have created secure online transactions, but you need to transfer funds to the account, which comes with a hefty fee. There's has to be a better way, right? A system that links directly to your bank account with the highest level of security built in. No more signing up for web wallet accounts and transferring funds from one account to the next.
Well, add the benefit of no fees, two-step authentication and the ability to use it anywhere, and you've got Apple Pay! Not only can you use it at our secure Apple Pay casinos for instant deposits, but also tap your device wherever card machines are available.
Which are the Top 3 Apple Pay Casinos?
There are multiple NJ casinos accepting Apple Pay for quick and secure deposits. However, you'd want to join the ones that deliver the most impressive games and fair promotions. Below are three of the best options, not just for security, but an impressive welcome bonus as well!
Why does Apple Pay Work in Casinos?
Apple Pay is the digital payment system launched by Apple in 2014. It rolled out to customers with iOS devices, including iPhone 6 and upward, iPad, and Apple Watch.
Payments are approved through the app, which already has your bank card registered. The collaboration with online casinos has only just begun, ensuring deposits will be available with more brands soon.
Is it Safe to Pay with my Apple Pay at a Casino?
The wallet app on your iOS device is already linked with your iCloud account, simply add your card details to activate the payment method. Apple combines each transaction with two-step authentication to ensure no payments are processed without your permission. Therefore, with each casino deposit, the wallet app will pop up and require verification via biometrics (Touch ID, Face ID, or Password).
Since the system combines the details of your iCloud account, users skip the need to upload KYC documents. We only provide access to legal online casinos that comply with the NJ DGE, ensuring security, transparency, and fairness.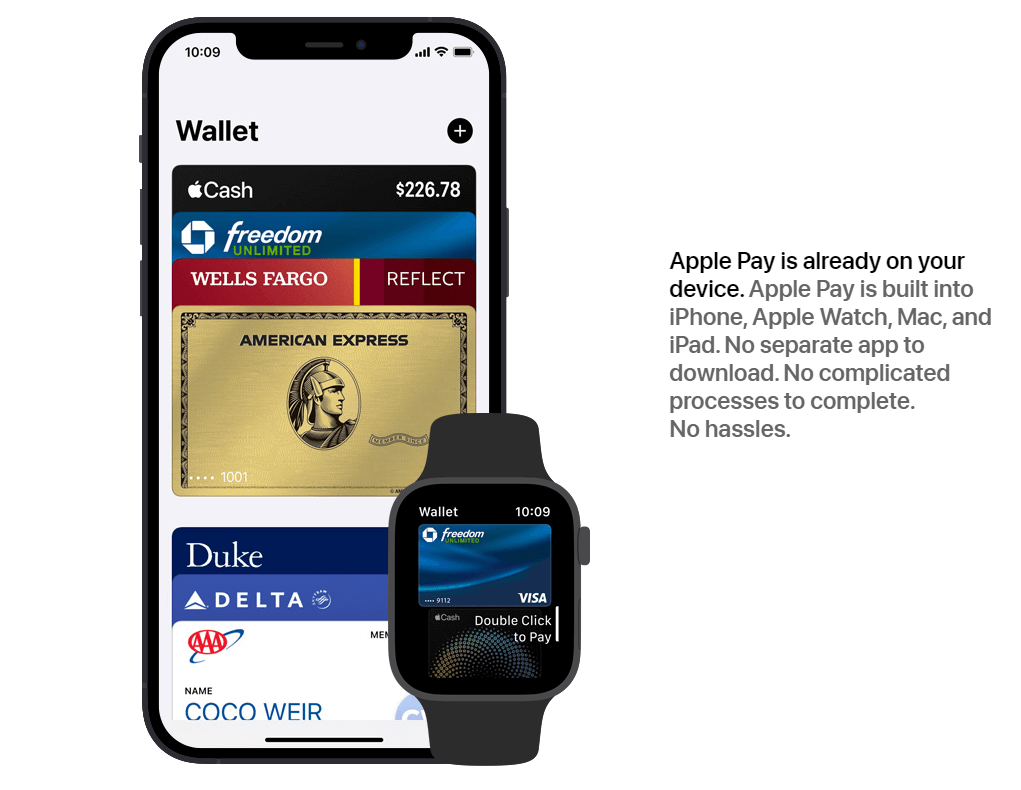 How to use Apple Pay at Online Casinos?
Apple Pay casino deposits are simplified as there's no need to open other apps or jump through hoops just to get a payment processed. Instead, your iOS device does everything, simply follow the steps, and surely make deposits. Let's take a look at the fees and procedure of completing a transaction.
Fees on Deposits and Withdrawals of Apple Pay Casinos
One of the biggest benefits of the system is that no fees apply to send money, pay online, and make deposits at Apple Pay casinos. Of course, it's entirely possible that your bank would apply a transaction fee. This would depend on your account currency and type. Luckily, your bank would be able to provide these details if any fees apply at all.
Deposit and Withdraw your Winnings using Apple Pay
To make deposits at online casinos accepting Apple Pay, you'll find need to add a bank card to your wallet. This takes only a few seconds and doesn't require any documentation. Once linked, you're ready to sign up with one of our Apple Pay casinos and follow these steps:
Log into your account and navigate to the cashier/deposit page.
Choose Apple Pay as your deposit method and enter the amount.
Wait for the Apple Pay pop up to appear and verify the payment with biometrics (Touch ID/Face ID) or password.
Once approved, the payment will reflect in your casino account instantly.
Currently, only Apple Pay casino deposits are available. The system cannot be used for withdrawals, but players can choose from various other withdrawal methods.
What are the Pros and Cons of using Apple Pay at Online Casinos?
While choosing an Apple Pay casino certainly eliminates many of the payment hassles, it's important to know what the strong and weak points are. Below, we look at some of the best benefits, drawbacks, and how Apple Pay compares to other casino payment methods.
| Apple Pay Pros | Apple Pay Cons |
| --- | --- |
| No Fees to make Instant Deposits | Cannot be used for Withdrawals |
| Highly Secure with Biometric Authentication | Not Available at All NJ Casinos (Yet) |
| Built-in on iOS Devices (no downloads needed) | |
| No need to Transfer Funds | |
| Keeps Personal Account Details Hidden | |
Apple Pay vs. Other Payment Methods
Apple Pay casinos provide access to a wide range of other payment methods such as web wallets, voucher systems, and of course, credit card payments. While this mobile payment system is in a league of its own, it's best to compare it to other popular methods in terms of features and functionality.
| Features | Apple Pay | Skrill | PayPal | MasterCard |
| --- | --- | --- | --- | --- |
| Free Casino Deposits? | ✔ | ✖ | ✔ | ✖ |
| Use without Downloading Apps? | ✔ | ✖ | ✖ | ✖ |
| Use without Transferring Funds? | ✔ | ✖ | ✖ | ✔ |
| Linked Directly with Bank Account? | ✔ | ✖ | ✖ | ✔ |
| Can be used for Withdrawals? | ✖ | ✔ | ✔ | ✔ |
What If I Experience an Issue Using Apple Pay at NJ Online Casinos?
Apple Pay has certainly simplified the way we transact with online casinos. The system makes it safer, eliminates many of the common issues found with other methods, and rarely fails. However, if you have some trouble with a deposit, here are some possible solutions:
My Apple Pay Casino Deposit Failed, What Could have Happened?
There could be a few reasons for a failed deposit. Check that your card information is up-to-date in your Wallet. If you're visiting the casino via your mobile browser on your device, you have to use Safari for it to work.
I can't find Apple Pay as a payment option. What should I do?
Not all casinos accept this payment method. If you've chosen a casino from the list here, you can use Apple Pay if you have activated it on your iOS device. It's only available for deposits, not withdrawals.
I've got a new payment card. Should I notify the casino?
No, you don't need to update your casino account. The only place to enter your new card details is through your Apple Wallet.
What Else Should I Know Before Choosing Apple Pay?
Before choosing casinos accepting Apple Pay, go through these tips for a hassle-free experience.
Since it's only available for deposits, check out other payment options that allow withdrawals. You can usually choose a bank transfer or check in the post.
Check the bonus terms at your preferred casino; some payment options aren't eligible for triggering deposit rewards.
Apple Pay – The Fastest One-Tap Solution
Being able to use Apple Pay at online casinos is a huge plus to the wide range of benefits already available with this payment method. It's incredibly secure, fast, and there are no fees. The fact that you don't need other apps or to transfer money to another account saves time, money, and possible leaks of your personal information.
If Apple Pay casinos were able to process withdrawals using the method, it would have been nearly impossible to find a better option. However, it's not a major drawback as our licensed NJ casinos provide a wide range of cash out options.
Frequently Asked Questions
Yes, some of the most well-known online casinos have already added Apple Pay for deposits. We expect more casinos to add the method soon.
Apple Pay uses biometrics to verify payments directly on your iPhone, iPad, or Mac. To verify a payment, wait for the Wallet app to pop up and use Touch/Face ID or your password to complete the payment.
The deposit limits vary depending on the casino. Most minimum limits are around $10, and maximum limits can go up to $10,000.
Anyone with an iPhone 6 or newer, Apple Watch, Mac, or iPad can set it up and use it to deposit at the casino.