Venmo is a PayPal-owned payment method that lets you instantly send and receive money. It's a popular option among friends and family, and is often used to split bills or transfer funds between users. With a rise in popularity in American, the demand for Venmo casinos has increased at the same rate, and finally, we're seeing more top-rated online casinos that accept Venmo.
In this Venmo review, I'll walk you through the ins and outs of the method and see if it's a deposit and withdrawal method worth considering at NJ online casinos. 

Venmo Casinos – Is Venmo a Preferred Payment Option?
Since it's already a popular service for personal transactions, there's a good chance that you already have an account. After all, it a great addition to send and receive funds instantly and securely, making it ideal for just about anyone in American.
The addition of online casinos accepting Venmo is certainly another great benefit. However, does it provide similar or better benefits than what's already available? Besides, it's owned by PayPal, which is – as you might already know – a leading payment method that's trusted by many NJ casinos.
During this Venmo review, I did notice that the service is geared more towards personal transactions whereas PayPal primarily focuses on business. It's certainly simplified and easy to use, so let's dive into the details and see how Venmo works at online casinos.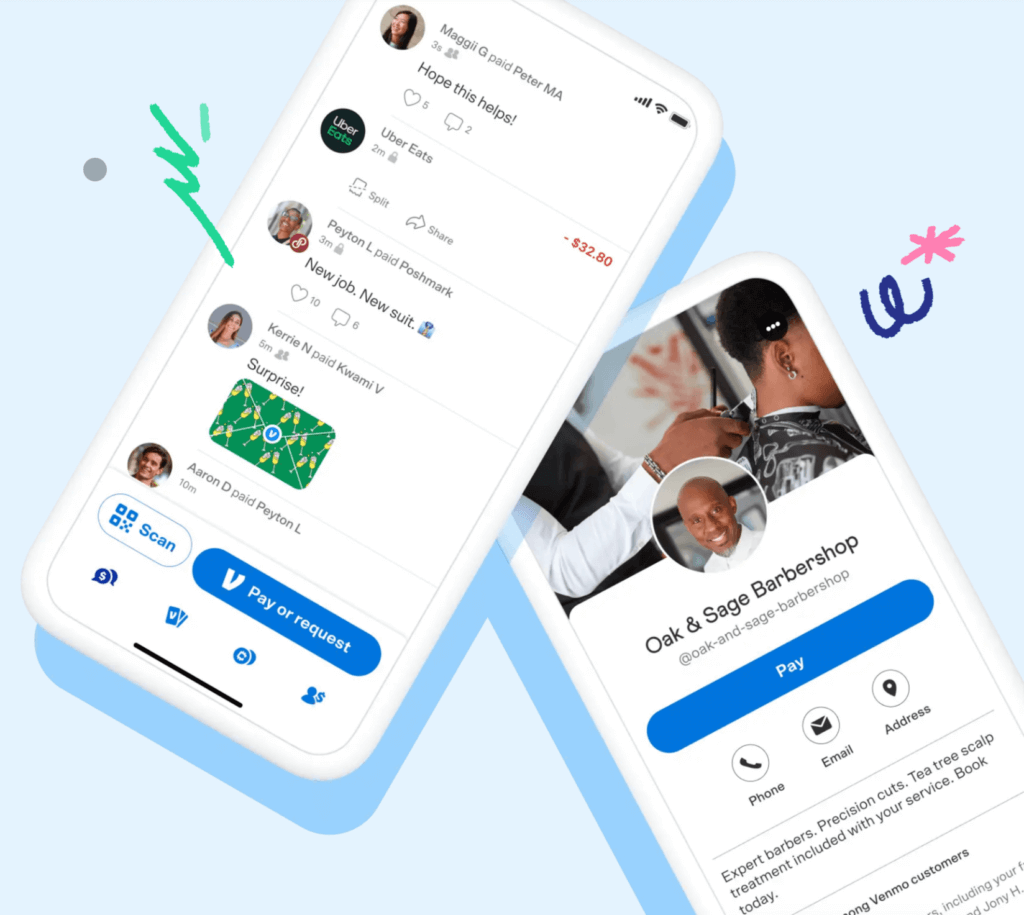 The Top 5 Venmo Casinos
Let's start with a look at some of the best Venmo Casinos accepting Vemno in New Jersey. All of these have a great reputation and are fully licensed that you can join with confidence.
For more details on games, minimum deposits, bonuses, and withdrawals, use our casino reviews.
Why Venmo Works in Casinos
Venmo is a highly popular payment method owned by PayPal. The service was established in 2009 and purchased by PayPal in 2013, which means it will – as with PayPal – follow the highest level of security and protection.
Is Venmo Safe to Use at Online Casinos?
Although not everyone may have heard of Venmo, they'd certainly be familiar with the parent company PayPal. This payment system is definitely secure and reliable for casino payments. It even offers multi-factor authentication for added protection to your account.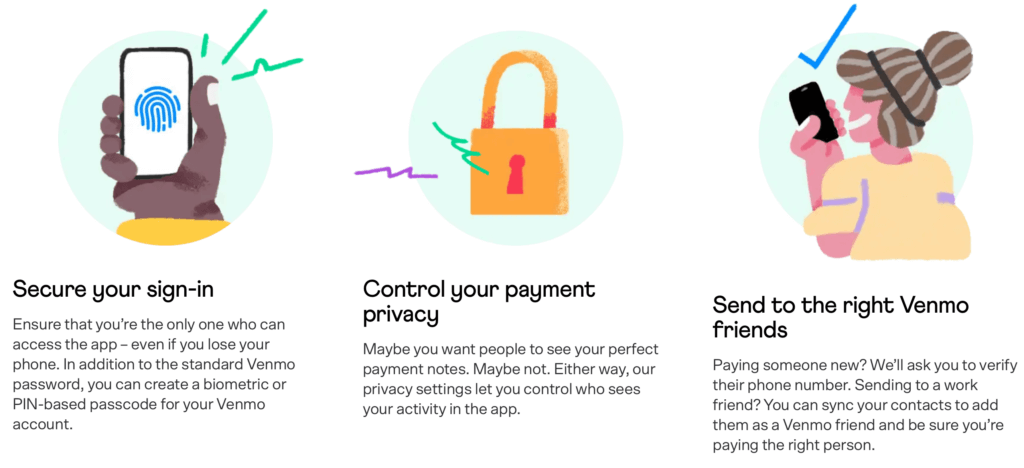 Casinos themselves also use encryption and firewalls to further safeguard your data. They also need to be licensed in NJ and are fully regulated to ensure they abide by all standards. The Venmo legal page also contains additional information if you'd like to read more.
On our site, you'll only find safe Venmo Casinos which have been thoroughly reviewed.
How to Use Venmo at Online Casinos
In this section, you'll learn everything you need to know about using Venmo to make deposits and withdrawals at online casinos. Let's start with a look at fees first, followed by a step by step guide on payments.
Fees on Deposits and Withdrawals with Venmo
Thankfully there are no fees from the casinos themselves, which is one less thing to worry about. Venmo itself, however, does charge a 3% fee if you use a credit card to make a payment. There isn't a 3% fee when using a debit card or the balance from your account, but some other bank charges may apply. Check with your payment provider..
How to Deposit and Withdraw with Venmo
Now we'll introduce the steps for making your first deposit at a Venmo Casino. If you don't have a Venmo account yet, you'll have to register first. This can be done easily by downloading the app to your phone, and simply following the on-screen instructions. You'll also need to link a debit card or bank account in order to make payments.
First, log in to your casino account.
Most casinos have a deposit button found at the top of the screen which you can click on. If not, you can click on your account name and then select deposit from the next page.
Choose Venmo from the list of payment options.
Enter the amount you wish to deposit and any other requested information.
Click the deposit button again at the bottom when you're done.
Withdrawing follows a very similar process. This time just click the withdraw button from your account page and then you can continue with these steps. 
Select Venmo again from the list of withdrawal options.
Enter how much you want to cash out.
Add in any other details that are needed and then click the submit/withdraw button.
Pros and Cons of Venmo at Online Casinos
Now, we'll go over the main advantages and drawbacks of Venmo when it comes to online casinos. The table below summarizes the main points and is followed by a more detailed discussion.
| Pros | Cons |
| --- | --- |
| You can deposit and withdraw with the same method | Not every NJ casino will accept Venmo |
| Venmo is safe and trusted | Need to link payment card or bank information |
| Owned by PayPal, a well-regarded company | |
| You can still claim casino bonuses | |
| Transactions are fast | |
Venmo vs. other Payment Methods
We know what most players are probably wondering already. If PayPal owns Venmo, why not just use PayPal? One of the key advantages is that Venmo carries lower fees. Compared to other e-wallet payment methods (like Skrill) you should also be eligible to claim casino bonuses.
Venmo also supports fast transactions and you can get your withdrawals quicker than you would with a bank transfer. New Venmo Casinos open regularly in NJ, and generally places that accept PayPal will take Venmo too.
Here is another quick look comparing the main features of Venmo with other payment systems.
| | | | | |
| --- | --- | --- | --- | --- |
| Features | Venmo | MasterCard | Skrill | Bitcoin |
| Supports deposits and withdrawals | ✔ | ✔ | ✔ | ✔ |
| Eligible for most bonuses | ✔ | ✔ | ✖ | ✔ |
| Fast transactions | ✔ | ✔ | ✔ | ✔ |
| Regulated | ✔ | ✔ | ✔ | ✖ |
Common Issues You May Encounter When Using Venmo at Online Casinos
While most people have a smooth experience, occasionally there may be a few problems while using Venmo or any payment method. Here are a few common issues players encounter and what you can try.
I don't see Venmo listed among the withdrawal options
Before you can withdraw with Venmo, you first have to use it as a deposit method. Therefore, if you paid with something else before, you likely won't find it as a withdrawal option (assuming it is accepted by the casino).
I can't make a withdrawal with Venmo
Before withdrawals can be made, certain requirements have to be fulfilled first which usually center around wagering. You can typically learn more about wagering requirements on the bonuses page, and other important information on the terms & conditions page.
I can't remove Venmo as a payment method
Usually there shouldn't be an issue with removing a payment method you're no longer using. However, if this is your only registered payment at the casino and you still own some balance it may not be possible to remove it.
Can I still pay with Venmo at the same casino if I used another method before?
Yes, it won't matter if you used something else to deposit beforehand. Simply select Venmo from the list of options next time you want to make a payment at the casino.
I didn't receive the welcome bonus after my Venmo deposit
In most cases if you didn't receive a bonus it could be for a few reasons. You may have needed to use a bonus code, or there was a minimum deposit that you didn't meet. We recommend contacting customer support to see if you can still receive the promotion.
Additional Tips Before Choosing Venmo
Here are a few more things to check and consider before using Venmo at a casino.
See if you'll still be able to claim any promotional offers.
Check that both deposits and withdrawals are supported.
Make sure the casino doesn't have any other exclusions or fees for Venmo. 
Download the Venmo App for Fast Transactions and Features.

Is Venmo a Winner?
Venmo definitely hits most of the points we look for in a payment system. It is convenient, safe, and transactions are quick. Secondly, it's also accepted at a fair number of major NJ casinos.
It also compares favorably to other payment methods. There aren't any significant drawbacks, aside from the fact you might have to spend a bit of time setting up a new account. Overall, Venmo is a solid choice for online casino payments.
Frequently Asked Questions
Venmo is a mobile based payment method, which allows you to both send and receive money.
Owned and operated by PayPal, users can expect only the highest security standards with each Venmo transaction.
As with other payment methods at NJ casinos, it's possible to use Venmo to claim various bonus offers.
Venmo is still fairly new in the American casino industry, which might limit its availability in some regions.
For the most part, no fees apply to transactions with Venmo. However, deposits via credit cards and faster withdrawals carry a 3% charge.
Registering an account with Venmo is similar to other payment methods such as PayPal. Fill in your details, verify your email address, and make your first deposit.