The Best Cashback bonus offers in New Jersey
Online casinos offer a variety of substantial benefits for all types of gamers, one of which is casino cashback bonuses. This bonus program, available in many of New Jersey's top casinos, returns a percentage of gambling losses.
If you're curious about how this bonus works, and if there are any pitfalls you should be aware of, this tutorial covers the most common cashback bonus types and how they work.
Before you do anything, you can also check out the top cashback offers in NJ, hand-picked by our team of experts.
---
What is a Cashback Bonus?
A cashback bonus returns a portion of your losses subject to the standard terms and conditions. In some N.J. casinos, the cashback is based on the deposit you have made on the website during a certain time period. You can claim daily, weekly, or monthly cashback bonuses – depending on the casino.
Are Cashback Bonuses Legal in New Jersey?
Yes, cashback bonuses are legal in New Jersey online casinos, and in accordance with the NJDGE (New Jersey Department of Gaming Enforcement). This licensing authority makes sure that every license holder in New Jersey complies with promotional rules and all forms of fair play and customer safety.
On top of that, many NJ casinos and gaming suppliers are partnered with 3rd party authorities that independently review game fairness, such as eCogra.
Since bonuses are rarely free money, you still have to keep budget control in mind. That's why NJ casinos offer responsible gambling tools to help you control your spending, such as loss limits, wager limits, and deposit limits.
How do Cashback Bonuses Work?
Most casino cashback bonuses return a percentage of your losses in a pre-determined time period, such as the previous day, week, or month.
If, for example, the cashback promotion returns 10% of your losses, then a $100 net loss would return $10 to you in the form of bonus cash or instantly-withdrawable money.
Can I Win Money Through a Cashback Bonus?
Yes, you can. Even though the cashback bonus returns a portion of your own losses, you wouldn't benefit from this money if it weren't for the cashback bonus. Keep in mind that cashback bonuses may be subject to wagering requirements and you must meet certain conditions to be eligible to receive it.
Why Claim a Cashback Bonus?
There is rarely an incentive not to claim a bonus at NJ online casinos, considering they're well-known for super-fair bonus terms and low wagering requirements.
Cashback bonuses offer many benefits, and we recommend taking advantage of them as long as the terms and conditions are fine. These are some of the benefits:
Recover lost winnings.Only through cashback bonuses can you recover part of what you've lost while playing. You may not be able to recover all of your winnings, but even a 10% or 20% is a good enough amount that will let you play more and increase your chances to win.
No additional deposits required. Cashback bonuses are effective on existing funds and deposits. You won't be asked to make an additional deposit to be eligible to receive your cashback funds.
Available on an ongoing basis. Traditionally, casino cashback offers never expire. They are available every day, every week, or every month. Moreover, they're sometimes part of a casino's permanent VIP or loyalty program.
Cashback Bonus vs Other Bonuses
Here is how a typical casino cashback bonus compares to different types of casino bonuses in New Jersey.
| | Recover lost money | No recharge | Cash prize | Withdraw the money |
| --- | --- | --- | --- | --- |
| Cashback bonus | ☑️ | ☑️ | ☑️ | ☑️ |
| Welcome bonus | X | X | Depends | Depends |
| Free Spins | X | ☑️ | ☑️ | X |
| No wagering bonus | X | Depends | ☑️ | Depends |
---
How to Use a Cashback Bonus?
The cashback bonus is subject to fair use and limitations as any common casino promotion. To fully maximize its potential, it's best to read the terms and follow the steps we outline below.
How to Claim a Cashback Bonus?
Claiming a casino cashback offer is easy. Follow our step-by-step guide that will walk you through the process.
Log in to your account and open the Promotions tab.
Opt-in for your desired cashback bonus.
Play the qualifying casino games during the set period.
At the set period end, the casino automatically calculates your net loss amount.
If you qualify for cashback, it will be automatically added to your balance.
When to Use a Cashback Bonus?
There is no best time to use a cashback bonus. You can opt-in to participate in this promotion whenever it's available. If you're not sure whether to participate, make sure to read the terms and conditions and see if you find the bonus terms favorable. Your primary red-flags should be high wagering requirements (over 15x your bonus), and a combination of too many restrictions (eligible games, restricted bet size, short promotional period).
How to Withdraw Wins from a Cashback Bonus?
With a cashback offer, you can play various games and gain cash. You can withdraw your earnings whenever you have accumulated enough. But you must first meet a few internal requirements. You must wager the bonus a certain number of times before withdrawing it.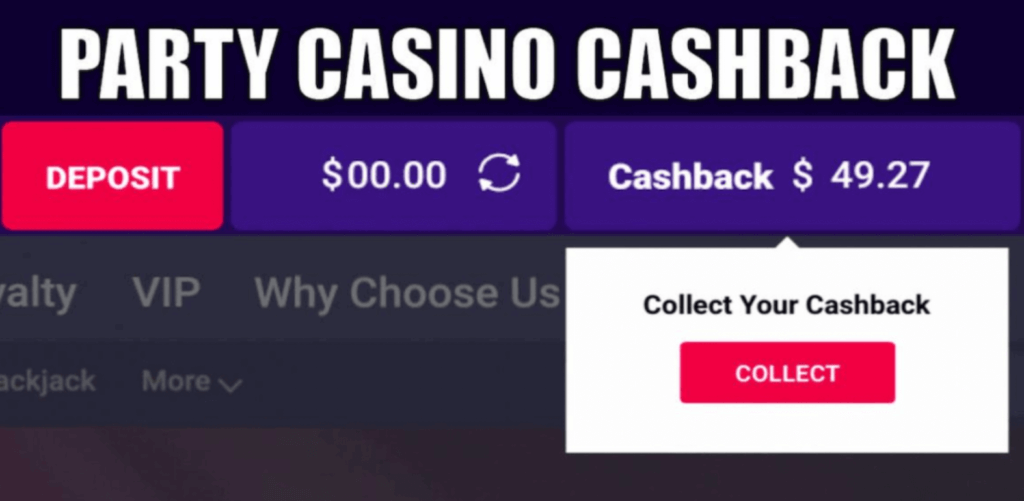 For example, a renowned New Jersey casino asks players to wager cashback 1x before payout.
Once the terms are clear, visit the casino's 'Cashier' section, and request a withdrawal. You can withdraw using one of the approved banking options provided it meets the withdrawal limit.
---
Types of Cashback bonuses:
At NJ online casinos, you will find distinct types of cashback offers that you can enjoy.
No wagering Cashback bonus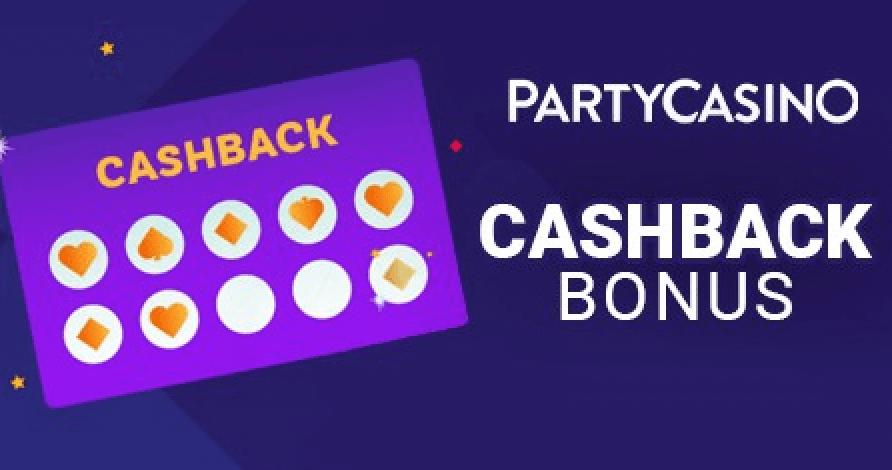 This no wagering bonus cashback type does not require a playthrough. Party Casino, for example, pays up to 0.50% cashback on some games. The operator does not require wagering, thereby giving players a substantial bonus.
Weekly cashback offers
This is a cashback bonus campaign that is available to regular players every week. BetMGM is a popular N.J. casino that offers a weekly 10% cashback to players up to $100.
Daily/ "Unlimited" cashback offers
The unlimited cashback offer does not place a limit to the amount of cashback you can earn, but currently there are no top NJ casinos that offer this type of deal.
VIP Cashback
This VIP bonus cashback is accessible to VIP players of the casino. To enjoy the promotion, you need to be a part of its VIP Club or Loyalty Program. The actual bonus often depends on your VIP tier level of the casino.
Not all casinos feature cashback offers. So, when you find a reputable N.J. casino that runs the promotion, make sure to maximize its use by following our tips.
Read the Terms and Conditions
This is the first step you should take before participating in any promotion. The terms and conditions contain vital information such as:
Winning limits: Many bonuses place a win limit. In the case of cashback, there is usually a maximum cashback amount you can claim, regardless of net loss amount.
Time limits: Time restrictions are important for cashback bonuses, since these offers are rewarded bases on losses from the previous day, week, or month.
Eligible games: When wagering cashback bonuses, you can do so on certain eligible games.
Game contributions: On top of eligible games, you should know that not all games contribute equally to wagering. For example, table games contribute far less than slots, or they don't contribute at all.
Check the wagering requirements
Check if the cashback bonus you're claiming has wagering requirements, and if they exist, make sure they're fair and achievable. Typically, cashback wagering requirements up to 5x are acceptable.
Real funds are typically used before bonus funds
In many cashback promotions, players need to play using the real money funds before the bonus. Take this into consideration when planning and using your bankroll in a casino.
Check location restrictions
If you're playing from New Jersey in a NJ casino, this is not something you should worry about. As a rule of thumb in multi-state casinos, most promotions are geo-restricted to a specific state, so it's worth checking this out as well.
Check the allowed bet sizes
An online casino may limit the minimum or maximum bet to play when using the bonus. A common restriction is $5 per stake, but this restriction type is uncommon at NJ casinos.
Solutions to Common Issues
Though contacting customer support should be your go-to solution for any casino issues, there are common issues that frequently pop-up with cashback bonuses and promotions in general.
The bonus didn't arrive
You need to check your qualifications if the bonus is not credited to your account. There is a chance you did not play the qualifying games, or you missed the minimum deposit or bet requirements.
I can't withdraw the winnings
Casinos impose a playthrough requirement before the winnings from the bonus can be requested. Make sure to review the Terms and Conditions and comply with the playthrough. Once settled, you can ask again.
The bonus disappeared
Most cashback offers have a validity period. For example, a cashback is only active for 30 days. If you fail to use it within the period, the casino reserves the right to cancel it. You can contact Customer Support to report the issue.
The casino didn't pay out my winnings
Withdrawals are subject to restrictions. For example, you need to meet the minimum withdrawal amount and the playthrough.
Check your account if you have complied with the policies. If the operator still fails to remit the payout, you can document the issue and file a complaint.
---
Minimize Your Losses with Cashback Bonuses
Cashback offers are increasingly standard in many New Jersey casinos. It is a significant bonus as it restores some of your losses. It is also a regular promotion in several casinos and requires no deposit. If you are a frequent casino player, look for casinos that offer cashback. Preferably one with minimal playthrough, longer validity, and more outstanding winning maximum.
Frequently Asked Questions
Yes, some of the top NJ casinos offer the cashback bonus as one of its featured promotions.
In most online casinos, players need to opt-in to qualify for the campaign.
The wagering requirement is a popular condition that is attached to your cashback bonus. It explains the number of times you need to wager the bonus before the casino allows a payout request.
In some cases, a casino may run a standard cashback promo, and a separate VIP-exclusive promotion. You can check the eligibility status in the terms and conditions, or reach out to customer support.