Christmas Jackpot Bells Review
Christmas Jackpot Bells has a lot going on, despite its simple appearance. I looked in-depth at the symbols, bonus features, and other general information.
Christmas Jackpot Bells Review – It Can Be A Great Christmas Present
Why would anyone bother with yet another Christmas-themed slot? After all, there are already dozens to choose from.
In the case of Christmas Jackpot Bells, the name of the game is 'jackpot.' Being both a progressive jackpot and a Christmas slot proves it to be a winning combination to keep players entertained.
But aside from this, many details might make Christmas Jackpot Bells a favorite choice for you at any time of the year. Several points made it a good slot in my analysis, and I'll share them throughout the article.
The factors I checked n Christmas Jackpot Bells
All my reviews are thoroughly researched, so you don't miss any details. In this case, these are the questions I asked myself, and found answers for:
What is Christmas Jackpot Bells about?
What game and bonus features does Christmas Jackpot Bells have?
What else does Christmas Jackpot Bells have going for it?
Is there a story behind Christmas Jackpot Bells' theme?
Who made Christmas Jackpot Bells?
To sum up: does Christmas Jackpot Bells deliver?
What Is Christmas Jackpot Bells?
This Christmas-themed slot is traditional in every sense, except that it's a progressive jackpot. Check out the table below:
GENERAL DETAILS
Slot type
Progressive jackpot
Number of rows
3
Provider
Playtech
Reels
5
The game offers the typical Christmas symbols and simple graphics with five paylines. There are better choices for players looking for modern slot experiences. In fact, it's as if Playtech made an extra effort to keep this slot simple enough that anyone would understand it.
With that being said, its simplicity and the chance to win the jackpot made for some quite engaging playthroughs when I tested it.
Which Game And Bonus Features Does Christmas Jackpot Bells Have?
There are some interesting features on Christmas Jackpot Bells, but as mentioned before, extra features are not this slot's strongest suit.
| | | |
| --- | --- | --- |
| FEATURES | NO. | LIST |
| BASE GAME FEATURES | 2 | Progressive jackpot, Expanding wild |
| BONUS BUY FEATURES | 0 | / |
| BONUS GAMES FEATURES | 0 | / |
Move along, nothing to see here
As you can see, features are seriously lacking here. There is no autospin, no bonus buy, and no free spins round. It can get boring if you're used to other slots with a good amount of game mechanics.
On the flip side, being a medium-volatility slot, winning combinations happen often enough to keep things interesting. Below is everything I found regarding Christmas Jackpot Bells' base features.
Regular Symbols
There are seven symbols, as classic as they can get. These are the Cherry, Lemon, Orange, Plum, Grapes, and Watermelon, with the 7 being the highest-paying one. The latter can net you an incredible 1,500x if you get five of them.

Expanding wild
The special symbol is the Bell. If this appears, it expands to fill its reel. If you get five Bells on a payline, you win the jackpot!
Progressive jackpot
As a progressive jackpot, the amount can vary, although it has a minimum 2,500x payout.

Bonus Buy Feature on Christmas Jackpot Bells
Unfortunately, this feature is absent from Christmas Jackpot Bells.
Hold and Win feature on Christmas Jackpot Bells
There is also no Hold and Win mechanic in this slot.
Are there Bonus Game Features on Christmas Jackpot Bells?
There aren't any bonus game features in Christmas Jackpot Bells.
What Special Features Does Christmas Jackpot Bells Have, Then?
Even though features such as Bonus Buy and Bonus Game are not available here, some features are worth checking out. Here's what I found:
SPECIAL FEATURES
Autoplay option
👎
Change the speed
👎
Mute the sound
👍
Adjustable bet size
👍
As you can see, some features are available on Christmas Jackpot Bells. To start with, there's an adjustable bet line size ranging from $0.40 to $5. Since there are five paylines, this amount is multiplied by five, making the actual bets go from $2 to $25. I found those wagering amounts to be pretty narrow and on the expensive side since there are no bets below $2.
It's great that you can mute the sound, too, since the Christmas song can get repetitive.
Is There A Story Behind Christmas Jackpot Bells' Theme?
There's no remarkable anecdote behind this slot's theme. It's a basic Christmas theme with simple graphics and background.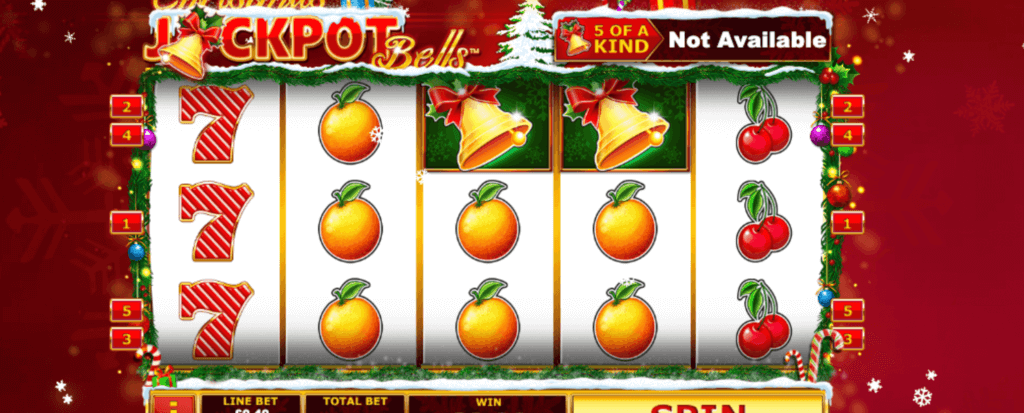 With that being said, there's a reason for its simplicity. Christmas Jackpot Bells is the sequel to Jackpot Bells, which relied on its classic feel to get a noteworthy fanbase. Both games are about simplicity: no flashing animations or meters filling the screen.
This slot features a Christmas coating on the original Jackpot Bells, but the general concept remains the same.
Nostalgia-ridden graphics
Ah, for the fruit machines of days gone by! Christmas Jackpot Bells indeed delivers for all players looking for simplicity. Portraying symbols that even people who don't play slots know about, anyone can understand them in less than a minute. Though dated, the graphics are colorful and big enough.
Jingle Bells Sound Jingling All The Way, Literally
Sound effects are in tune with the graphics: serviceable but not spectacular. I thought the music was fine for a while but soon overstayed its welcome. I found myself turning it off after a few playthroughs.
Who Made Christmas Jackpot Bells?
This slot is the work of Playtech. This company is a leader in iGaming, with more than 7,000 employees over 24 locations worldwide. Since its start in 1999, it has expanded from Estonia to operate in more than 30 regulated markets today.
What other great slots from Playtech can you try?
There are some world-famous slots made by Playtech. Here are some of the best:
Age of the Gods
Buffalo Blitz
To Sum Up: Does Christmas Jackpot Bells Deliver?
Finally, regarding whether to recommend this Christmas slot over others, the answer is: it depends. If you're looking for fancy graphics, innovative mechanics, and free spins, this is not the slot for you. You'd be better off with games like Snowy Secrets from IGT.
But this is a great choice if you're among the many fans of Jackpot Bells or even land-based slot machines. The possibility of getting the jackpot with simple mechanics is also enticing enough for many.
FAQs
Is this slot available to play in New Jersey?
Yes, all you need to do is join casinos that offer Playtech games and browse the list to check if it's there.
What is the volatility of Christmas Jackpot Bells?
It's rated as a medium volatility slot. This means the winnings are on par with the average.
What is the RTP of this slot?
Christmas Jackpot Bells' RTP is 96.03%.
Can I play Christmas Jackpot Bells for free?
You should find demo versions of this slot on several New Jersey casino sites.
Are there bonuses in New Jersey for Christmas Jackpot Bells?
You can check your favorite New Jersey casino to find out if it offers specific promotions for this slot.
What if I run into issues while playing?
The best is to contact the casino support team so they can assist you.