Milkshake XXXtreme Review
There's simply no predicting the innovative features of the next NetEnt slot, which is what sets them ahead of the rest, and the Milkshake XXXtreme slot is, yet again, a perfect example. Create combinations anywhere on the 6×6 set of reels, and fill the glasses to create milkshakes for massive multipliers! Sounds different, right? Not to worry, I'll explain exactly how it works in this Milkshake XXXtreme slot review.
Milkshake XXXtreme Review – A Bonus Buy Option that Costs up to 95x the Bet?
Online slots with bonus buy options are a great addition since you can instantly trigger the feature. Of course, it does cost more, but the winnings in the feature might make it worth it. In the Milkshake XXXtreme slot, you wouldn't buy a bonus but increase the number of milkshake glasses that reward multipliers instead.
Without the bonus buy option, the Milkshake XXXtreme slot includes one milkshake of a random flavor and multiplier. Create a combination with the linked flavor, fill the glass, and the multiplier is yours! With the XXXtreme bonus buy feature activated at 10x, you'll have two glasses and a guaranteed wild symbol in every spin. If you choose the 95x bonus buy option, four glasses appear, and at least two wilds in every spin.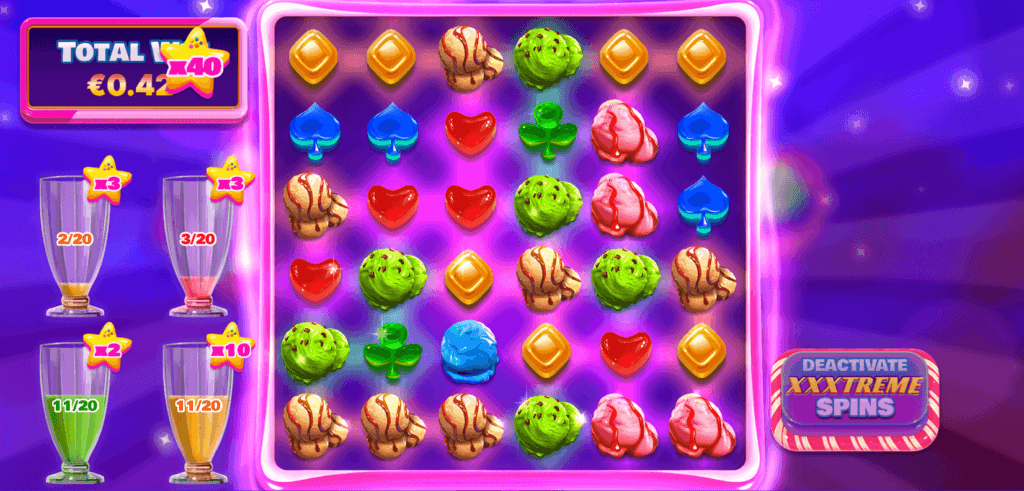 While it's a much higher wager per spin, the additional glasses and multipliers combined with the avalanche feature truly delivers impressive combinations. It's common to fill multiple glasses, making it easy to reach massive multipliers, which applies to all the winnings.
What I Reviewed in Milkshake XXXtreme
While the Milkshake XXXtreme slot is unique in many ways, it's important that I cover the same details as the other slot reviews. It makes it much easier to compare and provide the most important information, this includes:
---
What is Milkshake XXXtreme?
| General Details | | | |
| --- | --- | --- | --- |
| Slot Type | Video Slot | Number of Rows | 6 |
| Provider | NetEnt | Reels | 6 |
Even with the exclusion of bonus features, the Milkshake XXXtreme slot delivers exciting rewards. The large 6×6 grid presents various ice cream and candy flavors that create the perfect decadent milkshakes. All these symbols are scatters, which means there are no paylines and symbols can appear anywhere. To activate a win, get at least eight of the same symbols anywhere. Once they reward, they're added to a glass and new symbols take their place for more opportunities!
---
The Game and Bonus Features in Milkshake XXXtreme
| Features | No. | List |
| --- | --- | --- |
| Base Game Features | 4 | Wilds, Avalanche, Multipliers, Boosters |
| Bonus Buy Features | 1 | XXXtreme Spins |
| Bonus Game Features | 0 | – |
The Biggest Milkshake Wins Occur with Base Game Features
Interestingly, the Milkshake XXXtreme slot doesn't have any bonus features such as free spins or a bonus game. Instead, all the big winning action takes place during the standard game, making each spin exciting and filled with opportunities!
Milk Containers are the Wilds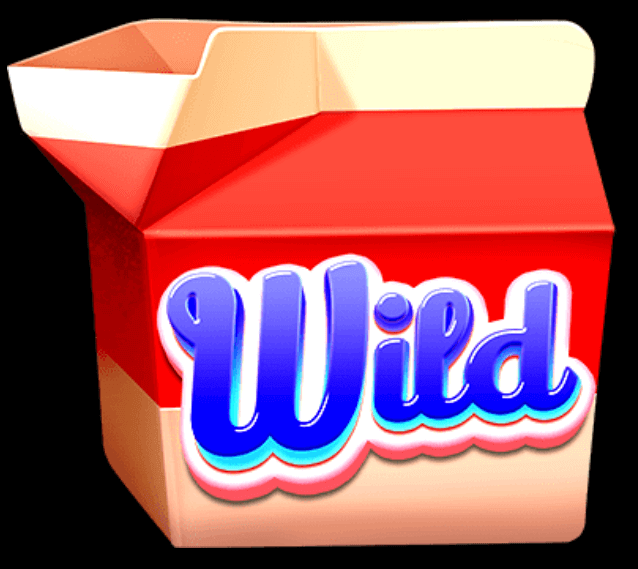 You can't create a milkshake without milk, right? It's simply the ideal symbol to represent the wilds that have the ability to substitute for any others. These fill in for any and all symbols to help create more combinations and trigger bigger wins!
Avalanches Keep the Wins Rolling in!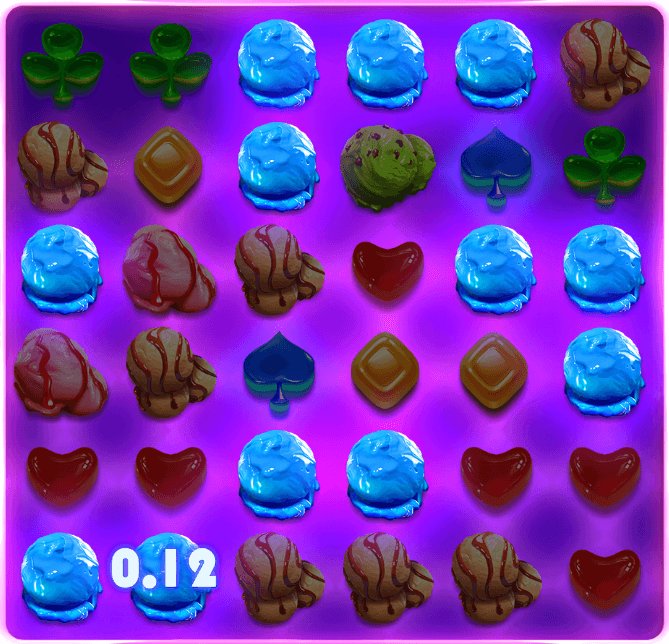 In the example, the blue ice cream scoops created a combination. Since the Milkshake XXXtreme slot has an avalanches feature, those symbols will reward and be added to the blue milkshake glass. New symbols fill in those positions, which could match up with others and lead to more wins. This feature doesn't end till no new combinations are possible.
Fill Milkshakes for Multipliers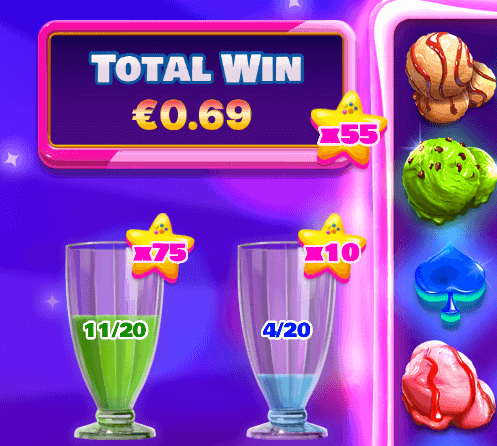 Each milkshake glass comes with a multiplier, which is why having more is bound to deliver bigger wins. Fill up the glass by getting enough symbols to activate the linked multiplier. Fill more glasses to increase the multipliers even more. Once no more combinations are possible, your total win is multiplied.
Score Even More with Boosters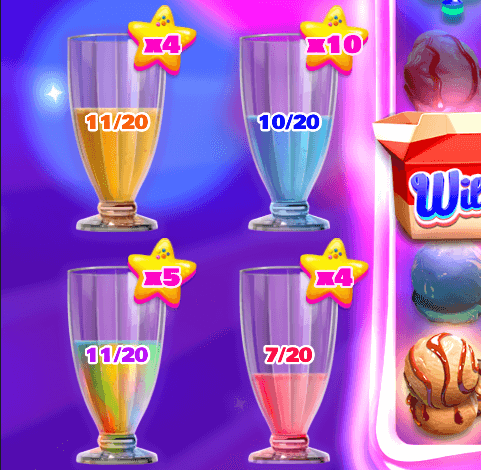 At any random time, a booster can activate to make winnings easier and bigger. As shown in the example, one of the milkshakes could become multi-colored, which means any combinations will fill it to reward the multiplier. The slot can also reward multiplier boosters that replace the current value by up to 100x! These are applied at any random point before combinations activate.
XXXtreme Spins is your Bonus Buy Option
| | |
| --- | --- |
| Minimum – Maximum Cost to Buy the Feature | $2.50 – $4,750 |
| Bonus Buy Cost (how many time the bet) | 10x – 95x |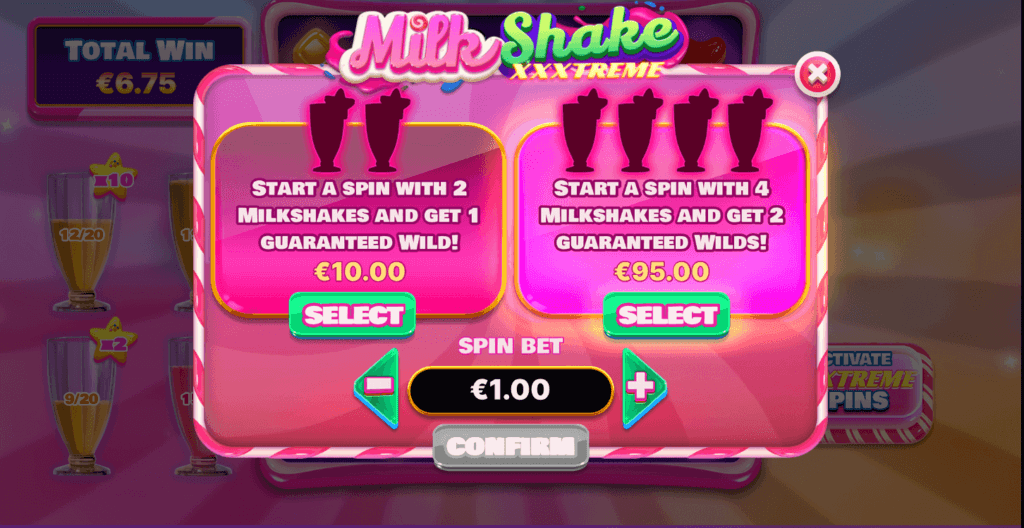 As mentioned earlier in this Milkshake XXXtreme slot review, the bonus buy option doesn't trigger a feature such as free spins, but enhances the standard game instead. Firstly, it increases the number of milkshake glasses, which includes more flavors, meaning you're more likely to create the right combinations to activate multipliers. You'll also have more wilds that once again, make it easier to trigger wins.
The XXXtreme spins feature isn't a must as it's still possible to activate the multipliers without it. However, the standard game uses just one glass and wilds might appear, but if you're feeling lucky, the bonus buy is bound to impress!
No Need for Hold and Wins with XXXtreme Spins
While hold and win slots are incredibly powerful and rewarding, the Milkshake XXXtreme slot certainly doesn't need it with its unique range of features. Of course, is some ways, you can say it has a hold and win feature since the milkshakes stay in place as more combinations form.
---
What Innovative Special Features can be seen in Milkshake XXXtreme?
| Special Features | |
| --- | --- |
| Autoplay Option? | 👍 |
| Change the Speed? | 👍 |
| Mute the Sound? | 👍 |
| Adjustable Bet Size? | 👍 |

NetEnt features a simplistic betting interface on all their slots, making it easy to get familiar with the options and settings. In Milkshake XXXtreme, game info and betting options appear on the left while autoplay and game speeds are adjustable on either side of the spin button.
You can choose various autoplay options, including up to 1,000 spins with advanced settings that automatically stop the feature on balance increases or decreases, any win, or if a single win of above a particular value activates.
---
What is the Story Behind Milkshake XXXtreme's Theme?
While it might not follow any particular theme, the Milkshake XXXtreme slot does deliver an impressive interface with incredible graphics. Once again, the development team at NetEnt slows off with sharp graphics and animations to bring the slot to life. Each combination pops with bright colors as the flavors join the milkshake glasses in effort of triggering even bigger multipliers.
Graphics that are Bound to Start a Craving!
A lot of thought went into each aspect of the Milkshake XXXtreme slot theme, including the realistic ice cream flavors, glasses, and the way it all comes together in a win. While a lot happens in each rewarding spin, it's not way over the top that makes you tired of playing.
A Collection of Sounds to Match the Theme
There's no denying that fact that a busy sound track comes with this eventful slot. The funky melody in the background combined with the cling of winning combinations, and the smashing of glasses as multipliers increase could be a bit much for some players. Luckily, you can turn down the sound or simply mute it at any time below the reels.
---
Who Made Milkshake XXXtreme?
The unique range of features, high-quality theme, and impressive wins of the Milkshake XXXtreme slot all points to NetEnt! The well-known game provider created the impressive XXXtreme slot series, which revolves around the option to enhance gameplay with an additional wager. Each slot release is completely unique and always includes something you won't see anywhere else.
A Few of our Favorites from NetEnt you might like!
I'm a huge NetEnt fan as all their slots have something different and exciting to offer. Take a look at some of these titles to discover more innovative game designs, bonus features, and high RTPs!
---
Conclusion – Is Milkshake XXXtreme Better than Others?
The unique multipliers, scatter combinations, and bonus buy enhancements, makes the Milkshake XXXtreme slot one of a kind. It's a low to medium volatility slot, which makes it a great choice if you like winning often, even if it's smaller amounts.
Overall, NetEnt created an exciting experience with brilliant features that you won't find anywhere else. The XXXtreme spins option is a great addition, but certainly not needed to enjoy the benefits on offer. Be sure to choose a trusted online casino with a welcome package that gives you free cash to enjoy the best of what the Milkshake XXXtreme slot has to offer.