Monopoly Mega Movers Review
Based on the renowned Monopoly board game and features beloved icons
Rewarding Wheel Multiplier feature, wilds, and random jackpots
Medium volatility slot with wins up to $250,000
Monopoly is one of the most beloved and popular award-winning board games in the world. It's no surprise that it's been adapted into various slots, including Monopoly Mega Movers.
Its unique features, medium volatility, and good RTP make this a fun and rewarding variation of the popular game.
We'll show you where to play Monopoly Mega Movers to get the best rewards. Read our Monopoly Mega Movers review to find out just what makes this Monopoly slot game so amazing.
Hard Rock has 10 Monopoly games & 50 Free Spins for New Customers!
Play Monopoly Mega Movers with Free Welcome Bonus Cash!
---
Monopoly Mega Movers Symbols and Payouts
The MMM slot is a fun adaptation of the popular board game of the same name. It features five reels and thirty paylines, paying from left to right. While this version of Monopoly slots doesn't have Megaways wins, you can still win an impressive $100,000 if you hit the grand jackpot.
Symbols
You'll see all your favorite board game icons when you play this slot. The Wild symbol and Mr. Monopoly are your two highest paying symbols. The wilds may also have little arrow icons, and the wild will expand to include the squares with arrows pointing towards them.
Next, you have the golden T-Rex and Penguin symbols, with the second-highest payouts. The silver medium-value symbols are next: Ducky, Dog, and Cat. Finally, you have the regular tokens: Battleship, Hat, Car, and Railroad.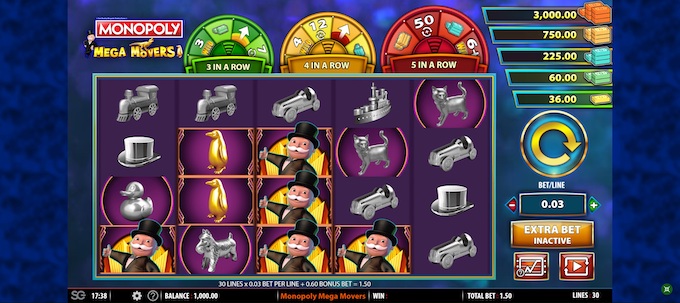 Paytable
If it's a big win you're after, you'll be chasing down Mr. Monopoly and the Wild symbol for a 250x return on your stake.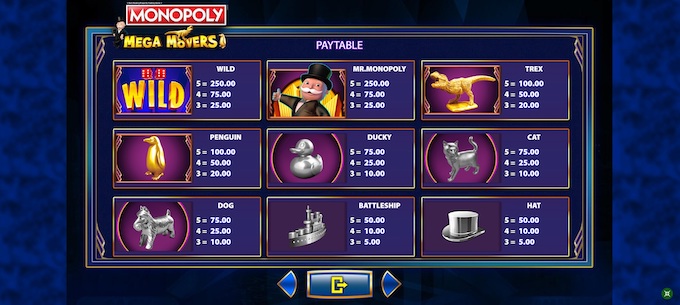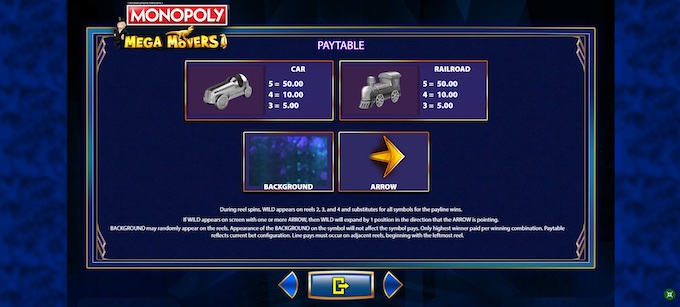 Monopoly Mega Movers Min / Max bets
Our Monopoly Mega Movers review wouldn't be complete without looking at the minimum and maximum bets. In fact, the slot has an interesting feature to give your wager a little extra boost.
Your lowest bet is $0.01 per pay line or $0.50 in total across all the paylines. That's because the slot automatically adds an extra bonus bet to your wager. The standard maximum bet is $1.00, for a total of $50 across all the paylines.
However, you can also activate an 'Extra Bet' feature, which will increase the 'In-a-Row' wheels' values. Your maximum bet will increase from $50 to $75, but with greater risks come great rewards.
Monopoly Mega Movers RTP, Volatility & Hit Frequency
At 96.05%, the Monopoly Mega Movers RTP is decent, and it's medium volatility. With a 30.41% hit frequency, you should get a few notable wins as you play.
Triggering the wild spin bonus round takes a bit of work, although we managed to trigger it three times over 100 spins. We didn't manage to get any free spins, but we did get the bonus wilds all three times.
Monopoly Mega Movers Jackpot and/or maximum win
It's possible to win a few jackpots from the Wilds wheels, ranging from a mini to a grand jackpot. On a max bet, the grand prize is worth a massive $100,000, while the mini will give you $1,200.
The maximum win is $250,000.
---
Base game features
You'll encounter a few exciting features in this slot game, many of which are quite rewarding. Here are a few of the features:
Wild Spins
Expanding Wilds
Free Spins
Jackpots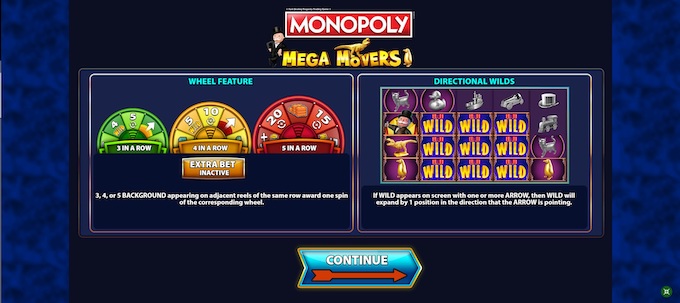 Hard Rock has 10 Monopoly games & 50 Free Spins for New Customers!
Wilds and other base game features
Monopoly Mega Movers has an expanding wilds feature. With expanding wilds, random arrows will allow the symbol to expand to adjacent squares, granting you even more of the symbols.
Wilds
The wild symbol drops randomly, but these symbols have an additional feature – they expand. Some wilds will fall with one to eight arrows, and it will expand to the squares towards which it points.
The expanding wilds are a great way to increase your wins, even from lower valued symbols.
In-A-Row Wheels Spins
Occasionally, the symbols will appear on the standard slot background. If you manage to get three to five of these 'background symbols' in a row, you'll trigger Wheel Spins. These wheels can award free spins, extra wilds, and even mini to grand jackpots.
Monopoly Mega Movers Free Spins
Landing 'background' icons in a row triggers the free spins. You need at least three in a row to activate one of the wheels. The 3-row wheel can award up to 10 free spins with extra bet active, and the 5-row wheel awards up to 100.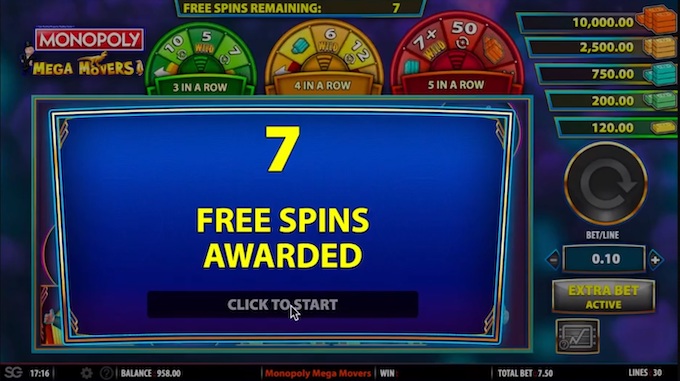 Graphics & Sound
This release has a very classic slot look, and neither the graphics nor the soundtrack is particularly remarkable. Even so, it features a clean, high-quality design that's more nostalgic than anything and extremely reminiscent of the board game itself.
---
Other Slots to Play If You Like Monopoly Mega Movers Slot
If you love Monopoly, you can play several different slots that also center around this theme:
Monopoly Big Event
Monopoly Heights
Epic Monopoly
Monopoly on The Money
Play Monopoly Mega Movers with Free Welcome Bonus Cash!
---
Conclusion
The slots' visuals are strongly reminiscent of the classic board game, with fun and rewarding twists. The expanding wilds add an element of excitement while winning big jackpots on the Wilds Wheels definitely makes this slot game worthwhile.
Playing this Monopoly Mega Movers slot will rekindle your love for an old board game favorite!
Hard Rock has 10 Monopoly games & 50 Free Spins for New Customers!