Wonderland Review
Wonderland is the jackpot slot by GameSays game developers that has grabbed the attention of major online casinos in the U.S. The graphics and audio are top-notch, but the headling-grabber was a $612,000 win in September 2019!
Wonderland is only available at Virgin or Tropicana. Registering with either casino lets you play for free (read below!)
The winning starts after you line up at least three symbols, and you can have up to 100 paylines (or winning combinations). Wonderland wraps several games and ways to win into one stunning slots game. Read below to find out why Wonderland is so wonderous!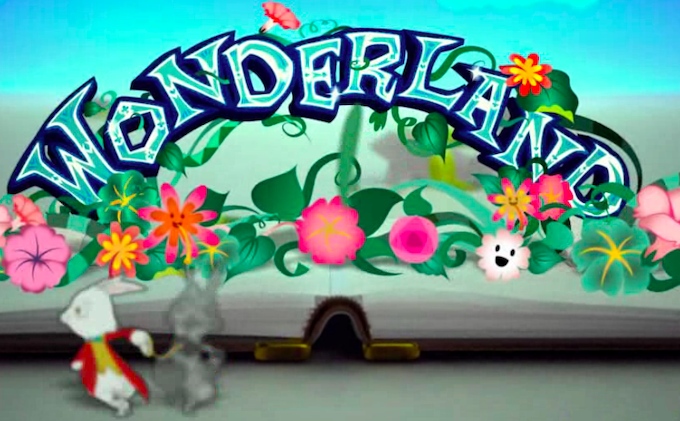 Where can you play Wonderland?
Wonderland is exclusively available at Virgin Casino and Tropicana Casino. Check under their jackpot or progressive slots to find it.
You can use your no deposit bonus welcome dollars toward free spins on Wonderland by following the links below. Register for the casino, and you can get bonus dollars without even putting any money down.
---
The game features
Wonderland is a 5-reel slot that has up to 100 payable lines! Lining up 5 Alice symbols wins you the maximum payout of 1,000X. There are four bonus rounds, each of which can win you a chance at the big progressive jackpot!
Wonderland also has some of the best graphics and sound out there. It's an all-around great slots game with a huge jackpot. Every reason to jump down the rabbit hole!
Wonderland symbols
The highest paying symbols are Alice, the Mad Hatter, and the White Rabbit. Lining up 5 Alices gets your 1000x your wager! You can throw plenty of tea parties with that!
Not surprisingly, the cards from Alice and Wonderland also appear on the reels.
You might notice the absence of Free Spins or Scatter symbols. That's because, unfortunately, Wonderland doesn't offer Free Spins or scatters.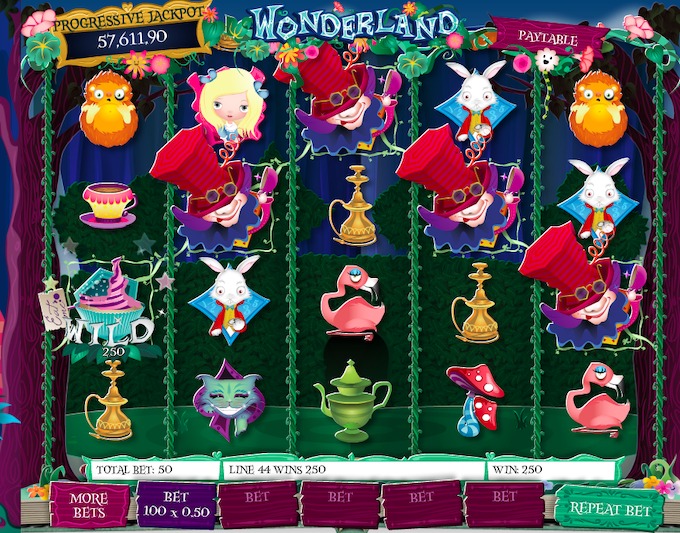 Wonderland's Paytable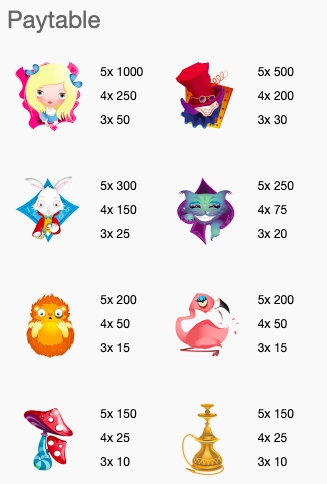 The Paytable is based upon critical characters from the Alice in Wonderland stories. You'll be familiar with this cast of unusual characters if you know the book.
Alice: 5 x 1000, 4x 250, 3x 50
Mad Hatter: 5x 500, 4x 200, 3x 30
Rabbit: 5x 300, 4x 50, 3x 25
Cheshire cat: 5x 250, 4x 75, 3x 20
Hedgehog: 5x 200, 4x 50, 3x 15
Flamingo: 5x 200, 4x 50, 3x 15
Mushroom: 5x 150, 4x 25, 3x 10
Hookah: 5x 150, 4x 25, 3x 10
Green Teapot: 15x 100, 4x 20, 3x 10
Cup of Tea: 15x 100, 4x 20, 3x 10
Min/Max Bet and Autoplay option
Wonderland has a minimum bet of $1 and a $50.
The game also has Autoplay if you prefer to sit back and watch the action happen.
The RTP, volatility, hit frequency
As a low volatility game, it's not surprising that Wonderland has a relatively low Return To Player (RTP): around 94%.
The volatility is relatively low, keeping with jackpot/progressive slots.
Unfortunately, precise statistics aren't available from the casino.
Jackpot and Maximum Win
The maximum payout is 1,000x your bet. And there is also that progressive jackpot.
To stay updated on the current jackpot rate, click on one of the links below to be taken to either Virgin or Tropicana's online casino.
---
Base game features
Wonderland combines several games in one! You can play it:
As a 25 to 100 payline slot
For 4 Bonus slots games
For the big Jackpot
Despite having these optional games-within-games, the player's experience of Wonderland is smooth and uncomplicated. You may spin your way into a bonus round, and the game rules are also clear from that point.
Wilds
What's better than a cupcake? Well, how about a cupcake that can boost your earnings? The Wild Cupcake substitutes for all symbols (except the Bonus symbols).
Wonderland's wilds can appear on any reel.
Wonderland Bonuses
Wonderland has four bonus games! You trigger the bonus games by getting three magic potion Bonus symbols on the reels. Once that happens, you'll be taken to the bonus room, where you pick a door. Behind each door lies a different bonus. These are:
Croquet Bonus Game
Mad Tea Party Bonus Game
Painting the Roses Bonus Game
The Queen's Court Bonus Game
Croquet Bonus Game
Fancy a game of croquet? Wonderland's first bonus game lets you play croquet against the computer. At the end of your match, five hedgehogs are released. If you find five hedgehogs with stars on their bellies, you win the wondrously big jackpot!
Mad Tea Party Bonus Game
Here, different prizes are revealed as you click on a teapot. If you find the progressive coin, you'll win the jackpot!
Painting the Roses Bonus Game
Paint the roses red before the Queen sees them. If you paint them all, you win the jackpot!
The Queen's Court Bonus Game
If you pick the higher of the two cards, you win. And if you draw the joker, you with the progressive jackpot!
More ways to win!
Wonderland offers up to 100 paylines, four different bonus rounds, plus a progressive jackpot. While this is a low volatility slot with an advanced jackpot option, you still have several possible high-paying wins along the way.
---
Graphics and Sound
Wonderland has some of the best graphics and sounds on the market. It hits the sweet spot for us: the audio-visuals are engaging but not distracting. So if you like some eye- and ear-candy with your slots game, you won't be disappointed. But if you don't like feeling overwhelmed by buzzing and graphics, then you'll still enjoy Wonderland.
Of course, you can also turn off the sound anytime by clicking the speaker icon.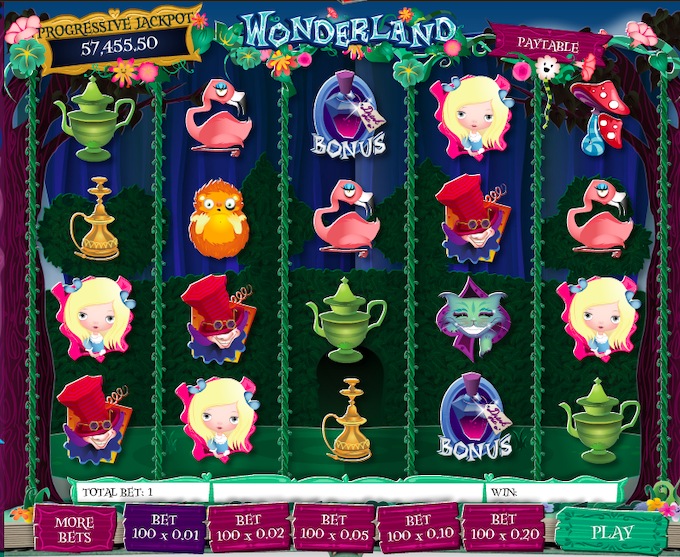 Other Gamesys Slots Games at Virgin and Tropicana Online Casinos
Virgin and Tropicana have exclusive rights among legal USU.S.asinos to several Gamesys slots games. Many of these are progressive slots, including:
Bubbly Wild
Secrets of the Phoenix
Tiki Island
Tiki Totems
Queen of Winter Wins
---
Conclusions
Wonderland is an excellent game from all angles: 4 bonus games, a huge progressive jackpot, great options, and outstanding graphics. While the in-game hits are toward the lower end, some players may choose to slog through the dry spells for a chance at the jackpot.
If you're ready to jump down the rabbit hole, head over to Virgin or Tropicana and find out what's waiting for you!