The Clean Indoor Act was passed 17 years ago, banning indoor smoking areas across the state of New Jersey, which excluded casinos. 
Bob McDevitt, leader of Unite Here Local 54, which represents casino employees in Atlantic City said he is against the bill. Concerned about losing players, he said NJ casinos should wait until Pennsylvania casinos adapt the same law. 
Earlier this month, casino employees in Atlantic City urged New Jersey governor, Phil Murphy to call on lawmakers to pass the bill. Casino workers are concerned about their health, and feel forced to choose between their pay check and working in unhealthy conditions.
Reported by NJ Sportlight News, McDevitt said "If people opt not to go, that means they're not staying in the hotel, that means there's no reason to have them make the hotel beds. It won't just have an effect on folks who are dealers, and folks who are bartenders".
He continued to say that there's bound to be a net drop if NJ takes away smoking while Pennsylvania still allows it. While many agree with McDevitt, a recent Las Vegas C3 Gaming report discovered casinos that allow smoking were outperformed by those that don't offer smoking areas whatsoever.
It suggested that land-based casinos in Atlantic City would not lose players to the few remaining eastern casinos that still allow smoking in eastern Pennsylvania. 
CEASE Urges Murphy to Pass Legislation by 15 April 2023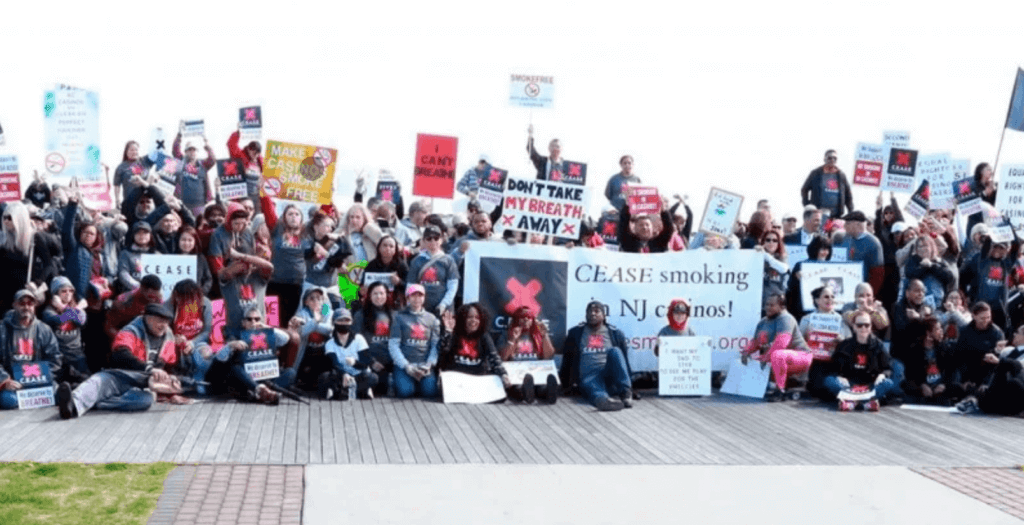 In a letter written by co-founders and leaders of CEASE (Casino Employees Against Smoking Effects), workers provide motivation for Murphy to call on lawmakers for the bill to take effect before 15 April 2023.
"Ever since indoor smoking returned to our workplaces on July 4, 2021, we have been fighting to protect our health by closing the casino smoking loophole in New Jersey law that gives the casinos a special exemption that no other business receives,"
"When you deliver your State of the State address on Tuesday, we are asking that you call on legislative leaders to send bipartisan legislation to close the casino smoking loophole to your desk by April 15,"
The letter continued to state that casino workers are the only ones in New Jersey forced to choose their health and a pay check. While employees are fed up, the letter also showed gratitude towards Murphy's support in the matter.
"We are grateful for your support of our fight. You have spoken out repeatedly in favor of legislation that is being co-sponsored by more than half of all members of both legislative chambers,"
On multiple occasions, Phil Murphy has confirmed that he is in favor of signing the legislation "At the end of the day, we will still get good business. Atlantic City is an American gem," he also stated "We've got the ocean and the other competitors don't. And this is the right thing for our respective health."