Baccarat variants, RTPs, and different special features
Different providers offer Baccarat and playable in different variants like most casino games. Before you register and play, check out the operator's available variants, their specific rules, and any helpful information on betting strategies.

Refer to the table below for a top list of online baccarat variants in New Jersey, their RTP, and unique features.
| Variation Name | RTP | Special features |
| --- | --- | --- |
| Chemin de Fer | 98% | Players' option to 'go bank.' |
| Punto Banco | 98.94 | The players don't get to decide on the third card. However, it is dealt with anyway, and the croupier or the dealer announces the winner. |
| Baccarat Banque | 98.4% | One of the players will play as a dealer for the whole game. |
| No Commission Baccarat | 98.94% | No commission for the winning Banker's wager. |
| EZ Baccarat | 98.98% | The winning Player and Banker bets pay even money |
| European Baccarat | 98% on average | The house always acts as the Banker |
| American Baccarat | 98.76% | Uses six to eight decks of playing cards |
| Baccarat Squeeze | 98.94% | The dealer slowly squeezes the card to reveal the value. |
| Dragon Tiger | 96.27% | Players bet on the Dragon or Tiger. |
| Mini Baccarat | 98.76% | Boasts smaller table but with exciting play |
| Speed Baccarat | 98.94% | Each round plays for just 27 seconds. |
| Super Pan 9 | 98.8% for the Player's bet | This game uses a deck of 36 playing cards. |
| Three Card Baccarat | 95.7% for the King's Bonus | Banker and Player's hands get three cards. |
| Midi Baccarat | 98.76% | The betting table can accommodate up to nine players. |
| Lightning Baccarat | 98.76% | Players can win multipliers for each winning hand of up to 8x. |
Most popular Baccarat variants
Online baccarat offers a colorful selection of variants from different software vendors. The aim in all these variants remains the same: the player bets on the banker, the player, or a tie.
Depending on the baccarat variant played, you can also place side bets. As such, players must check first the baccarat variant available and the rules on the number of decks, the drawing of the third card, and open side bets. Knowing these baccarat rules can help you develop the right strategy and cut down the house edge.
Chemin de Fer
A popular variant in France, Chemin de Fer, lets you play as the banker. If you act as the banker, you play against other bettors. You can find these betting tables in top NJ casinos that can seat up to 14 players.
Punto Banco
Punto Banco is the most popular variant to play in most online casinos. It adopts the rules of the classic baccarat game and pays 1:1 for the winning player's bet.
Baccarat Banque
Baccarat Banque works like the Chemin de Fer with one slight difference- the house always holds the Bank. This baccarat variant boasts an RTP of 98.4%.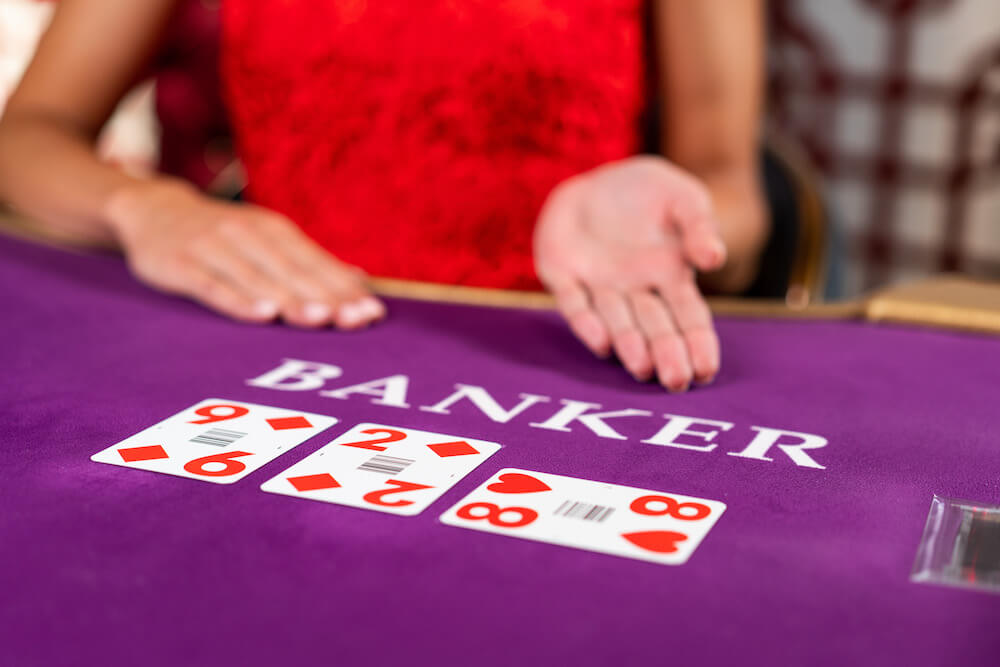 No Commission Baccarat
Players will not pay the standard 5% commission on the winning Banker's wager, with a house edge of 1.46%.
EZ Baccarat
EZ Baccarat plays like the regular baccarat game but takes away the commission from the winning Banker's bet. A winning tie bet here pays 9:1.
European Baccarat
In European Baccarat, the player decides whether to stand or draw on 5, and the banker can choose whether to get a third card or not. In the RNG version, the house always acts as the banker.
American Baccarat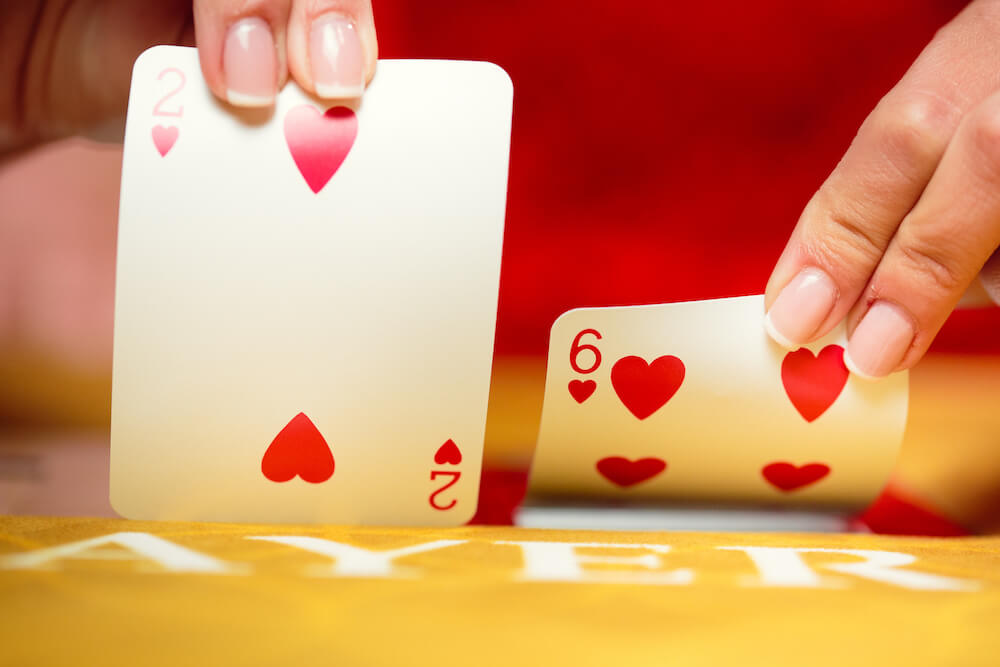 American Baccarat is also called Punto Banco in many American casinos. Here, only two hands are dealt- the player's and banker's hands. This baccarat variant uses six to eight decks, with an RTP of 98.76% for the Habanero game.
Baccarat Squeeze
In Baccarat Squeeze, the croupier slowly squeezes the playing card to reveal its value. This baccarat variant is prevalent in many live casinos, with at least 98% RTP.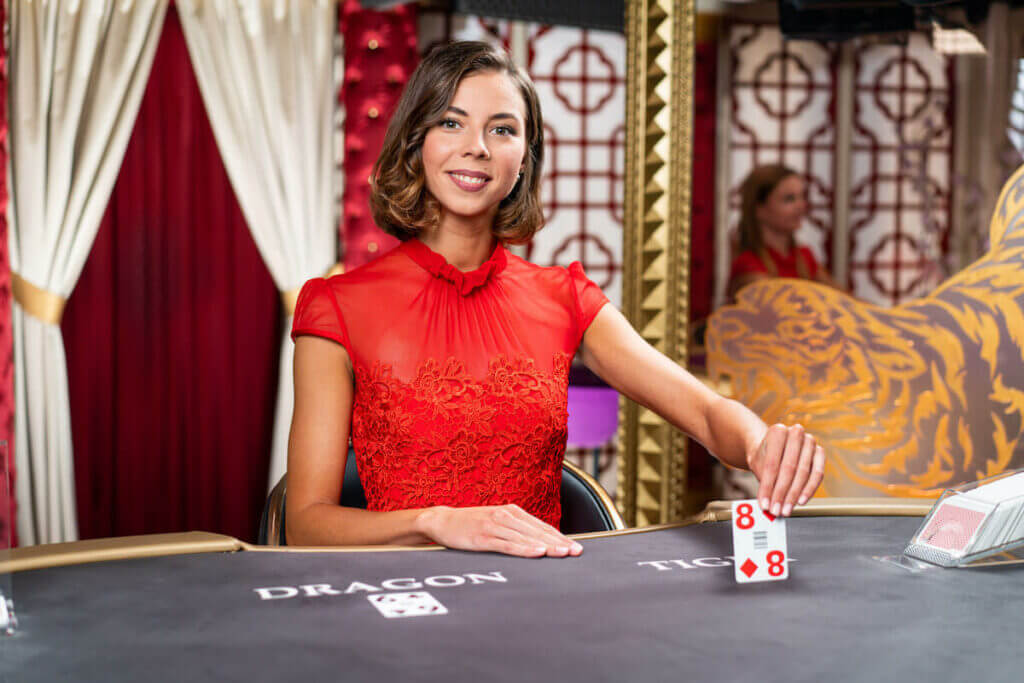 Dragon Tiger
Dragon Tiger is a simple baccarat variant where you bet on whether the Dragon or Tiger has the best point.
Mini Baccarat
Mini Baccarat follows the rules of the essential online blackjack, but it offers a smaller table with a maximum of seven players.
Speed Baccarat
Available in many live casinos, Speed Baccarat plays out in 27 seconds each round. This baccarat variant uses eight decks of playing cards, with Live Speed Baccarat from Evolution as the most popular in top NJ casinos.
Super Pan 9
Super Pan 9 is a popular blackjack variant in US casinos that uses a deck of 36 cards.
Three Card Baccarat
Three-card baccarat is a popular variant in many Asian and Macau casinos. Only one deck of playing cards is used in this baccarat game, and both the Banker and Player get three cards.
Midi Baccarat
Players can play Midi Baccarat on a smaller betting table with up to nine players. Midi Baccarat players with the most significant bets can view the cards.
Lightning Baccarat
Lightning Baccarat is an electrifying baccarat variant from Evolution. Players can enjoy a substantial payout in this casino game thanks to random multipliers of up to 8x. Evolution applies a 20% Lightning Fee for each Player's total bet.
---
What are the different Baccarat tables?
In top NJ casinos, you'll also find baccarat variants based on the sizes of the betting tables. There are currently three baccarat tables: the Big Table, the Mini, and the Midi.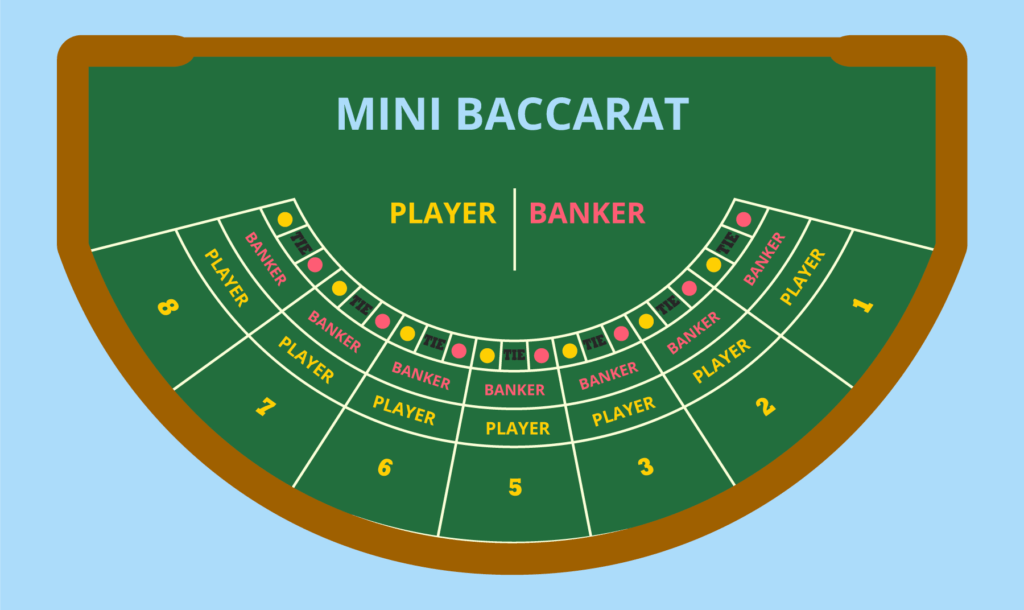 Big Table Baccarat
It's the enormous baccarat betting table in many casinos, wrapping around almost full circle and accommodating up to 14 players at a time.
Mini Baccarat
The Mini Baccarat table is the most popular layout in casinos, accommodating up to seven players in each round.
Midi Baccarat
The Midi Baccarat tables can seat up to nine players.
---
Which baccarat variation should you choose?
The availability of different baccarat variants works in the players' favor. If there are plenty of options, then one can pick a specific game that suits one's playing style and risk appetite based on payouts and RTP.
---
Best variations of Baccarat regarding its profitability
One essential factor to consider when comparing the types of baccarat games is their potential profitability. You can check this by looking at the payout schedule and theoretical RTP.
Baccarat variants with the lowest house edge
You can look at the game's house edge to increase your chances of winning massive payouts. The lower the house edge, the higher your chances of collecting a payout. You can also try using a baccarat strategy to help cut back the house edge. Here are our top baccarat variants with a lower house edge:
Punto Banco. With an RTP of 98.4%, Punto Banco boasts the classic rules available in different betting limits.
No Commission Baccarat. It's an excellent option for players who don't want to cover the house fees.
Baccarat Squeeze. This baccarat variant features a theoretical RTP of 98.4% and is playable in many live casinos.
Baccarat variants that payout the most
Another option to improve your profitability is to look for online baccarat variants with more significant payouts. Check out the baccarat payouts, particularly for the lucrative side bets.
Baccarat 'Super Six' A winning Super 6 in this game pays 12:1.
EZ Baccarat. There's no commission for the banker's bet, and it pays even money. In addition, this baccarat variant features two side bets, Dragon 7 and Panda 8, which pay 40:1 and 25:1, respectively.
---
Best baccarat variants that suit my level of Player
With several premium blackjack variants to play, how do you pick what's best for you? If you're still on the fence, you need to go back to your skills level and risk appetite. Then, choose a baccarat game based on your experience, bankroll size, and risk level.
The best baccarat variants for beginners
For beginners, the online baccarat variants with lower house edges are recommended. For example, you can play Punto Banco, which uses the standard baccarat rules. Dragon Tiger is another simple yet exciting variant that allows you to bet on just two outcomes-the Dragon or Tiger.
Baccarat variants for advanced players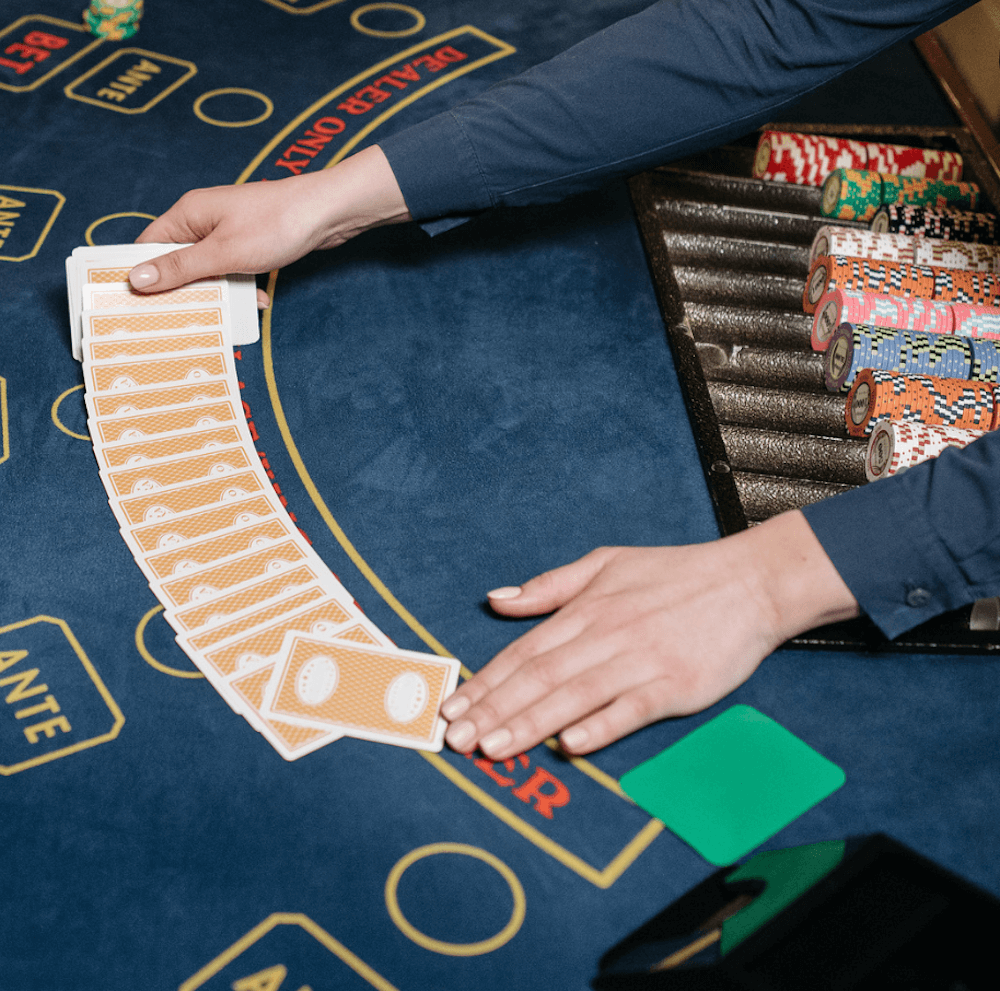 Interestingly, baccarat is playable in different variants that slightly vary in rules, the number of decks, and the availability of side bets. Baccarat Squeeze, Lightning Baccarat, and Speed Baccarat are best for advanced players.
These games feature exciting betting rules, and the game becomes more entertaining due to some changes in the way it is packaged and played. For example, a Speed Baccarat round takes 27 seconds, and Lightning Baccarat boasts multipliers of up to 8x!
---
Baccarat variations you should avoid
Online baccarat is a classic casino game that boasts simple bets and rules. However, if there are types of baccarat games to avoid, then these are games that aren't suitable for your skill level or experience. For example, avoid online baccarat variants with a high house edge if you're just starting.
Frequently Asked Questions
For example, in most baccarat variations, you can bet on the Player, Banker, or a Tie.
Today's most popular baccarat variations are Punto Banco, Chemin de Fer, and No Commission Baccarat.
Different types of baccarat games will feature varying theoretical player returns. But most of these baccarat games boast an average RTP of 98%.