Dancing Drums Explosion Review
This may appear to be a simple five-by-three video slot but delve deeper to discover the higher rewards this game has lurking behind its bright exterior.
Scientific Gaming has used random jackpots and a constantly changing layout, alongside a 96% RTP, to bring stacks of excitement to this online slot game. Read on to find out how you can turn 243 paylines into 32,768.
---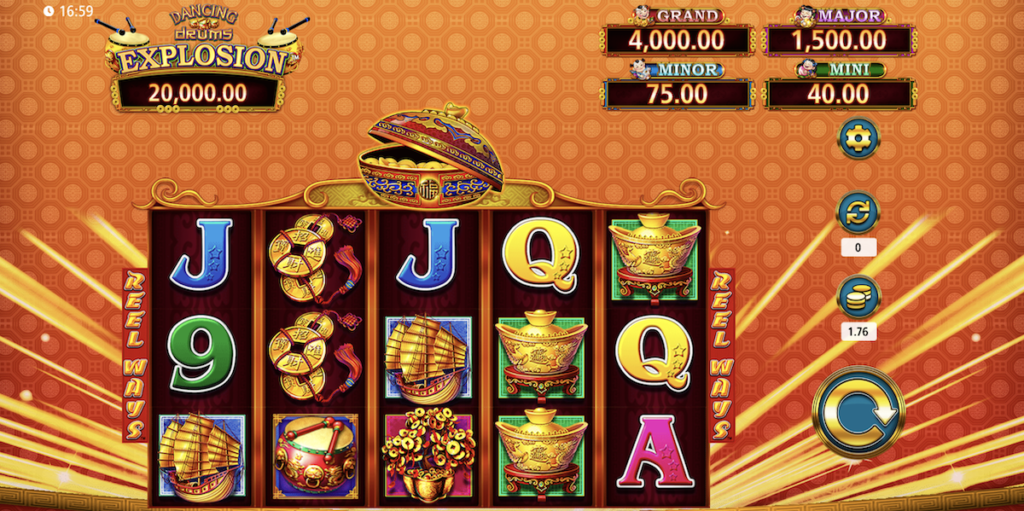 How I tested Dancing Drums Explosion
I was cynical about this game to begin with, as I saw adding an extra word to a previous installment seemed a little lazy to me.
However, it is essential to enter a review with an open mind, so here are some of my considerations when putting this SG slot through the mill:
The technical data gives you a good idea of the potential a game has, so I always consider the RTP and the volatility of a game.
The gameplay and how it actually plays out. There are reviews out there which have been written without the game being played. With us, you can rely on accuracy due to actually playing the slot.
The appearance and the design are important. I think this can have a big effect on how long a player will stay engaged with the slot. I am also looking for good use of a theme.
The minimum and maximum bet decide whether it appeals to smaller budgets or high rollers.
This is a slot review, so the symbols are also very important and we will give you the breakdown in our review.
---
Play Dancing Drums Explosion with the best bonus
Here are some of the top NJ casinos where you can enjoy this online slot.
Hard Rock Casino has a great sign-up offer for potential slot players.

Scientific Gaming is one of the biggest in its field, so you are likely to find its slot machines in the games library of most casino operators. We want you to enjoy it in the best possible way, so take a look around for some lovely welcome offers.
We have found one from the online casino of the Hard Rock Cafe brand. On their website, not only can you enjoy their spectacular library, but you can do it with a $1,000 sign-up bonus plus 50 free spins.
---
Dancing Drums Explosion Symbols & Payouts
The symbols
Paytable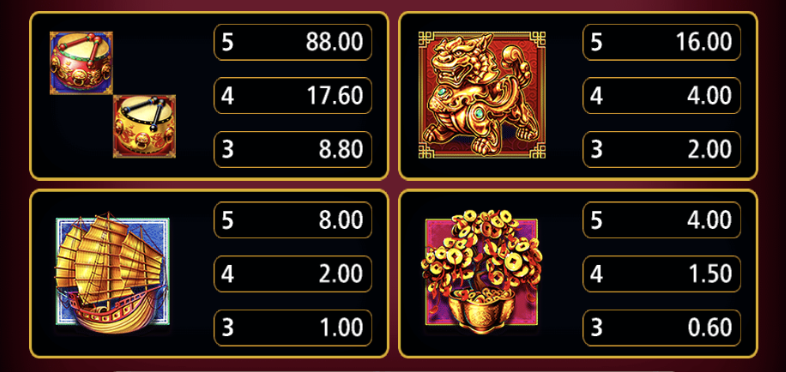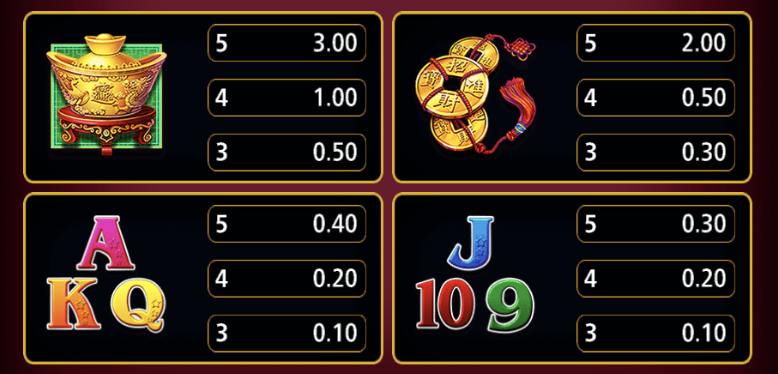 Minimum & Maximum bet
The minimum and maximum bets for this game are pretty much perfect for all customers. Smaller budgets can still experience enjoyment betting with $0.18 stakes, while high rollers can have fun with the $88 maximum bet.
Autoplay option
The autoplay option can be opened by pressing the two arrows in a circle, bringing up a menu that allows for five, 25, 50, and 100 automatic spins. These can be stopped when you have lost more than a certain amount or when a single win is above a certain amount.
RTP
96% is a fantastic RTP and right in line with the average for online slot machines.
Volatility
This game comes with medium volatility.
Maximum win
There is an opportunity to win a $250,000 jackpot, and the highest paying symbol is the drum.
Dancing Drums Explosion has a solid RTP and the bet limits are good, but the jackpot is most enticing.

I find the technical data promising. Medium volatility is, of course, a nice balance, but when combined with an RTP of 96%, you can expect to see some regular wins of both low and high amounts.
A significant aspect of this game is that while you are hunting for the drum to give you the best return on your stake, you are also in with a chance of winning a $250,000 jackpot.
---
Game Features
Special Symbols, Free Spins and other features
Wilds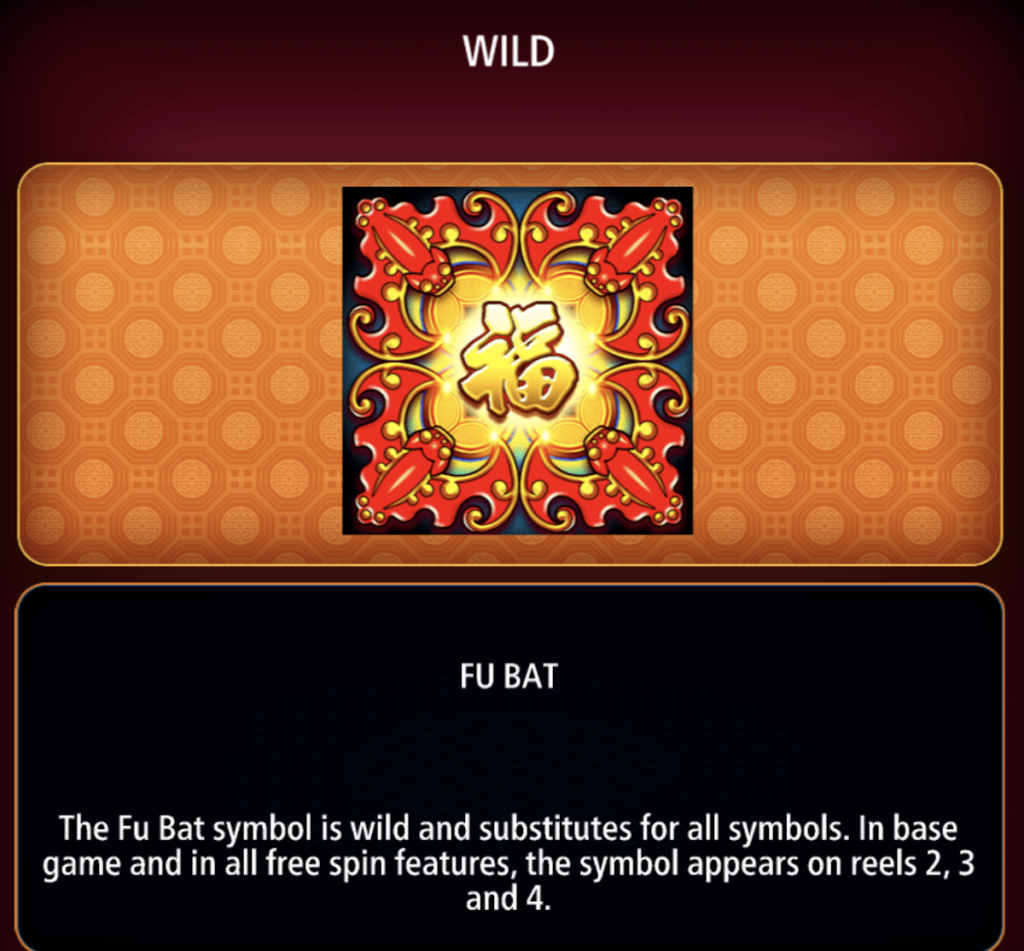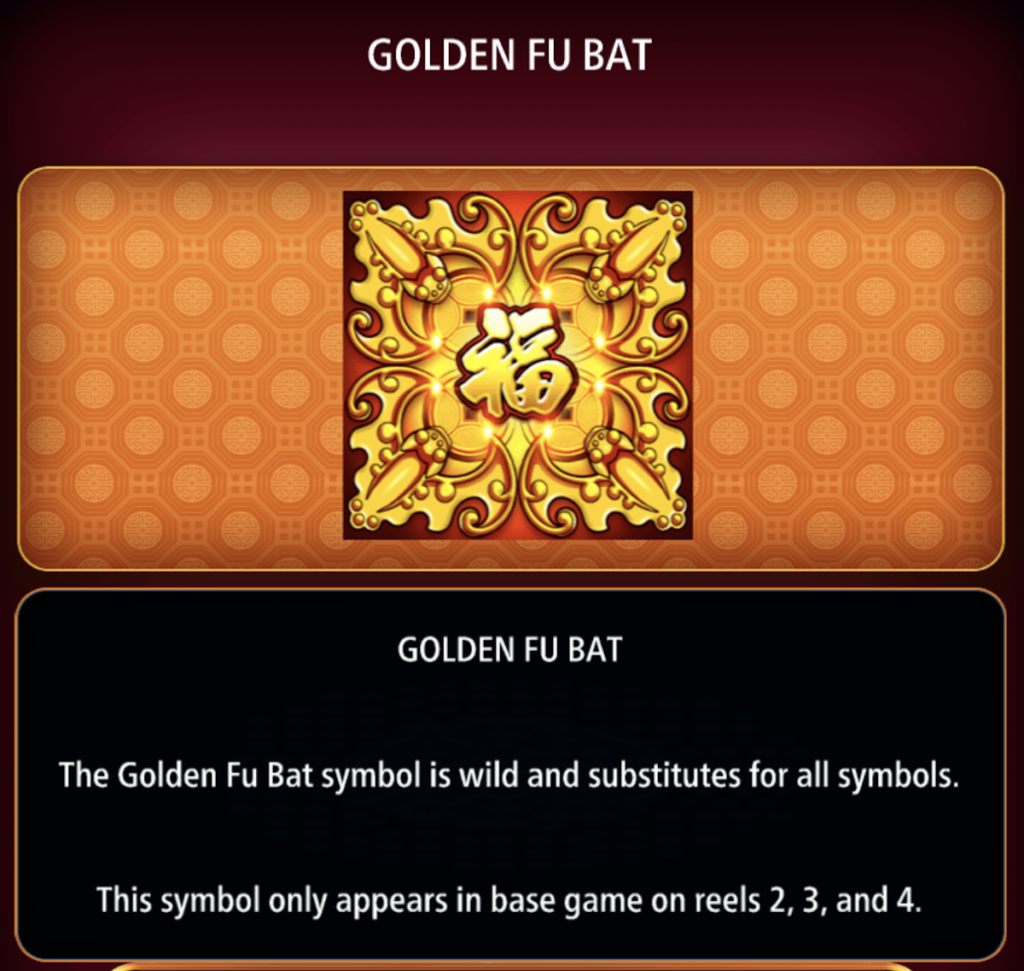 Free Spins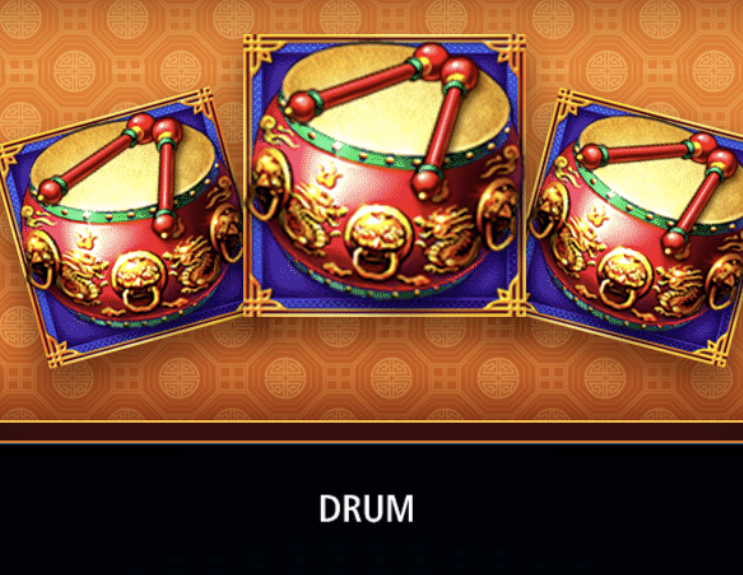 In this game, you may have noticed two types of scattering drum symbols: a standard drum with a red shell and red drum sticks and a golden drum with a glowing shell and black drum sticks.
Matching three or more standard but still, valuable drum symbol allows you to enter free spins mode. Unlike most slot games, the wild symbol also substitutes the scatter, so free spins can also be achieved by combining the scatter drum symbol and Fu wilds.
Once activated, you are asked to decide how you want to play your free spins. You can choose to play with three rows, 15 free reels, and the standard 243 paylines. Among the other options, you will see that as the number of free spins goes down, the rows and paylines increase.
Ten free spins can be used on four rows with 1,024 paylines; five spins are played on five rows with 3,125 paylines or a measly three reels but six rows with a massive 7,776 paylines. You can also opt for "mystery," which gives a random spin, rows, and paylines. I opted for mystery the majority of the time. But you may calculate that it is better to have more reels and fewer paylines or vice versa.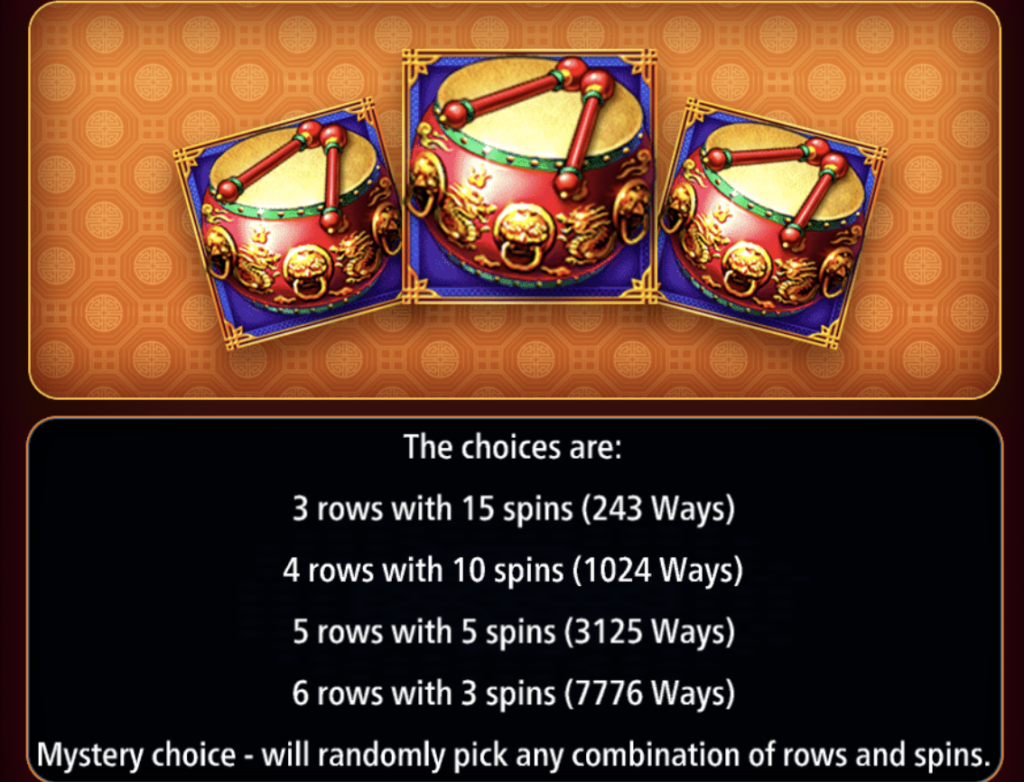 Golden Drum Free Spins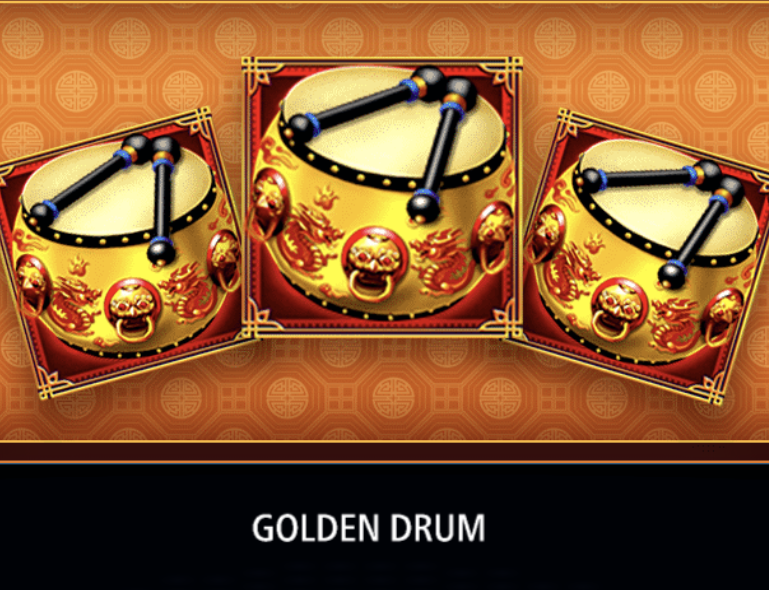 Matching three or more of the golden drum symbol enters you into an even better free spins mode with more rows and more paylines.
It works the same as the normal mode. However, the choices are 15 spins on four rows with 1,024 paylines; ten spins on five rows with 3,125, five spins on six rows with 7,776 payline,s or three spins on eight rows with 32,768 ways to win. There is also the mystery option. If two or more drum symbols appear, you are rewarded with three more spins during this mode.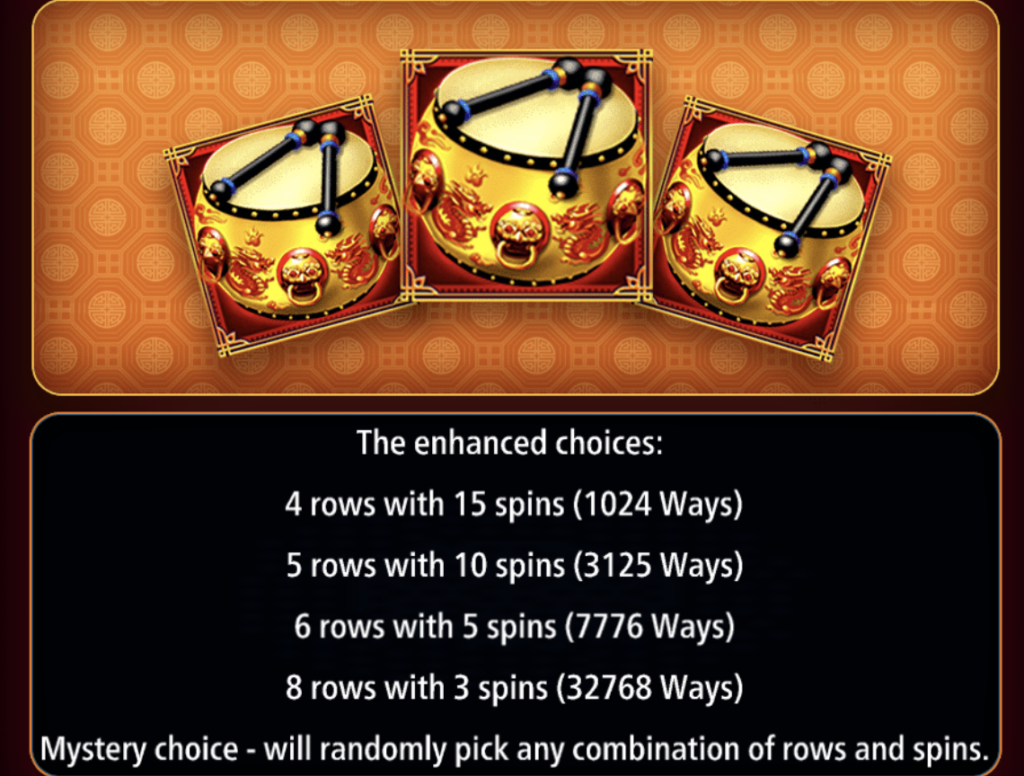 Jackpot
In the top right of the game, you can see grand, major, minor and mini; on the left, you can see one under explosion.
These are the five types of jackpots that can be won at any time. When one or more wild symbol lands on the game grid, an arrangement of 12 coins appears. Match three coins by turning them over to decide which jackpot you win.
Dancing Drums Explosion offers 2 types of free spins and a big jackpot.
The features of this game could be misconstrued. They appear pretty mundane from the outside, but the added steps to achieve them bring a lot of fun to the game.
There is an added bit of excitement on every spin as you never know when a wild will appear, and you will be given a chance to win a big jackpot.
I like the way the free spins ask you to evaluate either what you think is important or what you enjoy about free spins to decide how many free spins you want on how many paylines. This is a unique addition with which I enjoyed trying different methods with.
---
Dancing Drums Explosion Graphics & Sound
| | |
| --- | --- |
| Graphics | 2D |
| Optimized for Mobile | 👍 |
| Music | Asian Themed |
| Special features | Upbeat soundtrack & Brightly colored grid |
Dancing Drums Explosion brings bright bursts of colour to their design
I am always skeptical when anything claims to have a theme as general and widespread as 'Asia.' Asia is the biggest continent globally and contains countries with rich and diverse cultures like Turkey, Russia, Bangladesh, and South Korea.
It seems what they mean in this case is East Asia and, more specifically, China, as there is a symbol written in Chinese characters representing Fu.
Fu means fortune in China, so it is a very appropriate symbol that suggests some research or knowledge has informed the game's design. I was pleasantly surprised to be greeted by a brightly colored game grid with an upbeat soundtrack with Asiatic motifs.
The symbols also help with how eye-popping the game is because they fly off the screen. On closer inspection, these show the designers have an eye for detail.
---
Solutions if you have some issues with a game

If you cannot complete a turn and your gameplay is interrupted or any other stop that requires you to reload a page, you will find your stake is returned, and you can replay the turn.
---
Verdict
I was initially skeptical about Dancing Drums Explosion, but it is essential to enter anything with an open mind. Once I was greeted by a glamorous game grid with dazzling colors, I was filled with much more optimism.
The potential for a jackpot is around every turn with an added thrill, and once I was able to activate the free spins mode, I saw that this game is an excellent addition by Scientific Gaming. Dancing Drums Explosion is a lot of fun and holds potentially massive wins.

---
Other slots to play if you like Dancing Drums Explosion slot
If you enjoy Dancing Drums Explosion, here are some other titles you'll want to check out: