Finn's Golden Tavern Review
Top o' the Morning to Ya Finn is your guide. He'll take you on an adventure in his Golden Tavern, where reels that play in a downward spiral are waiting for you. Move the Free Spins Chest closer into the center to get good rewards and trigger happy moments.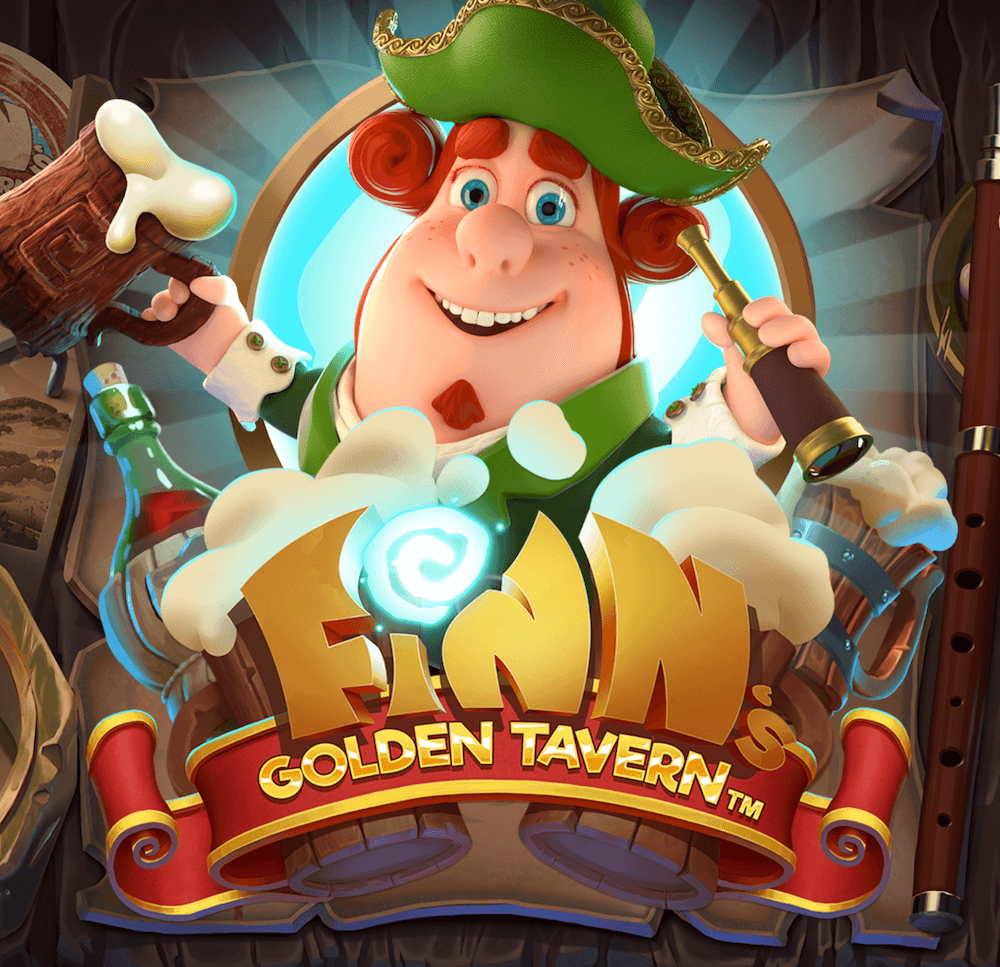 | | |
| --- | --- |
| Launched date | December 4th, 2019 |
| RTP | 96.1% |
| Max Payout | 1,000x Stake (500,000 coins) |
| Volatility | Mid/High |
| Paylines | 3+ Cluster Pays |
| Max stake | 10 |
| Min stake | 0.10 |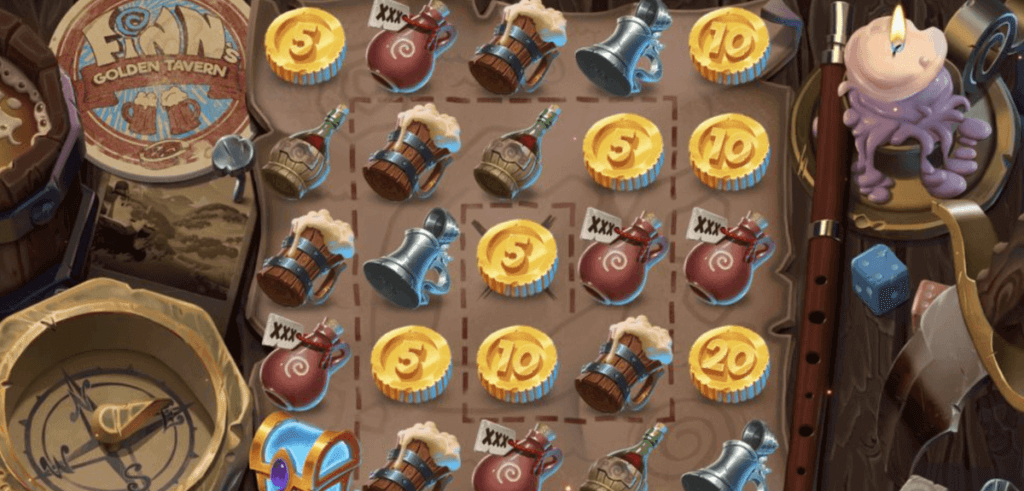 The 5×5 video slot Finn's Golden Tavern is provided by Net Entertainment. Swirly spin mechanics are still present in this sequel to the original Finn and Swirly Spin Slot, released in 2012. Avalanche reels and free spins are just some of the unique features found in the Lucky Leprechaun's pot of riches if you decide to join him once more.
What I checked in Finn's Golden Tavern
---
What is Finn's Golden Tavern?
| | | | |
| --- | --- | --- | --- |
| Slot type | Video Slot | Number of rows | 5 |
| Provider | Netent | Reels | 5 |
Finn, an Irishman, was the inspiration for the slot's name. There are no paylines because it is a cluster-pay game. Three matching symbols in a row or column are required to win.
This new game offers a prize of up to 1,000 times its original value. This slot has three bonus features, which launched on December 4th, 2019: the Fist Slam Bonus, Random Coin Bonus, and Free Spins. Finn's Golden Tavern is shown in all its glory in this close-up.
---
Which Game and Bonus Features Finn's Golden Tavern has?
FEATURES
NO.
LIST
BASE GAME FEATURES
4
Wilds
Random Coin Feature
Free Spins
Free Spins Coin Bonus Feature
BONUS GAMES FEATURES
2
Features a fist slam
Coins in Hand!
Wilds
Each time you score a regular win, the winning symbols will be demolished and replaced by a wild. Wilds can be used to complete winning combinations by replacing all other symbols with them. There won't be more Wild symbols if you win a lot of Wilds, though.
It's the Random Coins!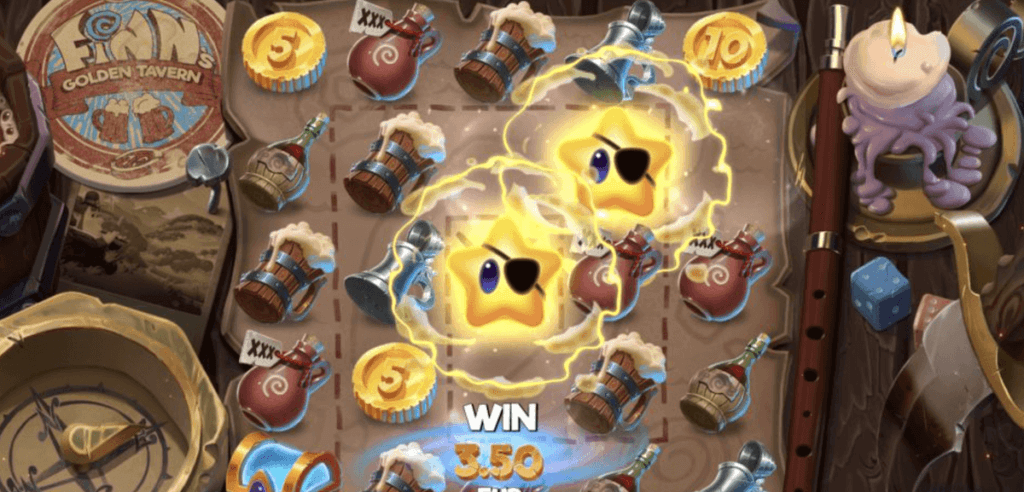 It can be enabled if the Free Spins chest symbol is in the immediate symbol circle around the central location.
Free Spins Coin Bonus Feature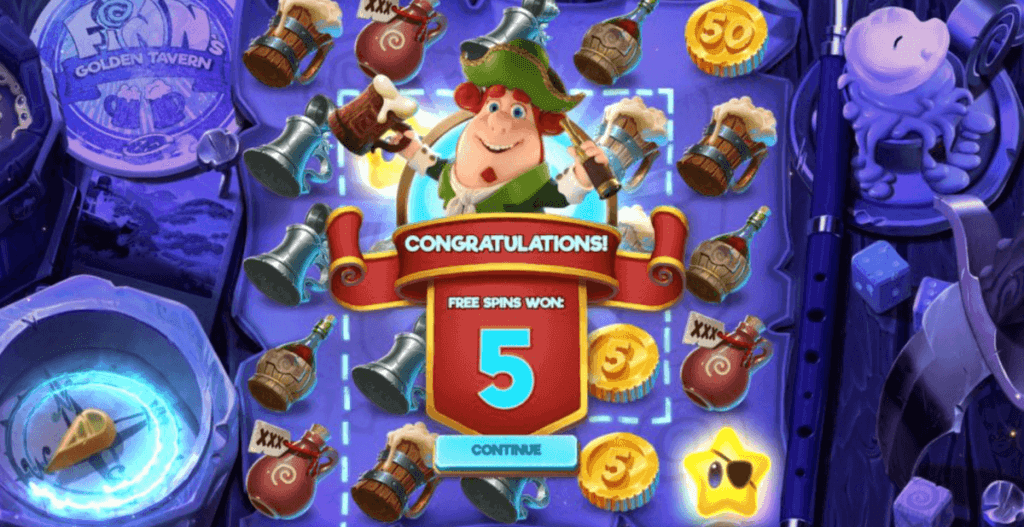 If the Free Spin Treasure Chest Symbol lands in the middle of the spiral while playing the Free Spin Feature, you'll be able to access the Free Spin Coin Bonus. You'll be rewarded with the total sum of the game's value if you collect all of the game's coin symbols.
Free Spin Feature
After all wins and avalanches, a free spin treasure chest symbol appears in the spiral, triggering the Free Spin feature. The compass then becomes a free spin multiplier meter. Every five consecutive wins boost the multiplier by one.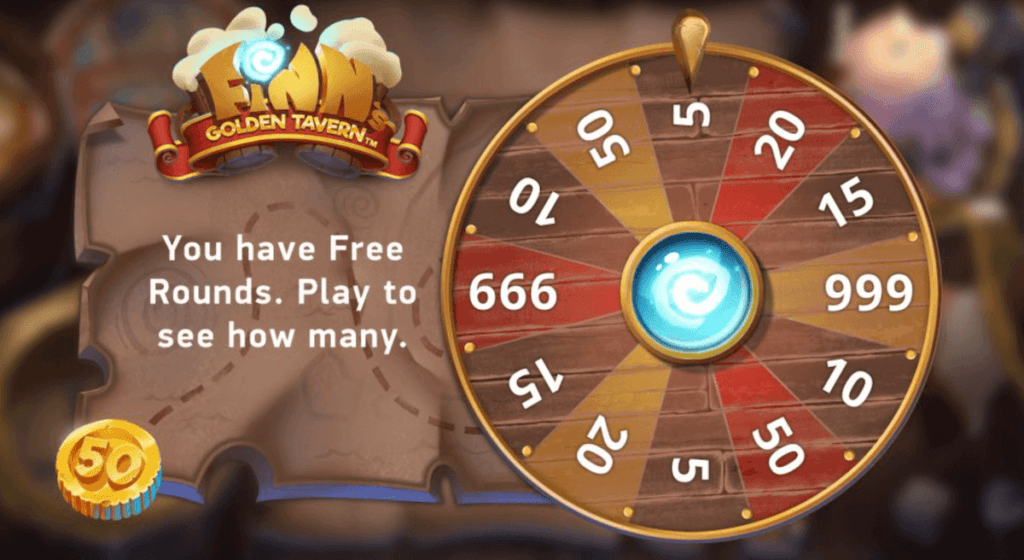 A wild sign appearing during avalanches will increase the multiplier meter by one. Your winnings are multiplied by the multiplier.
Features a fist slam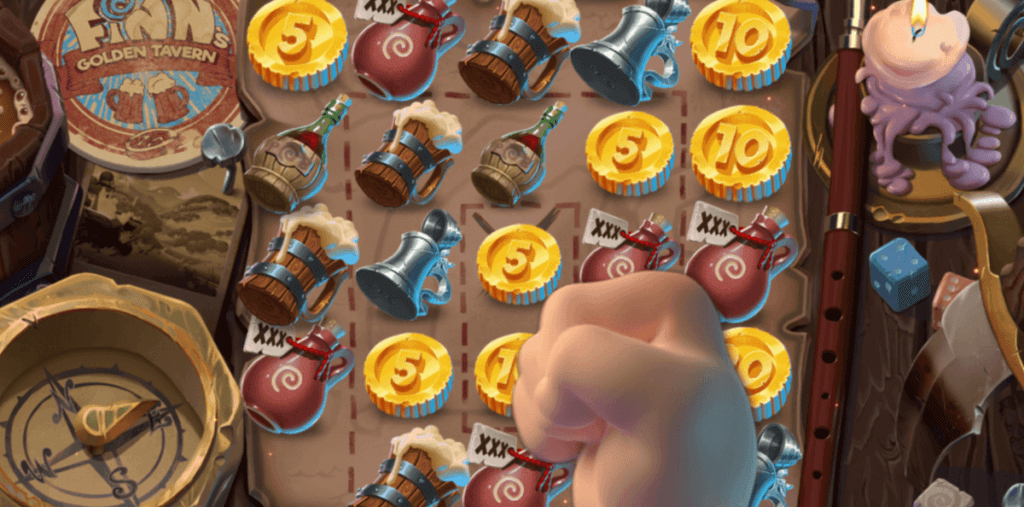 The Fist Slam feature in the main game can be randomly activated and move a coin symbol to produce a win. It is possible to make a success sure by moving a Coin around the reels with this feature active.
Coins in Hand!
Each coin symbol on the reels in this game has a specific value. Any group of three or more coin symbols wins the sum of all coin values in the match. All three Coin symbols must be the same value.
---
Quite an impressive Base game features
The spiral spins are the first thing you'll notice when you start playing. When it comes to online slots, you're unlikely to encounter anything like this. Instead of falling downward, a slide from the left corner will carry them directly into the spiral. Symbols that form a winning combination will be slithering further down the ring when they are removed.
In addition to that, the demo and accurate money versions of Finn's Golden Tavern include the following features.
The symbols
The higher-value symbols are all pitchers and jugs full of various alcoholic beverages, demonstrating that Finn is a man of substance. They're all paid the same, but the gold coins vary. The paytable for Finn's Golden Tavern shows how much you can win if you acquire 3 to 5 matching symbols.
Beer jugs High-value symbols pay 5x for five in a cluster.
Gold coins (values 5, 10, 20, or 50) – Three identical coin values award you the sum of all the winning coins in a row.
Paytable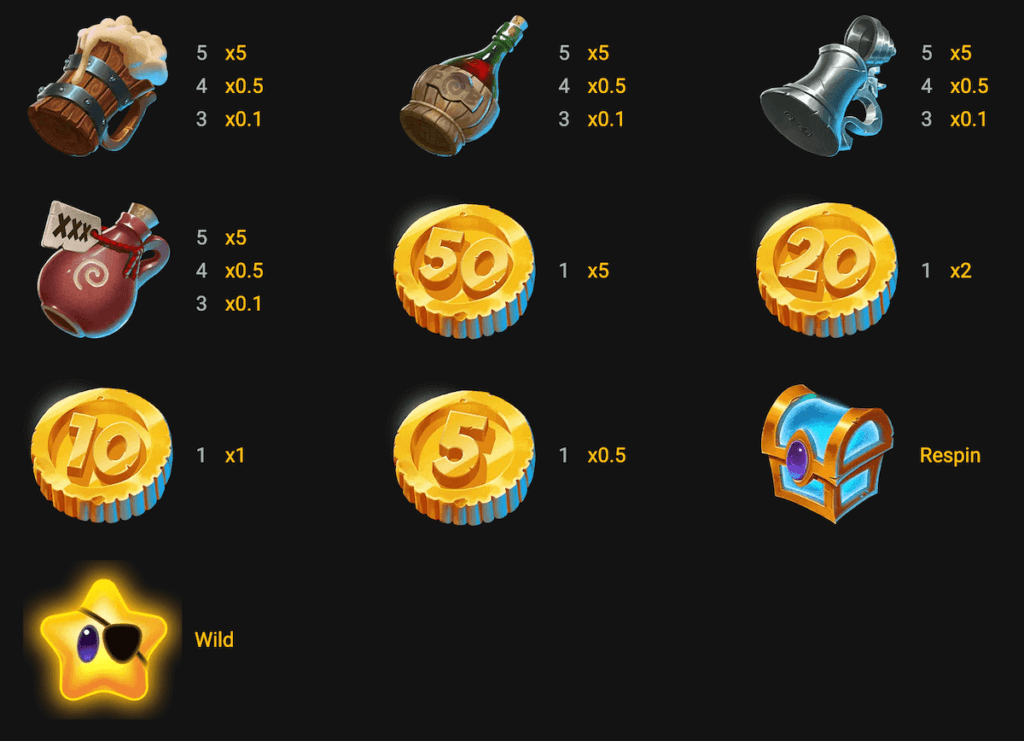 The online Finn's Golden Tavern slot machine's paytable is very simple to understand. Coins and beverages are required icon types.
The value of a coin is precisely what is written on it. Coins marked "5" payout five coins to your account balance. 10-20-50 are equivalent in this respect.
It only takes three or more to make a hefty sum. When you get a Coin-combo with the Wild icon, it becomes a "5" coin.
---
What innovative Special Features can be seen in Finn's Golden Tavern?
| | |
| --- | --- |
| Autoplay option | 👍 |
| Change the speed | 👍 |
| Mute the sound | 👍 |
| Adjustable bet size | 👍 |
Finn's Golden Tavern is distinct. With each successful combination, the Wild symbol increases your chances of a second win. When two Wilds join, they do not produce a new Wild. Wild winning combinations may cross in a row or column. Wilds plus other currencies generate coins of varying value.
---
What's the Story behind Finn's Golden Taverns Theme?
Many beers on tap and so many beer mats at Finn's local tavern. Compared to other Irish slots, this one is a breath of fresh air.
Throughout the game's storyline, you'll be touring a bar, looking for Wilds, Free Spins, and Multiplier Meters.
Finn's Golden Tavern is a fun game despite its dreary appearance. Watch out for avalanche symbols and spiral spins. The game's tavern-themed interface will make players feel at Finn's table.
The symbols will whirl around the reels if you click on the free spins bonus icon. The audio is unimaginative, with only random yells and noises peppered throughout the game.
Pretty Decent Graphics
The aesthetics of Finn's Golden Tavern's online slot follow the concept. The game centers on Finn, a beloved character. An Irishman welcomes you with ice-cold ale when entering the Emerald Isle. The slot machine's music includes several Irish tracks that add to the game's general Irish flavor.
A candle lights the tavern tablecloth where the video slots are set up. Other symbols include beermats, mugs, compasses, and knives. Finn's flute is visible at the table's edge.
---
Who made Finn's Golden Tavern?
NetEnt offers video slots, blackjack, roulette, and scratch cards for online casinos. You may be able to play the same NetEnt game at two different online casinos.
Local and pooled progressive jackpots regularly exceed millions of euros.
As a result, NetEnt casinos can attract players from all around the world. The enormous winnings on these progressive slots have set multiple NetEnt records. Why not look at some of our other video slots if you liked Finn's Gold Taven?
If you're looking to play NetEnt games, we've got all the latest casino bonus offers for you to take advantage of.
Here are a few NetEnt titles we think you'll enjoy!
---
Conclusion – Is Finn's Golden Tavern better than the others?
In addition to being entertaining, Finn's Golden TavernTM has a lot to offer. There is no limit to how many times you can win in Free Spins because of the increasing multiplier in the base game!
We're doing things differently for those who played the first game this time around. This is a brand-new experience with a novel payout mechanism that's simple to grasp and has a higher payout potential. Episode 2 of Finn's adventure has arrived, and it's a big one!
The exciting Chest symbol must land centrally on the reels in Finn's Golden Tavern to activate Free Spins with an increasing win multiplier. Avalanches and all the extra Coins from random features mean that players will see the potential of this game regularly as Wilds are generated after each win.