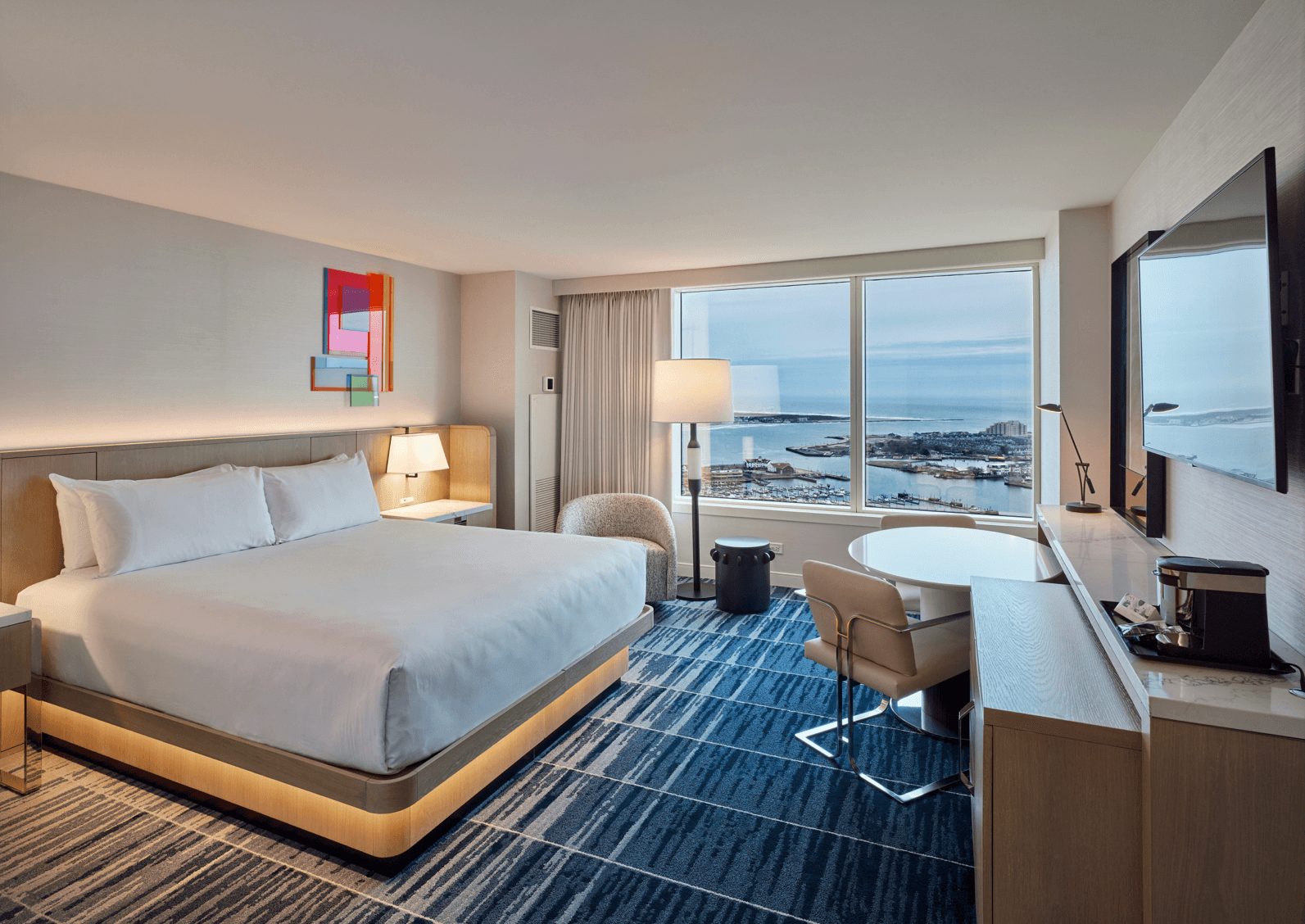 On March 14, 2023, Borgata Hotel, Casino, and Spa announced its preparation for a complete new rebranding and redesign of the famous The Water Club. The $55 million project will introduce a reimagined design to over 700 guest rooms, complete with the most luxurious Vista Suites set at the corners of the all-new MGM Tower for the ultimate view of Atlantic City's skyline. 
Drawing inspirational designs from the Marina District in Atlantic City, the MGM Tower is expected to reflect contemporary, playful, and nautical design elements. It's said to include airy, light, yet warm guest rooms with tones of blue and wooden finishes for a coastal theme that delivers sophistication.
"Introducing the MGM Tower connects Borgata with the unparalleled entertainment and resort experiences MGM Resorts is recognized for worldwide. We are incredibly proud of Borgata and its industry-leading team of employees, and we believe this significant reinvestment will drive visitation to Atlantic City well into the future."

MGM Resorts International COO Corey Sanders
The remodelled MGM Tower's guest rooms will be available in April, while the rest of the project is set to launch by Memorial Day weekend, 2023. The project includes a redesign of the Immersion Spa on the 32nd floor, which will present a new 9,000 square foot event room, once again delivering breathtaking views.
A dedicated check-in area will provide valet parking and access to Borgata's popular dining and nightlife experiences. Visitors can access luxe shopping experiences, seasonal pools, and the resort's unique waterfront location.
Inspiration for the redesign project comes with the 20th anniversary, during which Borgata became among the most successful casinos in the state.
"As we approach the resort's 20th anniversary, we are more committed than ever to remaining a leader in hospitality and entertainment by continuing to evolve the Borgata experience," said Travis Lunn. He continued, " We look forward to sharing our new vision with Borgata's incredible guests in the coming months."

Borgata Resort's President, Travis Lunn 
Latest NJ Casino News
Stay updated with the latest developers in New Jersey, including the nine land-based casinos in Atlantic City by bookmarking our NJ Casino News page. Below, choose from the related articles below for more!