Unless you're a professional Poker player, the term "Poker hole card ranking" might not mean much to you. However, you've landed on the page, which either means you're just checking up on the rankings, or you're interested in improving your game!
In a nutshell, the Poker hands ranking system determines your chance of winning based on the two cards in your hand. It helps you decide if it's worth wagering on the hand, and if so, how far you should be willing to go. Of course, this ties in perfectly with a Poker strategy, enabling better choices based on the cards in your hand. In this article, I'll be talking about how Poker hands rank, and how it provides an advantage. So, let's dive in!
The Top Hole Card Hands in Poker
Whether you're playing online Poker at a casino or around a table with others, knowing what the cards in your hand are worth is one of the best ways to gain an advantage. There's no way of knowing what other players might have, and while you could bluff, knowing what the chances of winning the round is will be the difference between a calculated bet or losing more than you should.
Working with just the card values, 169 unique combinations can appear with Poker hole cards. Involving suits would result in 1,326 combinations. Now, I won't bore you with a massive grid featuring all those combinations. So, let's look at the top 20 as a starting point, which would already provide the fundamentals of what this means.
Top 20 texas Hold'em Hole Card Hands
Based on the game played with eight others around the table (nine in total), there are many additional factors that come into play with winning Poker hands. Of course, the results of the below Poker hands chart is based on no folding philosophy. In other words, how likely are you to win with a particular set of Poker hole cards without considering the bets involved.
| Hand | Average All-in Win Percentage – 9 Player table |
| --- | --- |
| Pair Aces | 31% |
| Pair Kings | 26% |
| Pair Queens | 22% |
| Ace & King (Suited) | 20.2% |
| Pair Jacks | 19.1% |
| Ace & Queen (Suited) | 18.7% |
| King & Queen (suited) | 18.1% |
| Ace & Jack (Suited) | 17.5% |
| King & Jack (Suited) | 17.1% |
| Pair Tens | 16.8% |
| Ace & King (Unsuited) | 16.7% |
| Ace & 10 (Suited) | 16.6% |
| Queen & Jack (Suited) | 16.6% |
| King & Ten (Suited) | 16.1% |
| Queen & Ten (Suited) | 15.8% |
| Jack & Ten (Suited) | 15.8% |
| Pair Nines | 15.3% |
| Ace & Queen (Unsuited) | 14.9% |
| Ace & Nine (Suited) | 14.6% |
| King & Queen (Unsuited) | 14.4% |
Top 10 Starting Hands Chart – Casino Poker
In games such as Texas Hold'em, the two cards you receive in the beginning of the game are yours for the entire round. You can't exchange them, which makes it worth know what the chances of winning are. In the top 10 Poker hands chart below, we're looking at the best cards you could have and most likely win the round.
Most would think any pair is the best, which is true up to a pair of eights. Thereafter, the pair's value is too low and our ranked by higher combinations such as King and Ace. Let's have a look:
| Poker Hand | Chance of Winning |
| --- | --- |
| Pair Aces | 85% |
| Pair Kings | 83% |
| Pair Queens | 80% |
| Pair Jacks | 78% |
| Pair Tens | 75% |
| Pair Nines | 72% |
| Pair Eights | 69% |
| Ace & King | 68% |
| Ace & Queen | 67% |
| Pair Sevens | 67% |
Meaning of "Hole Cards" in Poker
As the only private cards, hole cards are dealt first, face down. Only you as the player should know the value of these cards during the entire Poker round. They are revealed at the end of the round during what's called the showdown. Here, all the cards are revealed – including the dealer cards in regards to casino poker – and matched with the cards on the table to determine who has the best hand. There are loads of different Poker hands, which determine a winner without any doubt.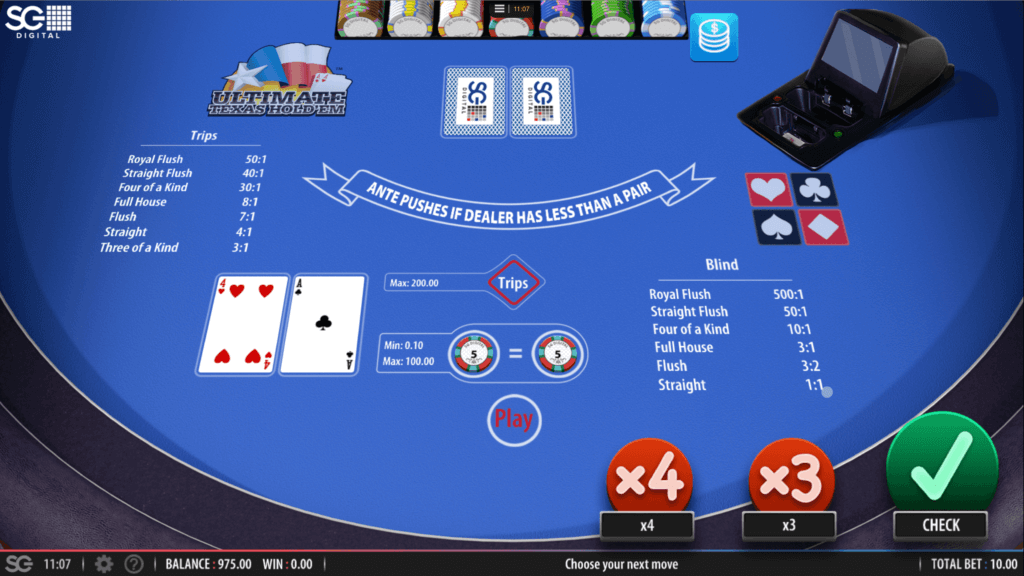 How Important are Strong Hole Cards?
With a great Poker face and ability to bluff, all hands in Poker carry excellent value. However, in casino Poker, you're playing directly against the dealer, who won't be trying to bluff with all types of expressions. Instead, the results are completely based on Poker rules, in which case having strong hole cards are very important.
Decisions to take after looking at your Hole Cards
There are multiple casino Poker variations, many of which require the dealer to qualify before players can activate higher payouts. Therefore, it's not always worth folding just because you don't have pocket Aces. Once you know your hole cards, it bound to be an advantage knowing what the odds of winning are. From here, determine if you should call, raise, or simply take the ante bet loss by folding.
Best Casinos to Practice your Starting Hands
Choosing the right online casino to play online Poker is key to gain access to multiple variations, styles, and betting limits. Of course, you'd also want access to live dealer Poker games, which might not be idea for beginners, but it certainly offers a great range of opportunities and game styles to enjoy. Below, we take a look at some of the most popular Poker online casinos:
Best Casinos to Practice your Starting Hands
Having access to multiple game variations, excellent promotions, and fairness, all comes down to choosing the right casino. Like they say, "practice makes perfect", which is true for Poker hand rankings as well. Eventually, you'll know what hole cards rank the best and what your next move should be based on your current hand. However, start by practicing at an online casino that offers both low limit real money Poker and demo games.
As a massive Poker fan myself, I've included three NJ online casinos with a great variety of online Poker games. Not only are there multiple variations, but you'll also get to trigger a fair welcome bonus, and play demo modes to start with. Let's checkout some casinos!
Borgata Online Casino
Whether you want to practice all hands in Poker or play various game styles for real money, Borgata Online Casino is a great choice. The casino delivers games from multiple developers, offering a wide collection of styles, features, and betting limits for both online Poker and live dealer Poker. To learn more about their promotions, games, and mobile apps, visit our Borgata Online Casino review.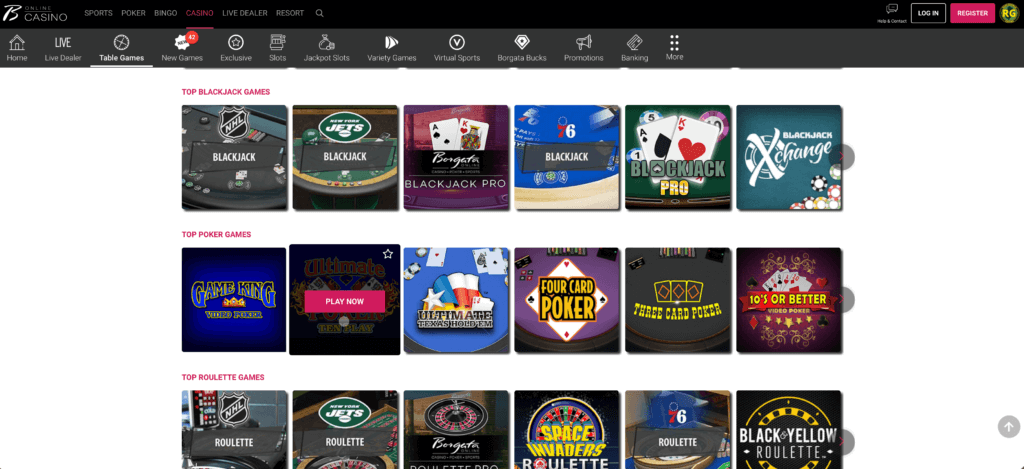 DraftKings Casino
Though it doesn't provide a direct option to Poker in the menu, a quick search will present a grand collection of Poker games at DraftKings Casino. Once again, a stellar range of top-rated developers contribute towards the RNG and live dealer Poker games on offer. There are various tables, game styles, side bets, and even video Poker to enjoy. Read our DraftKings Casino review to find out more about their game providers, online slots, progressive jackpot slots, and more.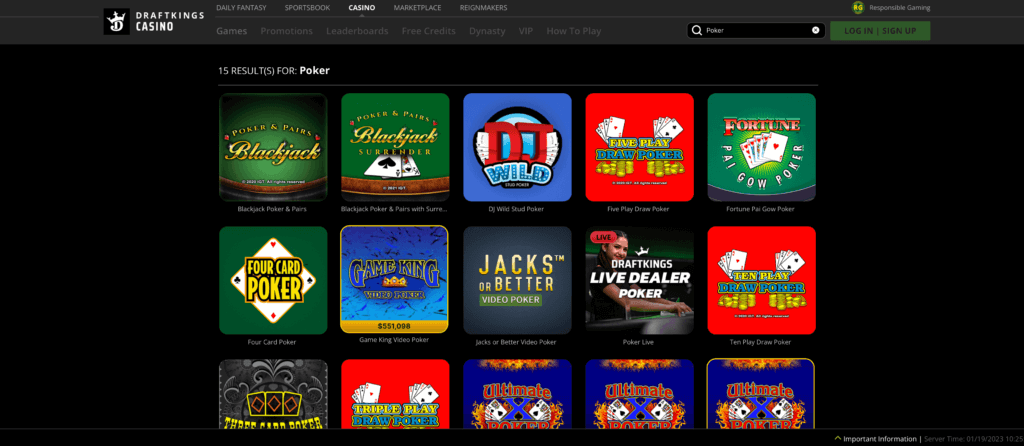 Caesars Casino
Caesars Casino is perhaps the go-to choice for players seeking just about every variation of online Poker available. As with the casinos mentioned above, you'll find RNG and live dealer Poker games on offer. However, Caesars also includes access to a massive Poker network, offering various games such as Hold'em, exactly like the game played in WSOP (World Series of Poker). Therefore, you'll gain access to all the game variations you desire, and claim impressive welcome bonuses. Find more info about their payment methods, low wagering bonuses, and more in our Caesars Casino review.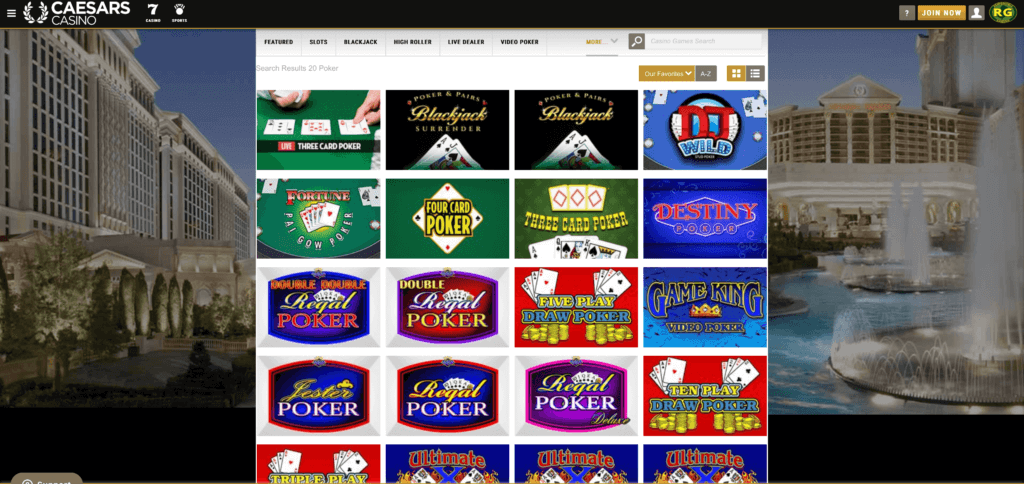 Will Hole Card Hands in Poker Help you Win? My Conclusion
While hole card rankings certainly play a major role in what your hand is worth, there are a few other factors to take into consideration. It's best to combine the info of this guide with a Poker strategy, and to understand Poker rules in full. There are various game styles, ways to play, and betting limits, which all play their part in the overall game.
With that said, knowing the value of hole cards would be a great advantage to any type of online Poker game. However, it's not a sure way to win every round, and should still be combined with responsible gambling.
Frequently Asked Questions
Dealt face down at the beginning of a round, hole cards represent the player cards, which are reserved for the player's eyes only. These cards are only revealed to the table at the end of the round, during what's called a showdown to determine the winner.
Referred to as "Poker Rockets", a pair of Aces is rated as the best possible hold card hand. At online Poker tables it has a 85% chance of winning the round. Played around a table with nine players, it stands a 31% chance of winning.
Based on a standard deck of 52 cards, a total of 1,326 hole card combinations exist, including the various suits. Working purely on the card values, 169 hole card combinations are possible.
Art from pairs, the best hole card hand in Poker is Ace and King of the same suit. It commonly wins high card rounds, Royal Flush, Straight, and Flush. With A/K suited, your chances of winning an online Poker round is 68%. If the game is played with nine players at a table, the chance of winning is 20.2%.