Stacked Valentine Hearts Review
Claiming the big wins and free spins won't require flirting in this romance-themed slot. Instead, a bit of luck and good timing could reveal the most impressive Stacked Valentine Hearts and lead you to winnings of up to 2,500x your bet! So, how does the game stack up against the rest, and is it a title worth searching for at NJ online casinos? That's precisely what we'll look at in this Stacked Valentine Hearts slot review.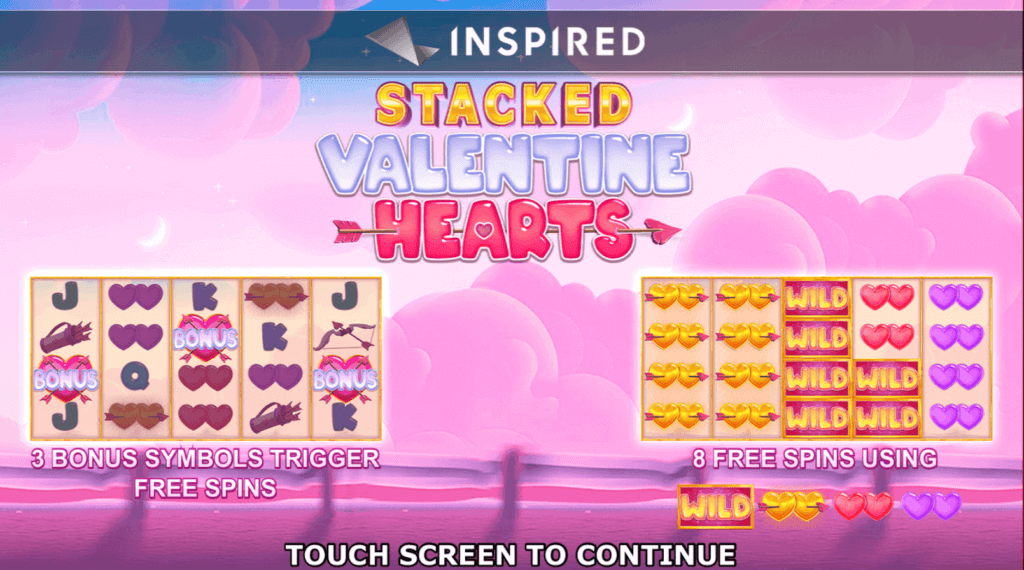 Stacked Valentine Hearts Review – worth Falling in Love with Huge Wins from Stacked Symbols?
Online slots come in various shapes and sizes, of which the Stacked Valentine Hearts slot is a perfect example. The bigger stack of five reels feature four rows offers stacked symbols on each of them, which of course, brings the "stacked" part of the name into play.
While stacked symbols are a huge advantage for big wins – especially with 40 paylines – there have been games that disappoint with combinations that take long to activate. We've also seen games like this rarely include unique features that make gameplay worth trying, so would Stacked Valentine Hearts follow the same trend?
From the beginning of the Stacked Valentine Hearts slot review, I noticed combinations can take their sweet time. However, the medium to high volatility range and winnings of up to 2,500x your bet explains it. In this slot review, we look at each aspect of the game and see if it's worth playing at online casinos in New Jersey.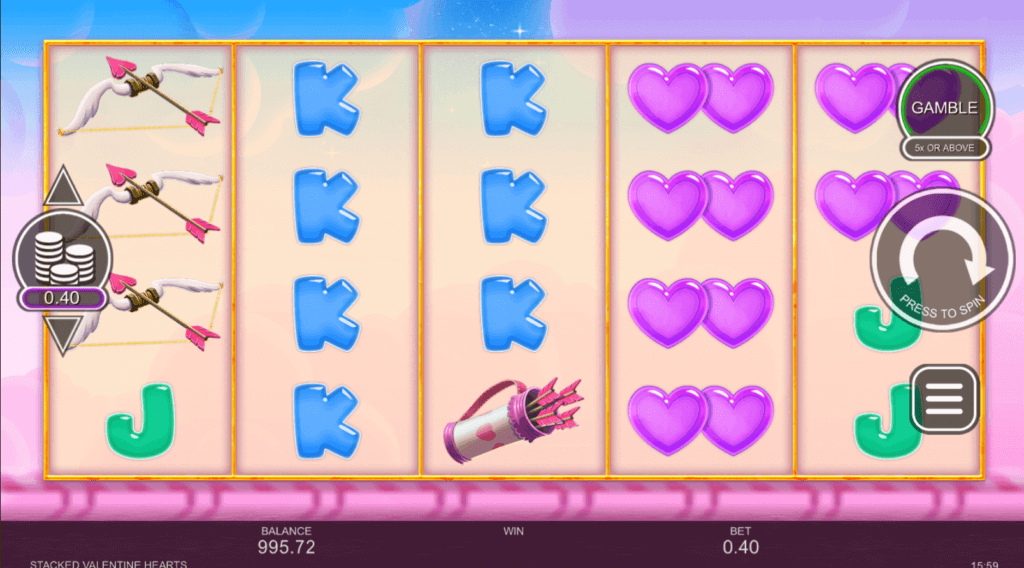 What I Checked in Stacked Valentine Hearts
During the Stacked Valentine Hearts slot review, I assess each aspect of the game to provide accurate information on features, betting, rewards, and much more. In fact, we do this with every slot review on the website, including these sections:
What is Stacked Valentine Hearts?
The layout might seem familiar to those who've played other slots from Inspired Gaming. It's a reskin of their popular Stacked Fire 7s slot, which now provides a unique romantic theme. The slot doesn't disappoint with features either, as scatters lead you to free spins that only involve stacks of the highest-paying heart symbols and wilds.
Stacked Valentine Hearts Game and Bonus Features
| feature | No. | List |
| --- | --- | --- |
| Base Game Features | 2 | Stacked Wilds, Stacked Symbols |
| Bonus Buy Features | 0 | – |
| Bonus Game Features | 1 | Free Spins |
Stacked Valentine Hearts and Wilds Activate Big Wins!
Let me put this into perspective, there are five reels with 40 paylines, and the double golden hearts symbols pay 1,000 coins per combination. Since it's possible to stack the same symbols on all the reels, winnings of up to 40,000 coins could trigger during the base game.
The Stacked Valentine Hearts slot also includes wild symbols to make combinations easier. As you might have guessed, these can also appear in stacks on reels 2, 3, and 4, representing any symbols other than the bonus scatters.
No Bonus Buy Feature for Free Spins
The option to purchase the bonus feature has become a huge hit among bonus buy slots, but Stacked Valentine Hearts doesn't include this option. Instead, you'll need to wait for the scatters to appear, which also means you don't need to spend extra to initiate the feature.  
Stacked Valentine Hearts doesn't use Hold and Win
Instead of the new and impressive hold and win feature, Inspired Gaming kept it simple with huge combinations and free spins. 
Only Stacked Hearts and Wins during the Free Spins Bonus Game Feature 
The pink heart symbols represent the scatters on the first, third, and fifth reels, triggering eight free spins when they appear simultaneously. The same reels are used, but only the three highest-paying heart symbols and wilds are used. This makes it much easier to activate massive combinations.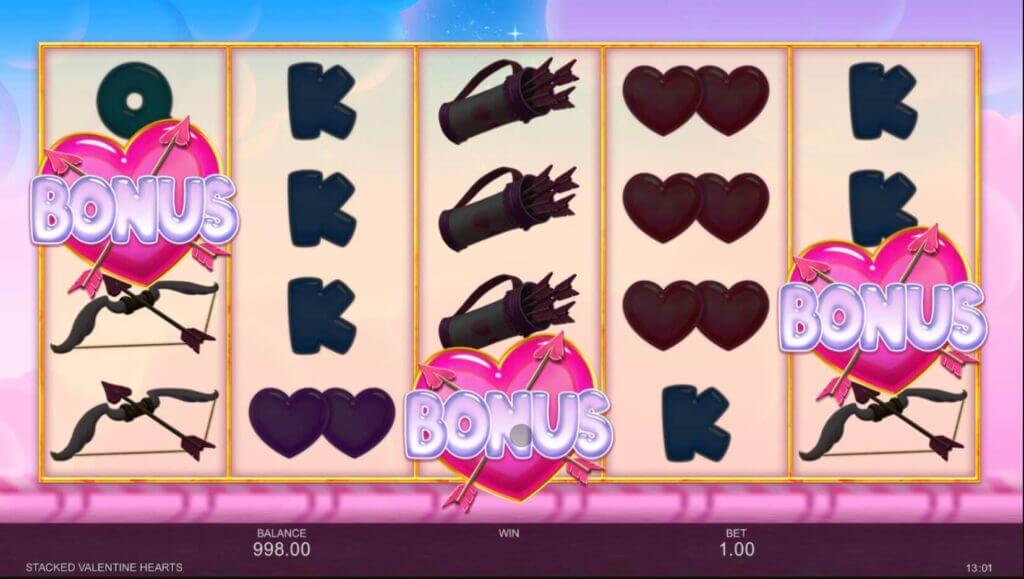 Stacked Valentine Hearts Special Game Features
| Special Feature | Availability |
| --- | --- |
| Autoplay Option | 👎 |
| Change the Speed | 👎 |
| Mute the Sound | 👍 |
| Adjust Bet Size | 👍 |
Keeping to a neat and simplistic mobile interface, the developer doesn't include game speed or autoplay options. Instead, you'll find the betting options on the left and the gamble feature, spin button, and menu on the right. This certainly makes it easy to use on a smaller mobile screen, but many of us have gotten used to using special features, especially autoplay.
What's the Story Behind Stacked Valentine Hearts' Theme?
From the moment the game loads, it's easy to see a romantic theme as heart symbols appear everywhere. However, other than that, the Stacked Valentine Hearts slot doesn't follow any particular theme.
Basic Animations Keep it Easy on the Eyes
The reels fill the screen, keeping you focused on the symbols as they line up with each spin. The only animations you'll see appear with combinations, which are the bare basics as symbols simply "beat" while it pays winnings.
A Sweet Melody with Birds Chirping is a Nice Touch
In the background, you'll hear a constant melody that's easy on the ears and cheerful, especially with the occasional chirping of birds in the distance. The reels make a soft tapping sound as they stop while winning combinations make themselves known with loud thumps – much like the big wins you'll hear in land-based casinos.
Who Made Stacked Valentine Hearts?
Established in 2014, Inspired Gaming quickly claimed its position in the market as an innovative game developer. The slot-focused company creates games for both land-based and online casinos, presenting various themes, game styles, and features.

Other Popular Slots from Inspired Gaming
The game provider includes many other exciting titles. In fact, over 200 games are currently available at some of the most popular Inspired Gaming casinos in NJ, including:
Who is Stacked Valentine Hearts Ideal for?
Since the Stacked Valentine Hearts slot has some features without going over the top, it's perfectly suitable for just about everyone. The theme is designed in a way that makes it easy on the eyes for any player while the features and impressive rewards becomes the cherry on top. With that said, don't expect a busy bonus-filled experience as even the free spins feature tends to be quick, simple, and boring once you've triggered it a few times.