What makes the best payout slots?
A high RTP
The first thing you should look for in determining the payout of an online slot machine is the game's Return-to-Player percentages, commonly known as RTP. A game's RTP is how much players can expect to see back on your betting.
This figure is calculated over a massive number of spins — sometimes one million or more — and it should be viewed as a guideline, not a guarantee. For example, if you are playing on a machine with a 96.4% RTP, that machine has been calculated to give back $96.40 for every $100 you spend. 
Generally speaking, an online slot machine's RTP averages between 95-97%, which is far more than land-based slot machines, which oftentimes check-in around 85%.
A good hit frequency
Hit frequency is how often a slot machine will stop on a winning combination. Hit frequency is different from RTP in that the figure only focuses on wins. While a high RTP has become relatively normalized with online slots, there is much more variation in hit frequency among machines. Look for online slots to carry a hit frequency anywhere from 20-30%.
However, there can be a lot of variation in hit frequency. For example, slots with higher jackpots can have hit frequencies much lower than average, because of the high jackpots at stake. As a general rule, progressive slot machines with high jackpots usually have lower hit frequencies.
Finding a slot machine with a 30% hit frequency or higher is considered high, but keep in mind, those slots oftentimes provide lower jackpots. To recap: Hit frequency is how many times a winning combination shows up and RTP is how much money wagered is calculated to return over a duration of spins.
Different volatility = different rewards
Online slot machines are categorized into three levels of volatility: high, medium, and low. Basically, the volatility of a slot gives players an idea of how rare or often they can win, along with how big or small the prizes are.
High volatility slots are your typical "win it big" machines. If you're looking to strike a big jackpot with one spin, this is the slot machine for you. These slots don't pay out often, but if they do, they pay out in big jackpots. Generally speaking, high-volatility slot machines can payout wins at anywhere from 3,000-10,000x their initial bets–or even more.
Medium volatility slots provide a happy "medium" between high and low volatility slots. While these slot machines don't offer the same kind of massive jackpots as high volatility slots, they still offer solid wins. Another feature of medium-volatility slots is bonus features: Generally speaking, these slots offer plenty of bonus features, which can maximize those solid wins.
Low volatility slots provide the most chances to win but the smallest jackpots. Even though they don't have nearly the types of jackpots or bonuses as medium or high-volatility slots, they can provide an enjoyable playing experience because they will offer more consistent wins. Because of this, players can play low-volatility slots for extended periods of time–but don't expect to be walking away with a life-changing win. Typically, the jackpots offered are about 250-500x your bet.
Good-sized payouts
Of course, while RTP shows how much money players can expect back, hit frequency shows how many times a winning combination shows up and volatility is key in determining exactly what type of online slot machine you're playing if you're looking for a good-sized payout, nothing beats the bottom line.
With the emergence in popularity of Megaways slots, they rank near the top of the list: The mechanics of Megaways slots afford over 100,000 ways to win, most of the time with progressive jackpots. The highest payouts for slot machines generally check-in around 20,000-30,000x your bet.
---
Latest Slots that Payout the Best
Here are some of the most popular slots in New Jersey that are among the best payouts, in terms of RTP:
Mega Joker (NetEnt) — 98.90% RTP
Guns 'n' Roses (NetEnt) – 96.98% RTP
Cleopatra Plus (IGT) – 96.40% RTP
Sweet Chilli (Ainsworth) – 96.17% RTP
Triple Diamond (IGT) – 96.09% RTP
Golden Wisdom (Ainsworth) – 96.10% RTP
Fox Trot (Everi) – 96% RTP
Book of Oz (Microgaming) – 96.31% RTP
---
Best Payout Slot Providers
There are a number of big-time online slot machine manufacturers that provide the most popular online casinos with games. Chances are if you've played at an online casino, you've played one of their games.
While there is a slight discrepancy in the payouts among providers, you may be surprised to know it isn't great: The majority of companies are within 1% of each other in overall RTP; the industry standard is about 95%. 
Below, our team of experts will detail the best payout slot providers and popular games that they're known for:
1. NetEnt
NetEnt, arguably the biggest provider in the industry, makes the highest RTP online slot machines, with an average 96.51% payout percentage. NetEnt has an incredibly diverse portfolio of games, with over 200 different titles, which are featured at popular online casinos like 888 Casino.
NetEnt has developed classic games, progressive slots, and video slots. Their most popular include Gonzo's Quest, Mercy of the Gods, Jumanji, and Twin Spins Megaways.
2. Realtime Gaming
Realtime Gaming is a company born in the U.S. that has a strong focus on U.S. online casinos. Created in Georgia in 1998, Real Time Gaming is known for its slot machines. Among their most popular titles are Incan Goddess, Aztec's Treasure, Diamond Mine.
They also provide Star Wars slots and multiple Christmas-themed slots, including Santa Strikes Back and Return of the Rudolph. RealTime Gaming has taken big strides with its progressive jackpot slot machines and rank highly for players looking for big jackpots.
3. NextGen
NextGen has a generous overall RTP, with their impressive collection of slot machines ranking around 95.5% RTP. Nextgen provides games and products to over 200 companies worldwide and is known for popular slots like 300 Shields Extreme and Superman.
In 2017, Nextgen merged with Scientific Gaming, making them one of the biggest players in the online casino industry. It's not likely that will change anytime soon. For either beginners or experienced slot machine players, Nextgen has a solid payout game for you.
4. Everi
Everi began as one of the leaders in developing slot machines for land-based casinos in Las Vegas and has quickly expanded into developing online slot machines. Including the popular Karate Kid slot, Everi has a portfolio of more than 40 online slots.
We expect that number to grow dramatically in the coming years. Overall, the average RTP of Everi slots is 96%, which ranks favorably with the rest of the industry leaders. Among their more popular titles are Atomic Meltdown and Smokin' Triples. Most notably, Everi's bonus features are considered creative and fan-friendly.
5. IGT
IGT is a large provider that ranks as one of the titans of the online gaming industry, providing a number of games and products, not just slot machines.
But their slot catalog ranks among the best in the world, with popular titles like Cleopatra, Siberian Storm, and Ghostbusters Plus. While they don't have quite as high of an overall RTP–IGT slots average 95.15% RTP–the in-game features and bonuses offered can certainly make up for this. IGT has 150-plus online slot machine titles. 
---
Top 10 Best Payout Online Slots in 2021
1. MegaJoker (NetEnt) — 98.90% RTP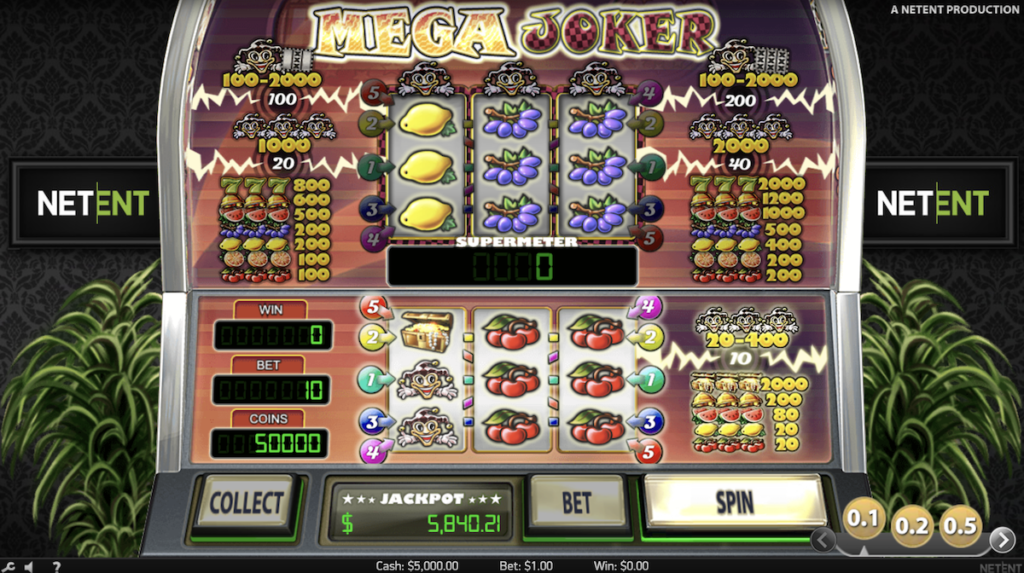 This slot machine is a jackpot slot with a classic-style fruit machine. There's a five-line coin slot with two sets of three reels and a progressive jackpot.
The high payout percentage means that players have a great chance of winning back something. In Mega Joker, there are two modes: The regular game mode and the "Supermeter" mode, which adds extra features and bonuses to trigger.
2. Guns 'n' Roses (NetEnt) – 96.98% RTP
Guns 'N' Roses is a popular slot available at multiple New Jersey online casinos. For being a high payout slot, this machine is incredibly balanced, ranking as a low-to-medium volatility slot with 20 paylines on five reels. Though Guns 'N' Roses has a maximum jackpot of $225,000, a big win can be reasonably considered at 20x your bet.
The game has plenty of bonus features, including expanding wilds, free spins and a 'Click Me Bonus,' which can trigger additional free spins. But perhaps the biggest bonus is listening to the classic Guns 'N' Roses tunes throughout gameplay.
3. Wheel of Fortune On Tour (IGT) – 96.6% RTP
Based on the legendary U.S. game show, Wheel of Fortune On Tour has lived up to that billing as a slot machine, both online and in land-based casinos. The brand is one of IGT's most popular and offers 720 ways to win, along with a maximum jackpot of 50,000x your bet.
The game is played on a 5×5 reel with multiple wilds: Super Wilds can boost your win by 5x and the new Triple Action Bonus gets triggered when a player hits three or more Triple Action Bonus symbols on the reel. And that's not all: If you want to escalate your winnings, there is a "gamble" feature that opens a double-or-nothing bonus game. Overall, Wheel of Fortune On Tour is a slot everyone should try once.
4. Cleopatra Plus (IGT) – 96.40% RTP
One of the many spinoffs from the popular Cleopatra series, Cleopatra plus ranks favorably with an above-average RTP and a maximum jackpot of more than $253,000. This low-to-medium volatility slot includes the graphics, theme, and sounds that have made the Cleopatra series one of IGT's biggest.
The bonuses include Free Spins (triggered by three or more bonus symbols), stacked wilds, and win multipliers up to 50x your bet. We also enjoyed the Level Up Plus feature, which permanently increases the payback of the game. With these bonuses, Cleopatra Plus is definitely worth your time.
5. Sweet Chilli (Ainsworth) – 96.17% RTP
This Ainsworth game was released in January 2020 and has received strong reviews for its gameplay and value. This slot machine has 25 paylines on five reels. Sweet Chilli includes a Grand Bonus round which can get players a maximum payout of $30,000.
This medium volatility slot features wild symbols (a chili), and when these wilds appear six times on a reel, the game awards a prize. Those prizes include up to 250x in multipliers and multiple free spins. To earn free spins, hit three wilds on a reel. Overall, Sweet Chilli stands out for its ease of play but could use more exciting bonus features.
6. Starburst (NetEnt) – 96.1% RTP
Starburst is one of the most popular slot machines of all time. It's an industry outlier with five reels, three rows, and 10 fixed paylines at a time when most online slot machines are beefing those numbers up. Still, Starburst has stood the test of time as one of the more enjoyable slot machines.
With an above-average RTP and low volatility, there is still a large jackpot if you hit all five reels, at 50,000x your maximum bet. Starburst features wild symbols, which play into the game in two different ways: The wilds can help you hit combinations and also provides respins (up to three).
7. Triple Diamond (IGT) – 96.09% RTP
What you see is what you get with Triple Diamond, a classic slot with high payouts but not many bonus features. With an RTP of 96.09%, it ranks favorably among similar titles with a maximum jackpot at 25,000x your bet.
From the graphics to the background sound, Triple Diamond is a perfect slot machine for beginners who want a simple experience. While it doesn't stack up with bonus features, the multiplier wins are definitely positive: We found that when a reel stops on a multiplier, it's often a sizable increase, which really adds to the gameplay experience.
8. Golden Wisdom (Ainsworth) – 96.10% RTP
Golden Wisdom is a bonus-heavy game that offers a maximum win of $150,000. This machine has 25 paylines and five reels. With a minimum bet of $1 and a maximum bet of $4, it appeals to both beginners and experienced players.
There are four features of note: Free Games Feature (affording up to eight free games), Golden Cash Feature (which adds multipliers up to 30x), Golden Cash Extra Feature (awarding respins), and the Mystery Grand (the grand prize awarded randomly, not in a bonus round). While Golden Wisdom isn't one of Ainsworth's most popular games, it could provide you with a big buyout.
9. Fox Trot (Everi) – 96% RTP
Developed by Everi, Fox Trot takes you to a desert where you will play as a fox with his friends. This game has 50 paylines, five reels, and a maximum payout of $282,000. FoxTrot is one of Everi's favorites and it shows with a variety of bonus features, including stacked symbols and free spins. To enter the free spins round, players must land three wilds on the reel.
In the Free Spins round, players will be awarded between seven and 25 free spins—but that's not all! By landing more wilds, your win chances increase, giving you an opportunity to re-trigger the free spins round, which could lead up to 93 free spins.
10. Book of Oz (Microgaming) – 96.31% RTP
Welcome to a new adventure in the Land of Oz, with the Triple Edge Studios Book of Oz online slot. This 5×3 slot features 10 paylines and has a max win of 5,000x your initial wager. The Book of Oz is the Scatter symbol and if you land 3, 4, or 5 scatter symbols, you will trigger a Free Spins round.
Free spins will be awarded as 10, 12, or 25 spins respectively. This game features a fantastic respins feature which allows the player to respin a reel as many times as you wish (at a cost). With unlimited respins, players can continue to work towards the largest jackpot of the game! Book of Oz can be found at multiple online casinos in New Jersey, including BetMGM. 
---
Where to play the best payout slots
For the best payout slots in New Jersey, be sure to read our team of experts' comprehensive reviews of the online casinos we've listed on our site. Remember: At NJCasino.com, we only provide reviews of casinos that are licensed and regulated.
After reading up on RTP, hit frequency, slot volatility, and payouts, you should have a better idea of what you're looking for in finding that sweet spot of a strong payout slot.
Here is a list of casinos we recommend for playing the best payout slots:
---
Best Payout Jackpot slots
Progressive jackpot slots increase in potential winnings as the game goes on, all the way up until the point a jackpot is finally won. These days, many slot machines feature progressive jackpots, like Megaways slots. On these machines, the jackpot increases every time the game is played. Keep this in mind when you are searching for the slot machine that is right for you!
---
5 tips for playing Best Payout Slots in New Jersey
Choose a slot with an RTP of over 96%.
The first thing you should consider when searching for a good payout slot is RTP. As our team of experts explained above, RTP is the number of money players can expect back over the long haul. Generally speaking, the online slot machine's average RTP is between 95-97%. If you pick a slot with an RTP over 96%, you're well on your way to finding a solid payout slot that's right for you.
Choose a game with a free spins round
One thing to look for when finding a slot for you: Does that game have a Free Spins round? Many do, which makes those games a better value. Obviously, earning Free Spins provide more spins to hit winning combinations, scatters, wilds and jackpots. But an online slot machine with Free Spins can also unlock bonus rounds and provide bigger wins. Take it from us: You'll be glad you had those Free Spins!
Progressive jackpot slots have higher top prizes but may payout less frequently
Because progressive jackpot slots carry the potential to win much higher prizes, the payout rate is much less frequent than machines that don't have a progressive jackpot. So while a machine may have a high RTP, that doesn't make the game any easier to win a big jackpot on. By playing a variety of games, you'll be able to tell which of these slots is right for you.
Be cautious of video slots based on popular movies, or those featuring flashy, captivating videos
A big trend in recent years is the development of online slot machines based on popular movies, comics, or game shows. These slots rank among the most popular out there because of their name-brand titles: Many players–especially new players–are familiar with those titles, so these slots can attract more attention. Because of that, oftentimes the payouts are not as generous as others, since they already get a certain amount of traffic.
Look for information about hit rate and bonus frequency
To be fully aware of the mechanisms of the online slot machine you choose, make sure to get as much information as possible on the hit rate and bonus frequency of the machine. Along with RTP and volatility, these are big factors in determining how worthwhile a slot may be: While some slots have favorable bonus rounds, it can be difficult to trigger them.
---
Play free slots no download required!
You can play slots for free throughout the U.S. Some casinos, like Golden Nugget and Unibet, will let you play demo modes without even signing in.
Of course, you can't win any money in demo mode. But it is a great way to get familiar with how a game works and decide whether you'd like to play it for money.
---
Conclusion – Find the best paying slots and win more with our guides!
There are plenty of ways to find the best payout slots in New Jersey, beginning with our team of experts' comprehensive reviews into just what goes into these slots. From a high RTP to a solid hit frequency and three different levels of volatility, you should be able to determine exactly what you're looking for in finding a slot. There's nothing better than hitting it big with one spin–and if you know where to look, there are plenty of these online slot machines available in New Jersey. Good luck!
Frequently asked questions
A payout percentage is the expected return on a casino bet. Slots, blackjack, and roulette all have a payout % associated with them. For example, a 96% payoff means a $100 bet returns $96.
90-96 percent payout rates are considered good. Many online slots give these percentages, and the greatest casino payout rates range from 98-99%. The casino's payout rates vary based on the game, although all games have a tiny edge in favor of the casino.