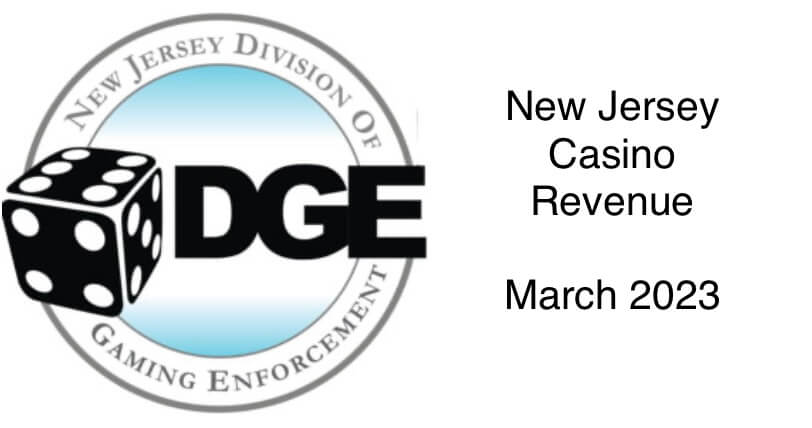 The New Jersey Division of Gaming Enforcement announced on 14 April 2023 that online casinos won $165,7 million. 
The impressive total exceeded expectations, and our predictions of $154 million for March 2023, breaking the current record by over $10 million. The total represents the first month online casinos in New Jersey exceeded $160 million, revealing incredible growth of 17.8% compared to the $140,4 million generated in March 2022. 
The year-to-date figures show that internet gaming continues to rise by over 10%. In 2022, online casinos generated $408,5 million within the first three months, which increased by nearly 13% (12.9%) in 2023, totaling $461,2 million.
Casino Gaming on the Rise as Revenue at Land-based Casino in Atlantic City also Increase
Most would expect the incredible increase in online casino gaming to reveal a decrease for the nine land-based casinos in Atlantic City. However, the total revenue figures also show positive growth for land-based casino gaming.
In March 2023, revenue at land-based casinos reached $228,6 million, an increase of 5.6% compared to the same period in 2022, during which casinos generated $216,6 million.  
The year-to-date totals reveal an even more impressive growth pattern as land-based casinos increase by 7%. In the first three months of 2022, they generated $612,7 million, rising to $655,3 million for the same period in 2023. 
Sports Betting Revenue in New Jersey Rising by Over 40%
The latest revenue report reveals that sports betting is rising faster than internet and land-based casino gaming.
In March 2022, online sports betting, race tracks, and partners generated $66,4 million. In the same period of 2023, revenue totals accumulated to $93 million, showing growth of 40.1%. 
The year-to-date figures once again impress the most as the 2023 totals accumulate to $220 million, increasing by 39.7% compared to the $157,5 million generated in the same period of 2022. 
Stay Updated with the Latest New Jersey Casino Revenue News
Get the latest accurate news for land-based and online casinos in New Jersey. Bookmark our news page to read the latest casino revenue news, how casinos improve, and more.