Where to play the best French roulette online?
1. Betway Casino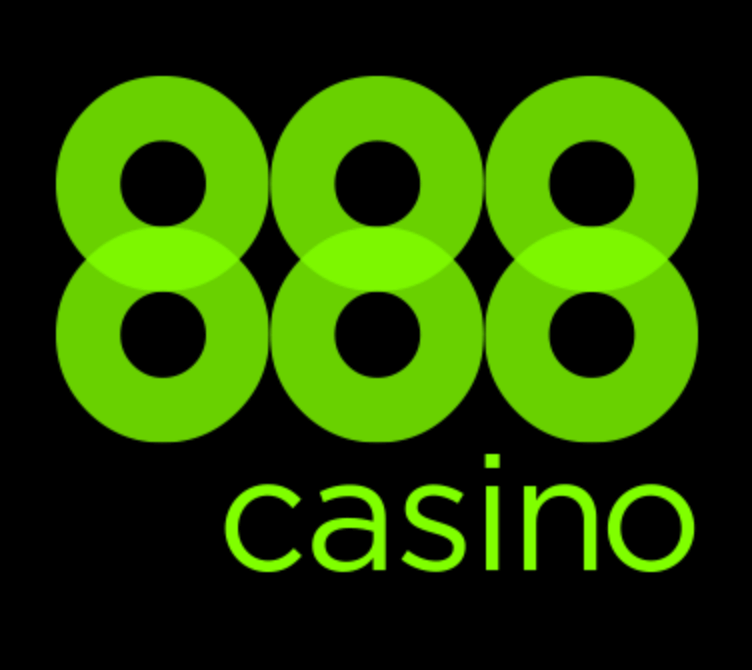 Betway Casino offers one of the most exciting platforms in the industry with its premium interface and wide selection of roulette games. Its French Roulette games are offered with different betting limits and are playable in the live dealer format.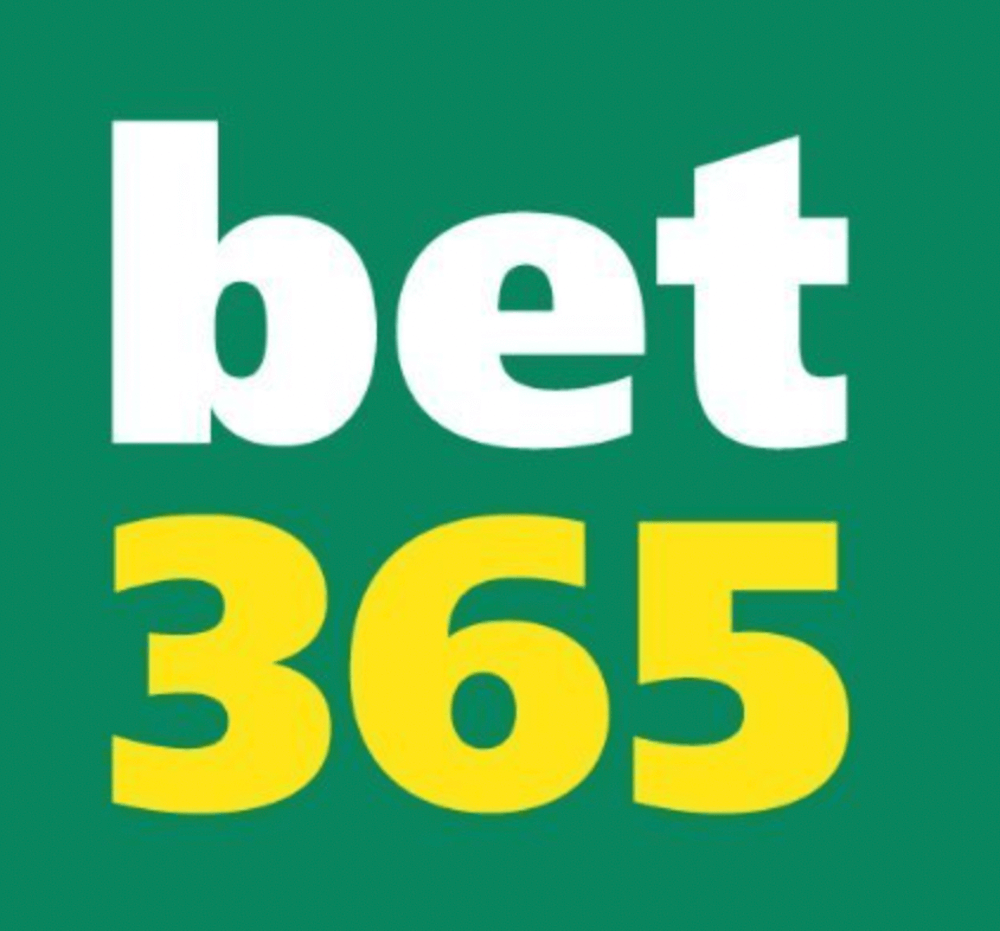 2.Bet365 Casino
Bet365 is a leading US online casino that offers premium French Roulette games. It also boasts a guide on playing French Roulette for real money.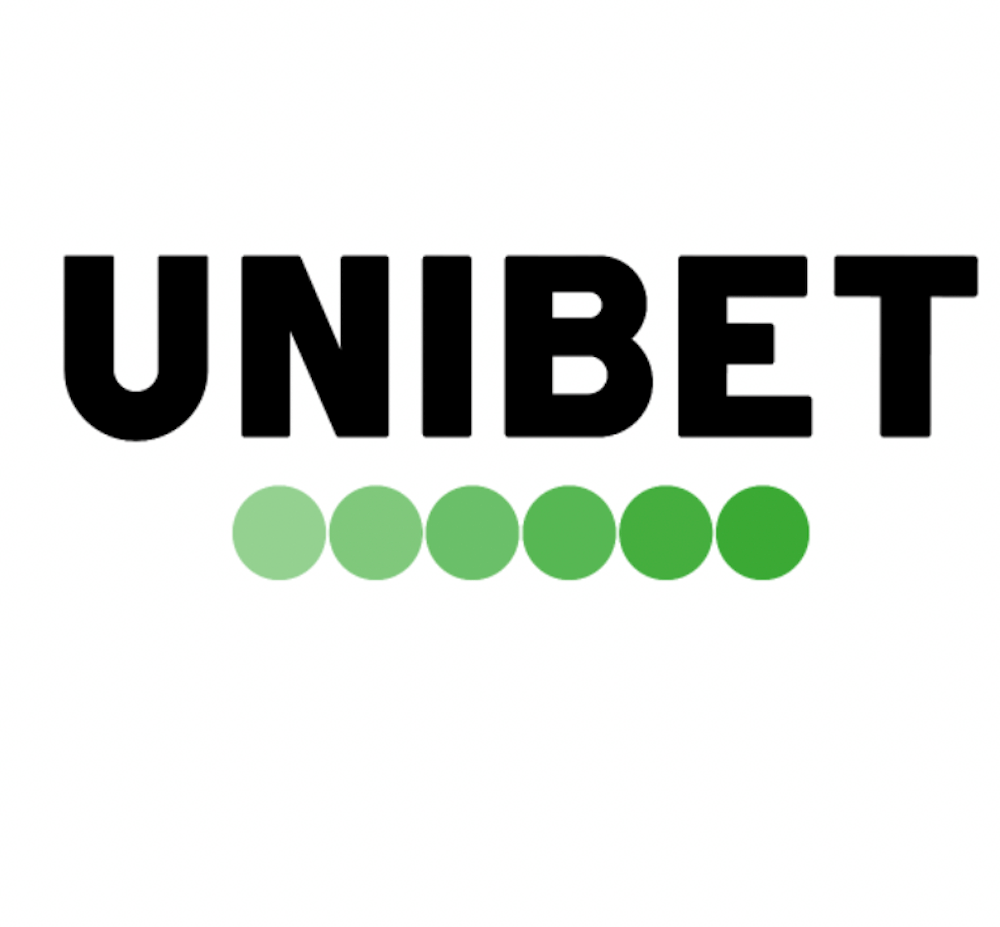 3. Unibet Casino
US players looking for top French Roulette games can also check out Unibet Casino. On top of its premium selection of French Roulette games, Unibet also boasts a game guide and a rewarding signup bonus.
---
Why choose French Roulette?
French Roulette may look complicated at first, but it's a roulette game version worth trying out. This casino game uses a single-zero layout, like European Roulette.
What makes the game striking is its special betting rules, expressed in the French language. These French bets may be confusing at first, but when you play them first in the free demo, you'll quickly master their meaning and use them to your advantage!
Since it shares similarities with the European variant, it also boasts a friendly house edge of just 2.7%.
French Roulette vs. other Roulette Variants
As mentioned, the online French Roulette uses the table and wheel layout of the European variant. On the wheel, you will find pockets for 1 to 36 in alternating colors of red and black, and a pocket for a single zero.
It's different from the American version with the addition of an extra pocket for double zeros. Finally, the French Roulette game is an exciting variant as it uses special betting rules in French terms. For a quick look at the features of French Roulette vs. American Roulette or even the European version, check out the table below.
French Roulette
American Roulette
European Roulette
Layout
37 pockets
(0-36)
38 pockets
(0-36 + 00)
37 pockets
(0-36)
Bets
Straight-up, Split, Street, Corner, Odd/Even, High/Low, Red/Black, Announced bets such as Voisins du Zero, Le Tiers du Cylinder, Jue Zero, Orphelins and Finales
Straight-up, Split, Street, Corner, Odd/Even, High/Low, Red/Black, Five Line, Special Bets
Straight-up, Split, Street, Corner, Odd/Even, High/Low, Red/Black
RTP
97.30%
94.76%
97.30%
House Edge
2.70%
5.24%
2.70%
Difference between French and American roulette
Two of the most popular roulette variants in New Jersey casinos are the French and American Roulette games.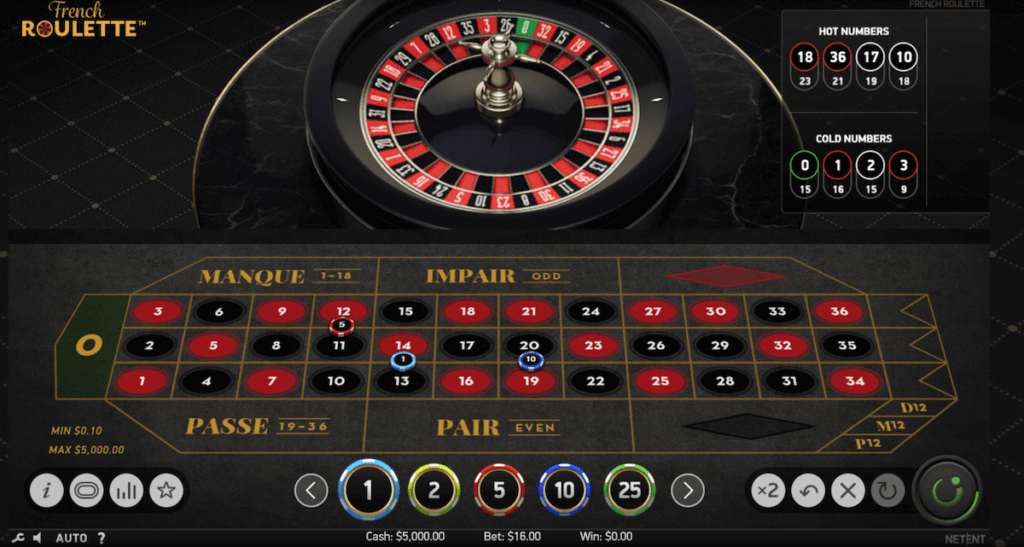 The difference between the French and American Roulette lies in the layout of the wheel. With the French version, you'll find a single-zero format. But there's an additional pocket for double zeros in the American version, which effectively increases the house edge to 5.24%.
Difference between French and European roulette
The difference between French and European Roulette games is in the available betting options. When playing the French version, you can try additional bets in French like the Jue Zero, Orphelins, and Finales.
---
How to play French roulette – Breakdown of around
1. Master the Rules
The key to winning in any casino game is to know and master the rules. Before registering and playing, read the French Roulette rules, types of bets, and the game's terminology.
1. Fund your Balance
The first step towards playing for real money is to add funds to your casino account. Proceed to the casino's cashier section and pick your preferred payment option to complete the deposit.
2. The Decision Time: Place Your Bet
For many players, the challenge is picking the right bet to play. In French Roulette, you can play different types of bets with varying odds and payouts.
For example, you can bet on a single number, a group of numbers, or even money bets. When playing, set a bankroll and only bet what you can afford to lose.
Explore some Strategies
The French Roulette game results are random. But you can continuously improve your odds of winning by using the right betting strategy. Review the top roulette strategies below.
3. The Croupier will now spin the wheel.
Once all the players have completed their bets, the croupier now spins the wheel. He turns the wheel in one direction and throws the roulette in the other direction.
4. Results and Payouts
In French Roulette, it's easy to follow the results of each round. If the roulette ball ends up in the pocket where you placed your bet, you win. If not, you lose the round. Your payout depends on the type of bet you picked.
---
Master the Rules of French Roulette
The French Roulette rules aren't complicated, and they simply follow the general rules of the European variant. However, new players should be familiar with the game's special betting rules in French.
The Objective
French Roulette boasts a simple objective: to accurately predict the pocket where the roulette ball ends its spin.
Important terms you need to know
In French Roulette, there are a few important terms that every player should know.
---
French Roulette bets
There are two main sections on the roulette table that are essential in understanding what bets to play. These are the inside and outside bets.
The former includes potential bets inside the table's layout, while the latter includes bets found on the outer section. Your best roulette bets will depend on your preferred roulette strategies and risk level.
French Roulette Table
The French Roulette table uses the same single-zero layout as the European version. However, there are differences in the betting terms used on the table.
Inside Bets
Its inside section allows you to place single-number wagers. Also, you can bet on a group of six numbers. For example, you can place a stake on a single number, like "25". You can refer to the table below for a list of possible inside bets to play in French Roulette.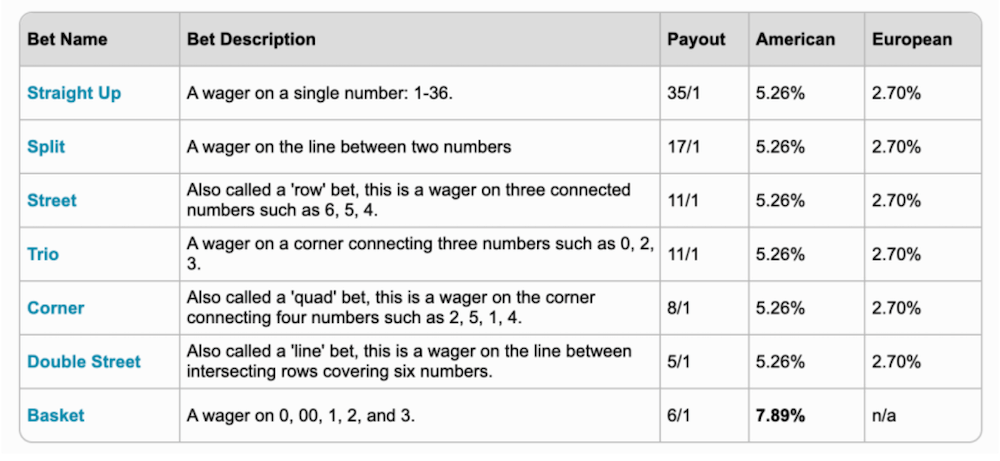 The French and European versions are similarly based on the table. So, the house edge information for the European variant also applies to the French Roulette game.
Straight up
It's a single number bet that pays 35/1.
Split
You're betting on a line that involves two numbers. If one of these two numbers comes up, you win.
Street
In roulette, this is a row bet covering three corresponding numbers.
Trio
It's a bet on the corner that covers three connecting numbers.
Corner
Compared to the Trio, a corner bet features four numbers: 2, 5, 1, and 4.
Double Street
You are betting on a line between intersecting rows and cover six numbers.
Basket
In French Roulette, a "basket" is a wager on 0, 00, 1, 2, and 3.
Outside Bets
Outside bets have a higher chance of winning but lower payouts. The only difference with the French Roulette variant is that these bets are presented in French.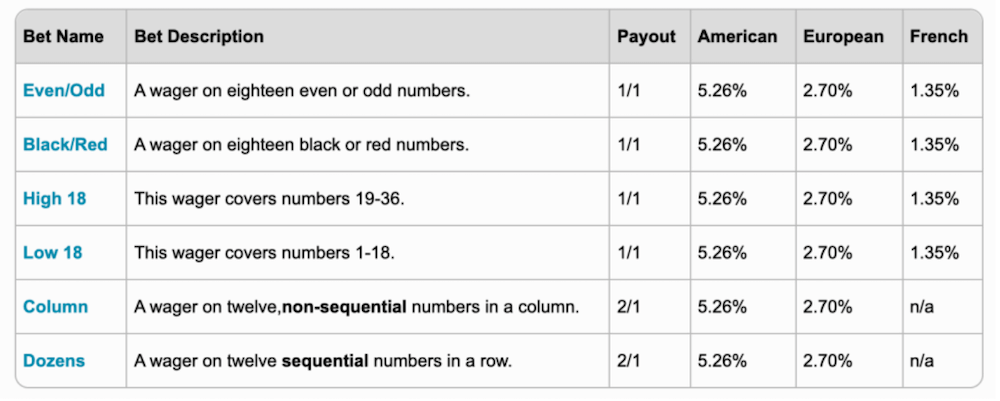 You can refer to the table above for a list of possible bets to play and their French equivalents described below:
Column
You pick one of the three columns with numbers and pay 2:1.
Dozens of Douzaine,
The player can choose the Premier (first), Moyenne (second), or the Derniere (third) set of 12 numbers, and a win pays 2:1.
Red/Black or Rouge/Noir
The player bets on a Red or Black with a payout of 1:1.
Pair/Impair or Odd/Even
The player bets on Odd or Even with a payout of 1:1. Ocean Online Casino is a great way to learn the ways of playing with their free demo mode.
Manque/Passe or Low/High
You are betting that the winning number falls in the 1 to 18 or 19 to 36 range.
Other types of bets in French Roulette
Announced/Call Bets
In French Roulette, the call bets cover the roulette wheel sections. There are three fixed call bets in the French variant: the Voisins du Zero/Jeu Zero, Tiers du Cylindre, and Orphelins.
Final Bet
These are also called "finale' bets, where the players put straight bets on numbers that end in the digit they choose. For example, a final bet on "4" means betting on 4, 14, 24, and 34.
Full, Complete, or Maximum Bet
In this French Roulette bet, you place all types of inside bets on just one number.
---
French Roulette Strategies
Even if the results of a roulette game are random, it still pays to use an appropriate betting strategy. Below are some of the top betting strategies you can use when playing roulette in real money mode.
The Martingale System,
The idea behind this betting strategy is simple: you cover your losses by increasing your bet after a loss.
The Reverse Martingale strategy
This is the reverse setup of the Martingale strategy, where you double your bet after winning around.
Fibonacci strategy
The Fibonacci betting system follows the Fibonacci sequence and is used on even-money bets.
---
French Roulette odds and payouts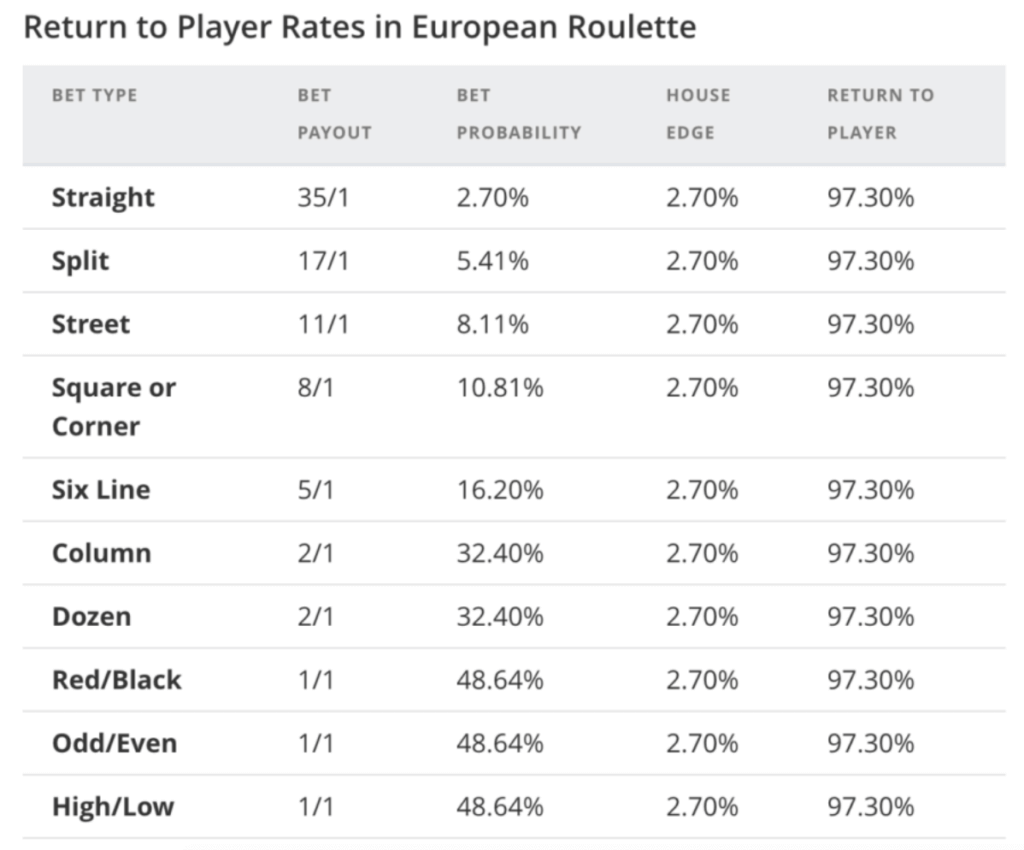 The data for European Roulette also applies to French Roulette bets. For example, a Straight Up bet also boasts an RTP of 97.30%, translating to a house edge of 2.70%.
RTP in French Roulette
The Return to Player (RTP) percentage in the French Roulette is 97.30%.
Payouts in French Roulette
Your payouts in French Roulette vary depending on the selected wager. For example, even-money bets pay 1:1.
House Edge in French Roulette
The house edge for French Roulette is 2.70%, making it the best roulette variant to play in the real money mode.
Frequently Asked Questions
These two popular roulette variants differ in the wheel's layout. The French version uses a single-zero layout, while the American version adds an extra pocket for '00'.
In French Roulette, inside bets offer a higher payout but lower chances of winning. On the other hand, outside bets appear frequently but boast low payouts.
In French Roulette, the house edge is 2.70%.